The Real Reason McDonald's Is Closing Its Huge NYC Flagship Store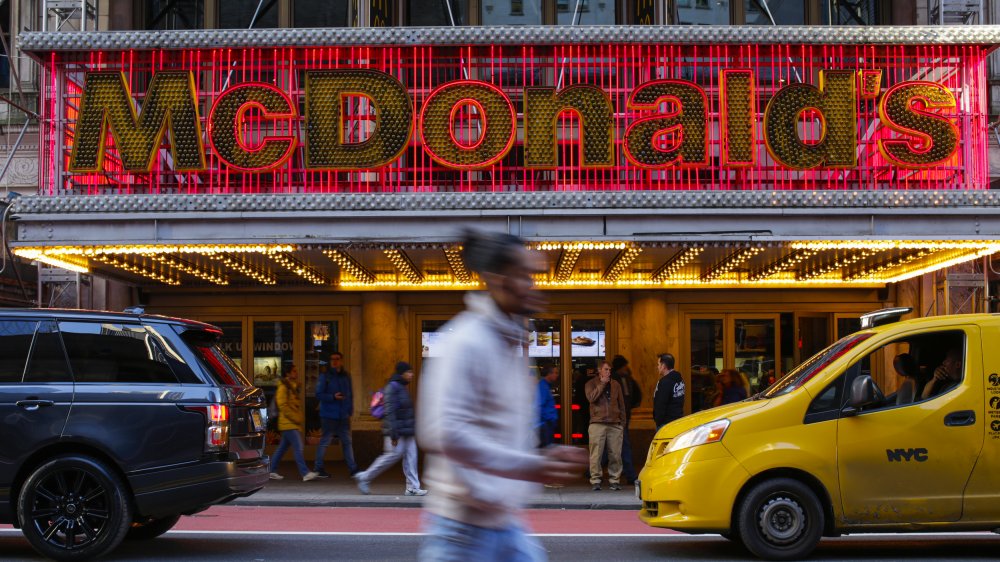 Kena Betancur/Getty Images
While most McDonald's restaurants are pretty ho-hum affairs filled with brightly-colored plastic, once upon a time, in the heart of the Great White Way, stood a Golden Arches that was truly golden. As the New York Post tells it, this Mickey D's at West 42nd Street in Times Square was four stories and 17,500 square feet of opulence, with a marquee lit up in 7,000 lights.
While it was still, at heart, the same humble burger joint as its lowlier brethren all across the world, this McDonald's that looked more like a theater was often used to test out special new menu items as well as to herald company-wide initiatives with sufficient fanfare. As its first operator, one Irwin Kruger, said of the store, "We launched national programs [there] like the salad program with Paul Newman dressing, World Children's Day and [free] WiFi. That store was in the McDonald's annual report." Well, once upon a time –- which lasted all of 17 years –- came to an end this week, as McDonald's announced the closure of its former flagship store.
Why this McDonald's location had to close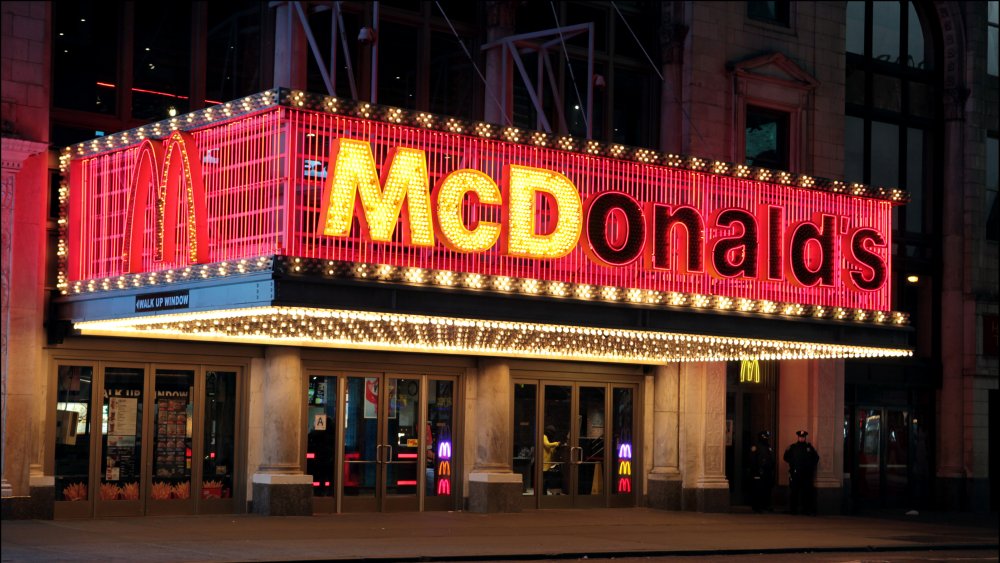 Oliver Morris/Getty Images
Although so many restaurant closures nationwide over the past few weeks and months have been prompted by the pandemic, a McDonald's spokesperson assured the New York Post that this closure had nothing to do with coronavirus. Instead, their statement spoke of more ambiguous reasons, saying, "McDonald's reviews its restaurant portfolio on a regular basis to make the best decisions for our business moving forward." It's likely, though, that this "difficult decision" was spurred by the fact that the chain had already designated a new flagship, one located just a few blocks away in a converted former Toys-R-Us store made over into what the Post describes as "an ultra-modern, all-glass eatery" featuring 18 self-ordering kiosks, upholstered banquettes, and table service, not to mention a bird's-eye view of the New Year's Eve ball drop.
Although there is no word yet as to exactly how McDonald's plans to repurpose the now-shuttered Times Square location, Delish indicates that they might be willing to rent out the space for ball drop viewing, since it's also got a pretty good view of this annual event. What they'll be doing the other 364 days of the year is yet to be seen, but maybe they could open it up as a theater, and put on a one-man show starring a certain recently-retired mascot... Hey, it's New York, where even a disgraced fast-food clown's Broadway dreams can come true!