The Real Reason Pudding Pops Were Discontinued
If you are a product of the '80's — Valley speak, punk rock, and all things Ronald Reagan — you probably snacked on Jell-O Brand Pudding Pops. Jell-O Pudding Pops were a simple creamy, icy, and refreshing frozen version of pudding on a stick. Who can forget the iconic commercial featuring Bill Cosby dressed as an ice cream man talking to the kid about chocolate vanilla swirl pudding pops? One side of his mouth said vanilla and the other said chocolate. Our reply, "Mom can you buy some Jell-O Pudding pops?"
It was genius marketing that spoke directly to its audience, but unfortunately, the marketing was outpaced by changes in our cultural tastes and focus. Today, with healthy living trends, many of us eschew the ice cream aisle and instead consider a specialty drink from Starbucks a decadent dessert (via Tampa Bay Times).
Jell-O Pudding Pops may have been a staple in our freezers when we were kids, but they are no more. If you cruise through the frozen dessert aisle in your local grocery store looking for this childhood nostalgia, you will be sadly disappointed, along with the approximately 3,600 people who search Google every month wondering what happened to their beloved pudding-based popsicle, per Yahoo. So what happened to this frosty treat of yore and can our taste buds still relive that wonderfully smooth taste of Jell-O Pudding Pops?
Why Pudding Pops were discontinued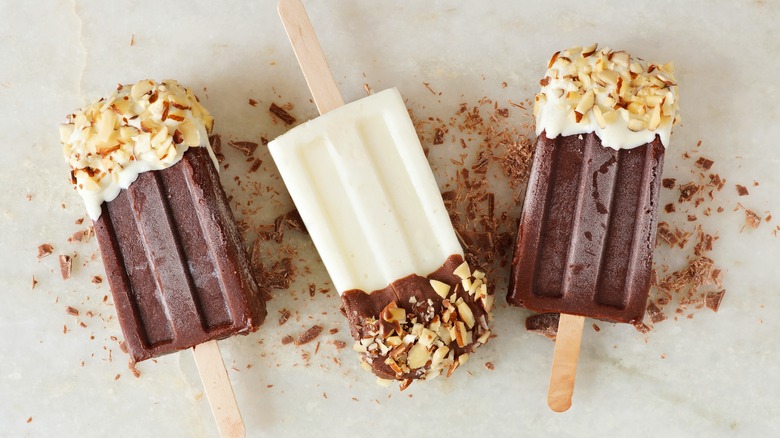 Shutterstock
Jell-O Pudding Pops were part of the General Foods family and soared in popularity in the 1980s due to their wholesome goodness. They were holding their own when they entered the 1990s. In fact, just five years after they made their debut, Jell-O brand Pudding Pops were bringing in $300 million in sales a year (via Culinary Lore). Not too shabby, but guess what? They didn't make a profit. General Foods was new to the frozen food game, and they didn't have the know-how to make money off their hugely successful product. 
In 2004, the company tried to salvage their creation by licensing the Jell-O name to Popsicle, who made their own version of the pudding pop. Unfortunately, while imitation may be the sincerest form of flattery, these "pudding pops" just weren't the same. Popsicle used its own mold in place of the original pudding pop shape and never achieved the following or sales of Jell-O brand Pudding Pops. It's actually a sad ending for such a sweet treat, right? Our beloved pudding pops deserve a better ending, and so do all the fans of this iconic frozen favorite, for that matter.
How you can still buy a Jell-O Pudding Pop mold kit
Well, don't despair. Our Jell-O brand Pudding Pops story could end with them being discontinued, but that would be a far cry from the happy ending every story that originated during childhood deserves. While Jell-O brand Pudding Pops are no longer being sold, Jell-O didn't completely leave us in a lurch. If you are feeling the retro vibes of youth, visit the KraftHeinz website for a recipe to make Pudding Pops on your own, or see if you can snag a Jell-O Pudding Pops vanilla and chocolate mold kit and make them yourself.
Jello-O also created a Jell-O Play Snow Day pudding pop kit that you and your kids can enjoy together. It comes with two boxes of cookies and creme instant pudding mix and a mold so you can make six pudding pops. It can be purchased at Walmart or Amazon, and as the old saying goes, the proof is in the pudding. One Walmart reviewer wrote, "These were yummy and easy to make. Just add milk and freeze," (via Walmart).