This Is Christina Tosi's Trick For Perfect Cake Every Time
For celebrated pastry chef Christina Tosi of Milk Bar, the perfect cake starts with the pan. For her most famous creation, the Naked Layer Cake, you might be surprised to learn that Tosi doesn't start with a 6-inch round pan. Instead, for her three-layer cake, she uses a quarter sheet pan.
Why? According to a video Tosi made for extratv, using the sheet pan (lined with parchment on the bottom) creates a more evenly baked cake: no more overcooked edges and undercooked middles (via YouTube). After popping the sheet cake from the pan, Tosi uses a six-inch cake ring to cut out two round layers and two halves of a round layer (these less-pretty pieces will make up the bottom layer of the three-layer cake, while the full circles will be the top two layers)
How Tosi assembles a layer cake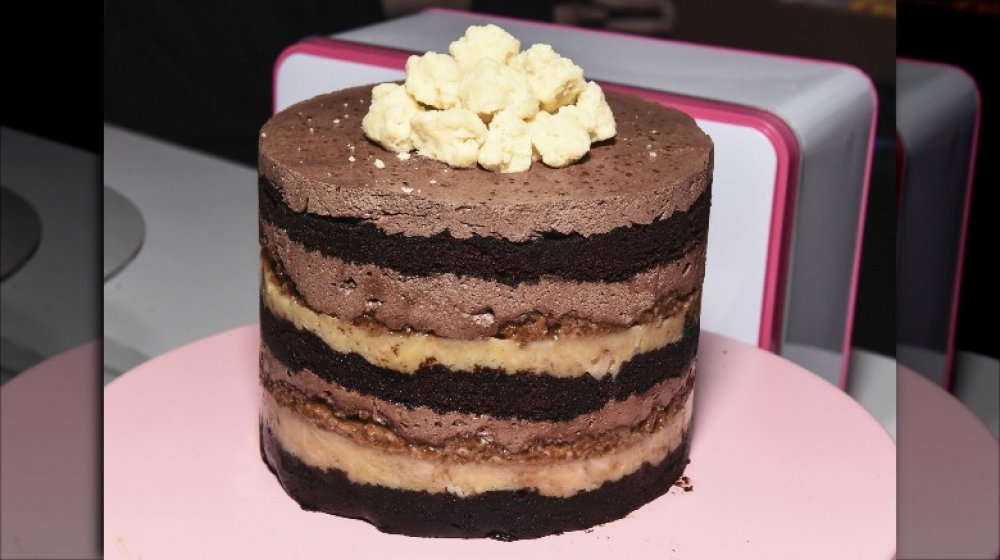 Daniel Zuchnik/Getty Images
When the pieces are cut out, Tosi lines the 6-inch cake round with a plastic cake sleeve to provide structure. You won't be able to frost the sides of this cake, but that is Tosi's signature. As she told Bon Appetit, Tosi believes creating a "dollhouse moment of looking in and seeing the world of amazing things happening inside." 
She then builds her layers: Cake (use the leftover scraps to fill in the center of the bottom layer if the two half-round pieces aren't big enough) brushed with a "soak," such as Milk Bar's famous vanilla-infused milk, a spreadable filling, such as a jam or frosting, a crunchy or textured layer such as candies or crumble, more spreadable filling or frosting, followed by a second layer of cake, and so on.
After smoothing her top layer of frosting, Tosi decorates the top with sprinkles, candy or other decorations. Her final trick: Place the cake in the freezer for two to three hours before removing the cake ring and the plastic sleeve (a satisfying step that reveals your perfect layers), then reveal and serve your cake. This final step allows the cake to "set up" and remain sturdy when you cut and serve it.
What delivers more joy than a festive, towering layer cake? Give cake master Christina's Tosi's sheet-pan Naked Layer Cake recipe a try.