The Pumpkin Whiskey People Can't Stop Talking About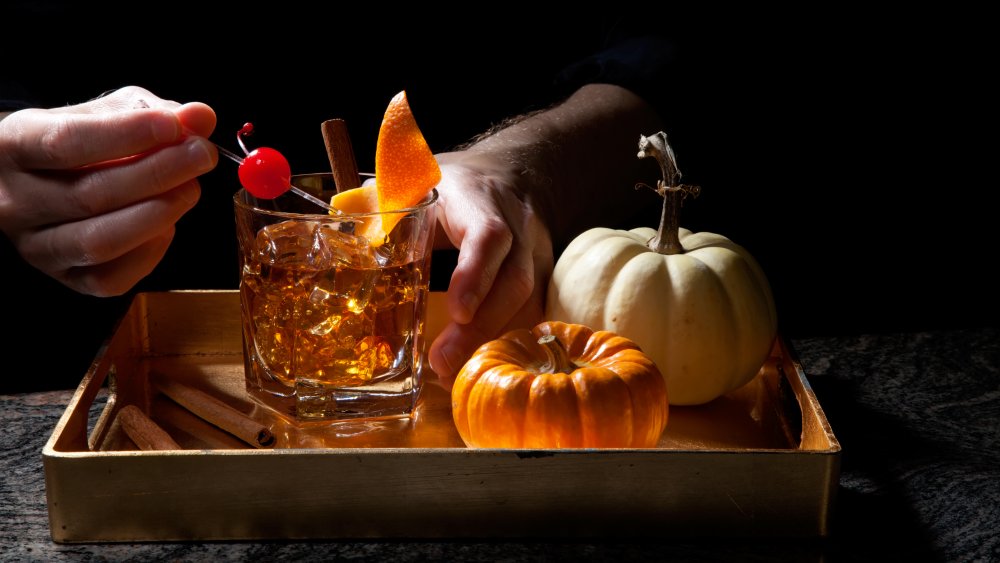 Shutterstock
If you were one of the many who celebrated Starbucks announcement of its seasonal availability of Pumpkin Spice Latte, and the early fall menu release at Dunkin', we have something extra special, just for you. If you love all things pumpkin spice, how does pumpkin whiskey sound? If it sounds good, then you're in luck, as there's a bottle of the new Southern Tier Distilling Company Pumking whiskey with your name on it (via Food & Wine).
Southern Tier Brewing Company introduced beer lovers to Pumking Imperial Pumpkin Ale in 2007, according to Food & Wine, when the company jumped on the pumpkin beer bandwagon and offered a beer that aimed to drum up visions of mom's pumpkin pie. The classic beer's ABV is 8.6 percent and contains flavors of vanilla, clove, allspice, cinnamon, nutmeg, and pie crust (via Southern Tier Brewing Company). Now, sister company Southern Tier Distilling Company is banking on pumpkin lovers (and Pumking Ale lovers) rallying around its new whiskey that offers a similar flavor profile.
What you need to know about Pumking whiskey
With 35 percent ABV, the new Southern Tier Pumking whiskey can be enjoyed in several different ways, such as a shot, shooter, cocktail, or on the rocks, according to the company. Imagine gathering around a roaring campfire here in a month or two and sipping on the taste of fall? Heck, this could even take the place of that slice of pie after Thanksgiving dinner this year. And, while the whiskey isn't specifically made from the ale, the taste and aroma are similar, including aromas of pie spice, buttery cream, and pie crust (via MSN).
According to Southern Tier, Pumking whiskey is available now at its New York distillery, and in parts of New Jersey. Additional states, such as Ohio, Michigan, Delaware, and Maryland, will have availability in September. Depending on the degree of your love for pumpkin, this new whiskey could be a great addition to your weekend coffee, brunch tea, or — what else — your PSL.