Why Everyone's Talking About Aldi's New Hot Honey
Your favorite budget grocery store just released yet another must-have product. Aldi is pretty well known for unleashing some deliciously intriguing products, and this one is equally interesting — it's a couple of different types of spicy honey.
The product was first profiled by Red Tricycle in July, but it just hit shelves at Aldi locations on August 12, so you haven't missed out on anything just yet. Among the first ones to spot these two kinds of honey was Instagram Aldi enthusiast, Aldi for President (via Delish). When the Instagrammer first spotted the bottles, they picked up one of each and snapped a photo to post. The caption read, "I'm so glad I finally found this and had to buy both of course." 
So, if you are a fan of all things sweet paired with spicy, it sounds like you might have to pick up both to try. Besides, there's no harm since you can return anything you're not completely satisfied with to Aldi without any trouble (via Aldi).
What you need to know about this spicy honey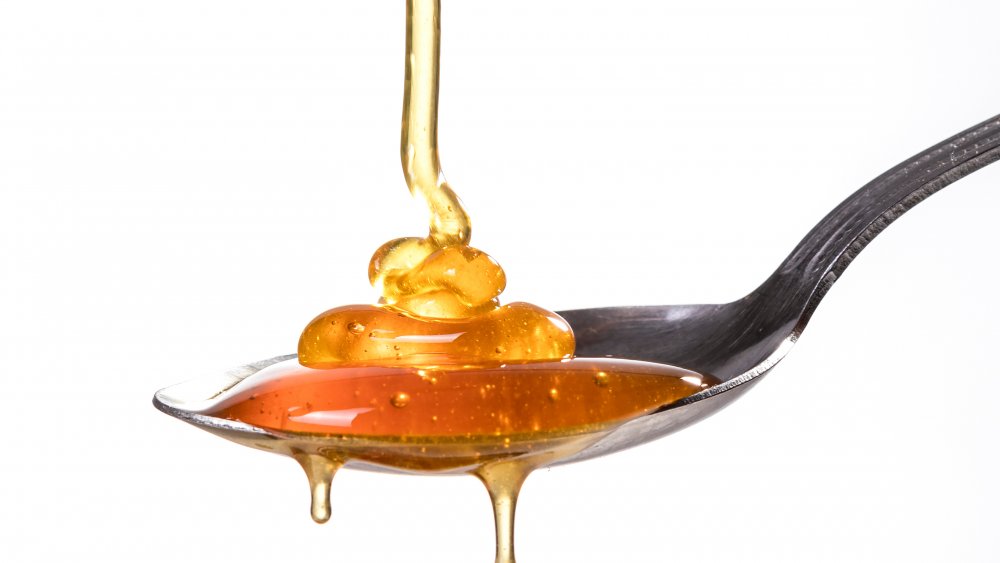 Shutterstock
Both types of honey come in 12-ounce bottles and are priced at $4 each. They are also both about 60 calories per serving, so all you really have to do is pick up one of each to try. Then you have the even tougher task of deciding which flavor you like best, and then you'll probably want to stock up on it.
The first kind is hot chili honey. The honey is infused with natural chili flavoring, so it packs just enough heat followed by the honey's own delicious sweetness. The second flavor is sriracha honey that is also infused with the natural flavoring. So, if you're someone who wants to put sriracha on absolutely everything, this is kind of a no-brainer.
These infused bottles of honey sound so good, you will probably find there isn't too much you don't want to put it on. Think along the lines of veggies, charcuterie boards, and even in dressings or marinades, as Red Tricycle suggests. The bottle itself recommends drizzling the hot honey on things like pizza, cheese, and chicken, as well as using it in homemade sauces.
One commenter on the Aldi for President Instagram post said, "Tonight, I made red bag chicken on low carb quesadilla with Swiss, lettuce, tomatoes, and the hot honey." Another commenter was very satisfied with it on chicken and waffles as well as sweet potato fries.
With so many tempting dishes to try both on, it's time to dig and put it on everything.