Kroger's Latest Announcement Has Online Shoppers Excited
Shopping online for groceries might be convenient, but until recently our options were fairly limited to Amazon, Walmart, Target, and Costco. But the Cincinnati-based Kroger, which is the largest supermarket chain and the second-largest retailer in the country (via Statista), isn't about to roll over and miss the chance to improve its online shopping experience now. It has announced plans to go live with a digital marketplace for third-party sellers this fall, and is partnering with established e-commerce vendor Mirakl, which specializes in online platforms (via Supermarket News). 
By doing this, Kroger expands its online shopping offer from just groceries, to other items including natural and organic products, international food items, housewares, and toys. Stuart Aitken, senior vice president and incoming chief merchant and marketing officer, explained, "The expansion of our Kroger Ship platform will continue to bring together our industry-leading customer insights and merchandising data to offer our customers a digital shopping experience that includes staples available in our physical stores as well as products that are exclusive to Kroger.com." 
Kroger customers will now have access to thousands more products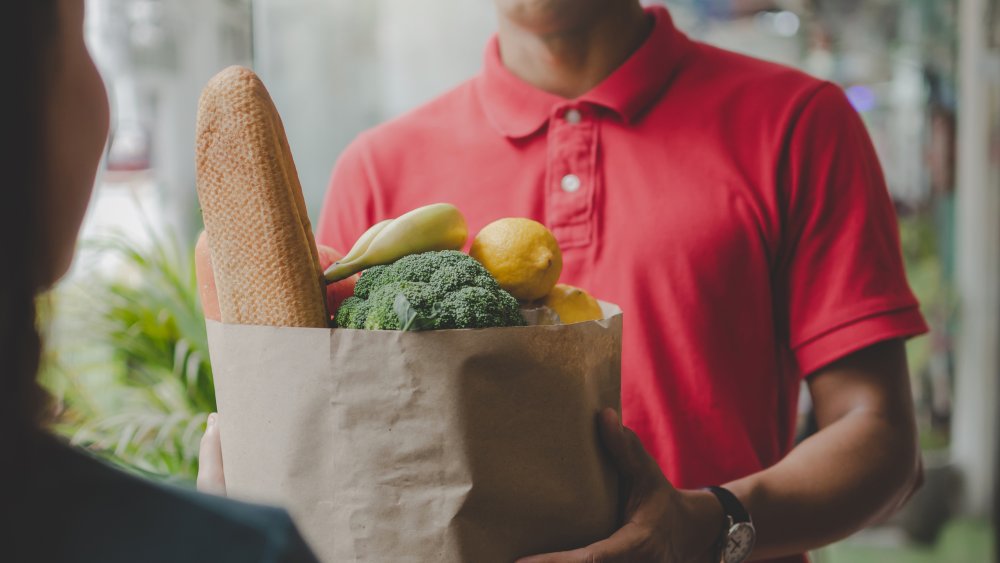 Shutterstock
The partnership gives Kroger shoppers access to more than 50,000 items to start with while its loyalty card customers get the chance to earn reward points when they shop online.
In a statement (via Supermarket News), Jody Kalmbach, group vice president of product experience at Kroger, said, "Our customers are increasingly turning to our e-commerce solutions provided at Kroger.com for their grocery and household essential needs. To better serve our customers, we're continuing to invest in technology that enables us to expand our digital services to deliver anything, anytime, anywhere. Leveraging Mirakl's best-in-class marketplace solution, we are broadening Kroger's ship-to-home capabilities by offering more relevant products for our customers through exciting new partnerships with reputable third-party sellers."
Kroger needs to build its online presence
Kroger is hoping to build on the whopping 92 percent increase in online sales that it saw during the first four months of its business year and to make it more competitive against the four big names which currently dominate America's online shopping landscape. The supermarket chain needs to ramp up its online offer this if it wants to stay in the game because not only is Kroger late to what Fortune calls the online grocery wars; its online offer currently has a more limited than the range available to the other retailers. Partnering with Mirakl will go some way in fixing that. There's also another advantage to working with a third-party marketplace – the partnership means Kroger can offer more products without actually having to acquire any inventory. This means they don't have to deal with unsold products if they don't prove to be too popular. 
Competitor Albertsons has also partnered with Mirakl to create Albertsons Digital Marketplace, which has the same offer that Kroger intends to have – but Albertsons set up its e-commerce shop back in 2018. The online store promises a "new and improved Marketplace experience" just around the corner (via Supermarket News). In the U.S. Mirakl also does business with Office Depot and Urban Outfitters in the U.S. In Canada, it collaborates with Best Buy, and in Brazil, it works with and French supermarket chain Carrefour (via Ad Age).