You Might Want To Skip Steak 'N Shake's Breakfast Tacos. Here's Why
Steak 'n Shake is a favorite chain in the Midwest, known for its signature "steakburgers," milkshakes made from real ice cream, and bacon cheese fries, among other offerings. A Reddit user and self-professed Steak 'n Shake employee created an "Ask Me Anything" forum for curious fans of the fast-food brand. Questions included "Why are the burgers so small?" (The employee explained that the burgers start out thick but are pressed while cooking, creating a thinner patty that cooks faster.)
As often happens in these forums, one reader asked about "the one food you should never order" from the restaurant's menu. Perhaps unsurprisingly, the answer was not one of the signature burgers that made the 550-unit chain the burger joint of choice for many fast-food customers across 28 states. According to the Redditor, the "skip it" item actually comes from the breakfast menu, and it is the breakfast taco. Steak 'n Shake's full breakfast menu offers classics like pancake stacks, sausage gravy and biscuits, and a homestyle breakfast. A modified version of the menu is offered between midnight and 11:00 a.m. (via PR Newswire), and this is where the trouble allegedly lies.
A less-than-fresh menu item?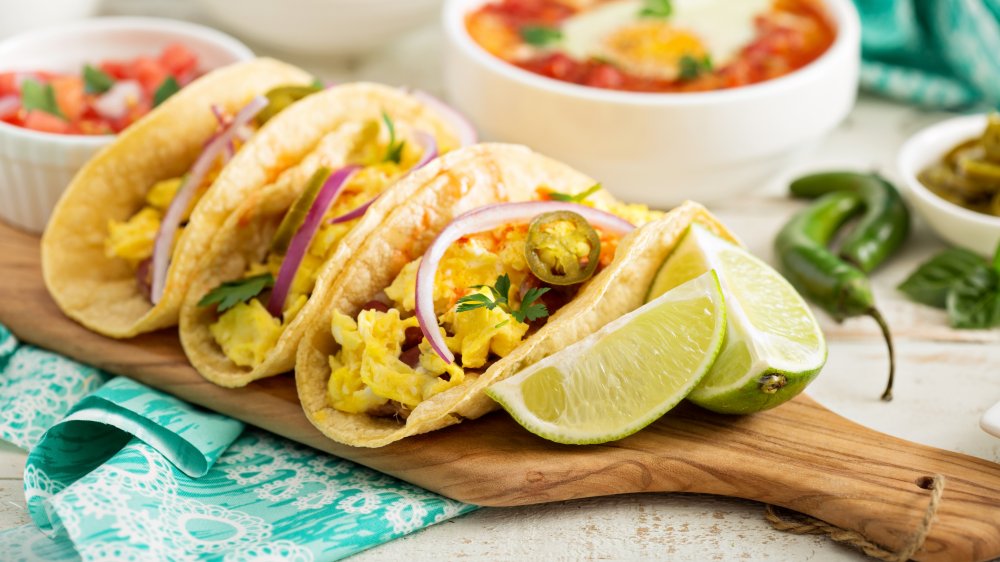 Shutterstock
Not surprisingly, there isn't always a lot of traffic after midnight at most Steak 'n Shake locations. While the chain promises made-to-order menu items, this isn't always the case when it comes to the breakfast tacos (which come in Sausage, Egg 'n Cheese or Potato 'n Egg varieties, all on fresh tortillas and served with salsa). Delicious, right?
The Reddit AMA host cautions, however, "I'd say not to order any of the breakfast tacos. If the restaurant isn't fast-paced enough with customers, we'll have the mix sitting there from about midnight to whenever it gets used up until we make more. I've seen it sit there for a good six hours before anyone ordered one. Some of our third shift cooks will be good about not making it until someone orders one, but others get lazy and cook it when they do all the prep."
Of course, this is just the account of one person whose claims we cannot verify. It also doesn't mean that Steak N' Shakes breakfast tacos aren't satisfyingly fresh in general. They've gotten some love on Tripadvisor and Yelp. The trick, perhaps, is resisting your late-night craving for breakfast tacos and waiting for traditional breakfast hours just in case.