Food Network's Katie Lee Shares Beautiful Photo Of Her New Baby Girl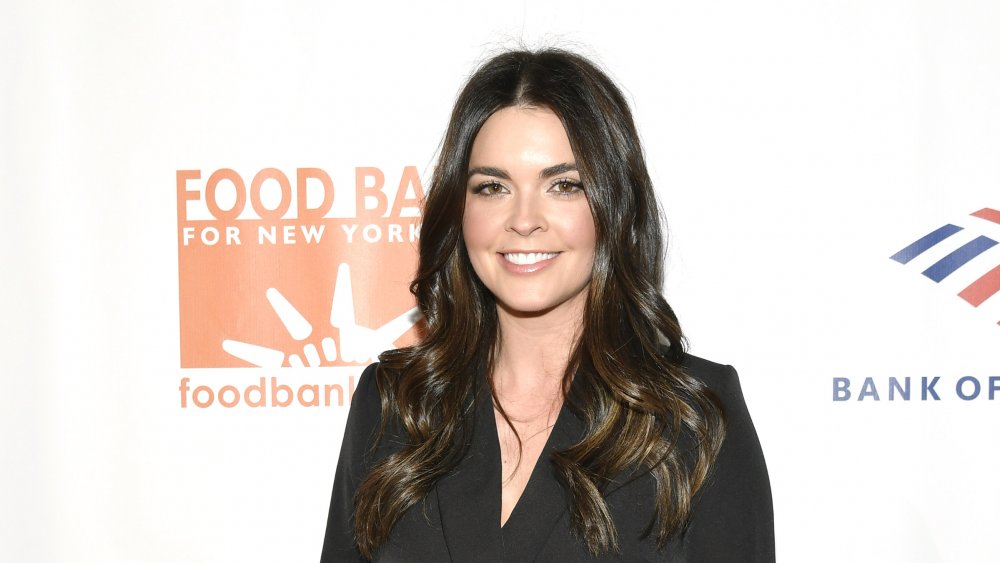 Mike Coppola/Getty Images
After candidly struggling to conceive, Food Network star Katie Lee has welcomed a baby girl with her husband, Ryan Biegel (via Today). In a sweet Instagram post taken shortly after her daughter's birth, Lee announced the little one's name: "Welcome, baby Iris Marion Biegel," she shared, adding, "Our hearts are so full."
Lee shared she was expecting in February, also on Instagram. Previously, the 38-year-old admitted she thought it would be easy to start a family (via USA Today). "I'm a healthy woman, I eat a balanced diet, exercise, I don't smoke. Ryan is the same. But reproductive health is an entirely different ballgame," she shared in a deeply personal post. Lee went on to confide that questions about when she was going to have a baby hurt, especially since the couple was undergoing fertility treatments.
"My doctor advised us to try IVF," Lee went on to explain in her post. "We just finished the intense process only to get zero healthy embryos. Not only is IVF physically exhausting, the emotional toll is unparalleled. We were filled with hope and excitement only to be crushed." Her post ended on a happy note: "Someday we will have our happy new beginning and I pray any of you experiencing the same will have yours too."
Here's what Katie Lee ate during her pregnancy
Well, it seems Lee and Biegel are well on their way to having the family they dreamed of. The Food Network cook clearly enjoyed sharing her pregnancy journey on Instagram, with Lee frequently posting photos of the foods she enjoyed as her bump grew. She recently confessed to getting tired standing up in the kitchen so close to her due date. And yes, Food Network worthy pasta recipes were definitely on the menu, but hey, since Lee was pregnant, she also indulged in cravings, like Taco Bell and a bucket of pretzels. Lee also told Rachael Ray about another pregnancy craving, sharing, "The other day I made a sandwich with mayonnaise and sweet pickles and that was it, and it was strangely delicious."
Now that baby Iris is here, fans and celebrity friends alike are congratulating the ecstatic new mom. Cupcake queen Candace Nelson responded to Lee's Instagram post by saying, "Oh my goodness she is an angel!! Katie my heart is so full for you! I can't wait to meet beautiful Iris!!!" Hoda Kotb chimed in: "Soooooo sweet." And Valerie Bertinelli commented, "CONGRATULATIONS!!" We share those sentiments. Enjoy every moment Katie!