The Reason The Burger King Mascot Just Kissed Ronald McDonald
While Ronald McDonald may be gone as McDonald's official mascot, he is most definitely not forgotten, and will likely live on in popular culture (and possibly a few clown-induced nightmares) for many years to come. In fact, Ronald, retired or otherwise, is so well-known that he's not just an American icon but a clown of worldwide renown. Also, he is one mascot that nobody, even inhabitants of other planets, would hesitate one second before automatically associating with one specific brand. Well, there's actually another such mascot, one who's almost equally off-putting, and yet, inexplicably remains unretired: the Burger King who reigns over the Golden Arches' archival.
One thing Burger King (the chain, not the mascot) is known for is its unusual advertising stunts, with some of their more recent (and not entirely successful) ad campaigns revolving around cow farts and moldy burgers. (Yum! Are you hungry yet?) Burger King in Finland, though, actually came up with an advertising stunt that's as sweet as it is surprising, involving two dueling mascots evidently engaged in some kind of clandestine Romeo and Juliet-type romance (only, it is to be hoped, without the unhappy ending): Burger King and Ronald McDonald, K-I-S-S-I-N-G! Who'd have ever seen this coming?
Burger King is celebrating Pride Week
Although in the U.S. we celebrated Pride Month in June, Finland's capital postponed this year's Helsinki Pride Week until September. Just like they do here, many companies want to make a strong statement supporting LQBTQ pride (remember the silver Skittles?), but no company has ever been so bold as to ship its mascot with that of its biggest competitor. Until now, that is.
Burger King's latest ad, running on outdoor media all throughout Finland, shows the Burger King planting a big old smooch right on Ronald's clown-painted lips, and bears the tagline: "Love Conquers All," (via MediaPost). Burger King Finland's Brand Manager Kaisa Kasila stated the reason for the campaign: "Burger King has always stood for equality, love, and everyone's right to be just the way they are." 
As to the reason why they went above and beyond by not only portraying the mascot as LGBTQ, which is bold in its own right, but deliberately choosing an opposing brand's character as his love interest, was because they wanted to show that tolerance transcends commercial rivalries. As Kasila explained: "We know McDonald's stands for the values we stand for, too... We thought, what a better way to convey our values than by portraying an all-encompassing kiss between Burger King and McDonald. We wanted to show that in the end, love always wins."
This isn't the first time Burger King has been LGBTQ-friendly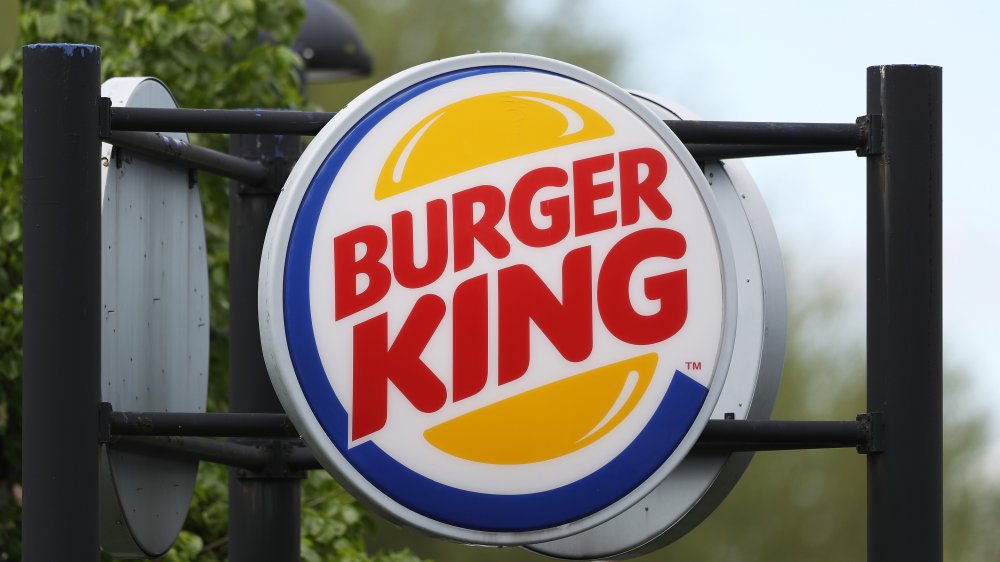 Naomi Baker/Getty Images
Another country's Burger King celebrated Pride in a unique way just a few months back (via LGBTQ Nation). While there was no smooching to be spotted between the two chain's mascots, Burger King Mexico, in June, temporarily changed its corporate logo across their social media accounts to "Burger Queer," and paired it with a rainbow-crown giveaway at its stores. The company joined up with Rappi, a popular on-demand delivery service that is frequently used in both Central and South America, to honor Pride month in this one-of-a-kind way.
In addition to new Facebook and Twitter logos, they also changed food packaging to reflect the campaign. While some responses on Twitter were unsavory and negative, there were some positive retweets, such as, "Burger King Mexico is my new favorite restaurant."