This Dishwasher Hack Is A Serious Game Changer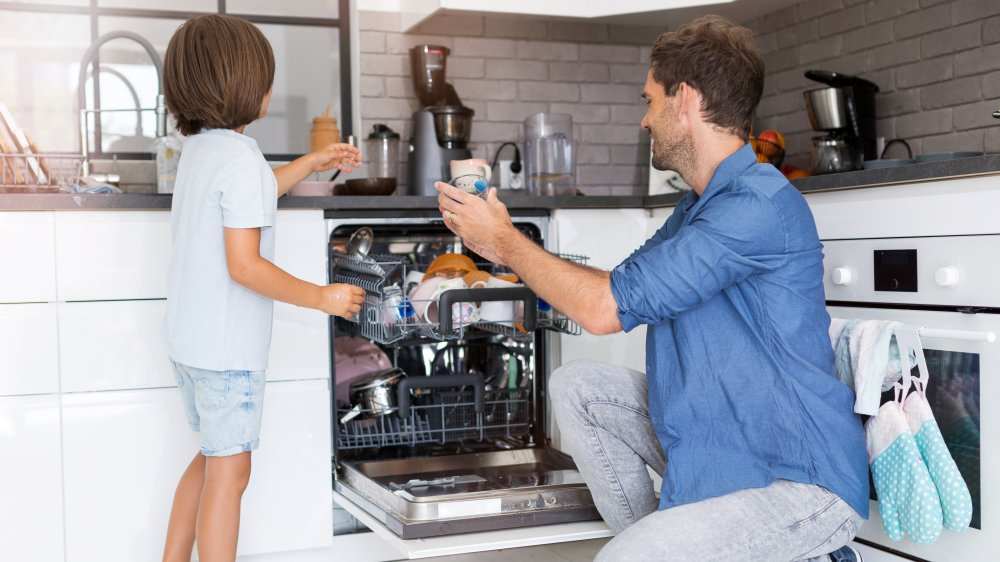 Shutterstock
The modern-day dishwasher, by all accounts, has made life easier. Hand-washing dozens of plates, pots, glasses, silverware, and other cooking utensils after a heavy meal is a rare occurrence in most U.S. households. In fact, the dishwasher is the hero in many a kitchen tale, favored for its virtues of convenience and time-saving. The U.S. Department of Energy even touts how Energy Star certified dishwashers can cost as little as $35 a year to operate and can save an average of 3,870 gallons of water over the life of the dishwasher. It's both environmentally friendly – using less water than washing by hand – and pocketbook-approved. 
However, just because something is more convenient, doesn't mean it doesn't come with challenges. With the advent of our hero, our plastic containers have been bullied and battered during wash cycles by the dishwasher's own water jets, or worse destroyed entirely when we've placed these plastic containers on the lower rack, only to have them magically end up at the bottom of the dishwasher, melted by the heating element. Other times, you may have found the containers flipped over and full of dirty, greasy dishwater at the end of the cycle. It's truly a tale as old as time.  But luckily, there are innovative problem solvers out there who are all too willing to share their solutions and hacks with the Internet universe so that your dishwashing experience can have a happy ending, and this one is a game-changer.
Upside down metal dish rack hack
A Reddit user shared that she, too, has encountered the flipped over Tupperware, Rubber Maid, insert name brand of choice plastic containers in her own dishwashing saga and adventures, but found an unlikely hero in a common dish rack you normally use for drying dishes when you hand wash them. The user said she takes hers, flips it over so it is upside down, and places it over her beloved Tupperware on the top rack of her dishwasher. An Australian writer at Yahoo likened it to a "seat belt" that keeps your precious plastic containers in place for the wild ride that occurs during the wash and rinse cycles. 
Many Reddit users chimed in with their appreciation for sharing this brilliant hack, one offering, "OMG, Thank you!! I've been irritated about the flipping over for so long. This.is.perfect!" While another user raised this question: "Hmm this looks like it would leave little bits of food residue in the tubs. Do the tubs still get the full cleaning action OP??" The user who originally shared the hack assured the individual, "Yes it doesn't [affect] how clean they get." So, if you find that your plastic containers fall victim to your dishwasher's menacing ways, give this hack a try and it may be just the happy ending you are hoping for.