Here's What You'll Find In The World's Largest Chick-Fil-A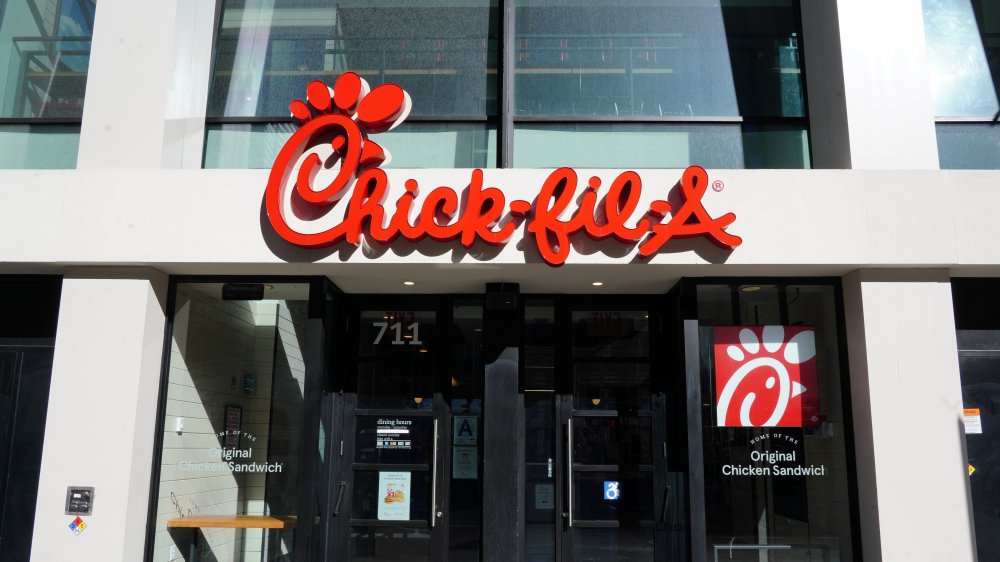 Cindy Ord/Getty Images
Chick-fil-A is a favorite spot for a quick and delicious bite to eat among chicken sandwich loving diners. Consistently voted the number one fast-food chain for four years straight, the company has a loyal customer base that appreciates the food quality and helpfulness and courteous nature of the staff (via CNBC). The fact that they traditionally give the first 100 customers who camp outside of a newly opened location free Chick-fil-A for a year  (via Chick-Fil-A). 
Per Entrepreneur, Chick-fil-A makes more money per restaurant than any other fast-food company. And boy is it growing. It's been predicted that it will outgrow Wendy's, Burger King, and Taco Bell to claim the number three spot on the list of the largest fast-food chains. They have restaurants in just about every state, but how would you like to eat Chick-fil-A in Manhattan under a blanket of sky while taking in the sights and smells of the city's Financial District, as well as a serene view of One World Trade Center? Well, guess what: You can at the world's largest Chick-fil-A thanks to New Yorker Luke Cook, a onetime employee of the chain who became a franchisee (via The Daily Meal). 
Chick-fil-A has light, height, and family-style dining in Manhattan
In 2018, Cook opened a five-story restaurant on Fulton Street so Wall Street can enjoy yummy, juicy, iconic Chick-fil-A sandwiches. The store is 12,000 square feet, a virtual mansion in the heart of New York, and can accommodate up to 140 loyal customers. It boasts three levels for guests and two for kitchens. Floor-to-ceiling windows help maximize natural lighting and make the place appear more spacious. Plus, eaters can people-watch as they nosh on their waffle fries and drink up their seasonal peach milkshakes. It's even replete with a rooftop terrace that is open when the weather is warm and you want to soak up some vitamin D. 
It also boasts two kitchens, a staircase that you can access on the ground level and goes all the way up to the fourth floor, and a place to host some somewhat private power pow-wows and a skylight that makes the space nice and bright (via Chron). Additionally, there is plenty of seating for family-style dining and to keep things quick and efficient, you can skip the long lines and pay in advance using the Chick-fil-A mobile app (via Chick-fil-A). If you are going there and want to get a sneak peek or are just curious, check out their virtual tour.  Per the Chick-fil-A website, the location is open Monday-Saturday from 10:30 AM to 8 PM.