This Is Popeyes' Most Underrated Menu Item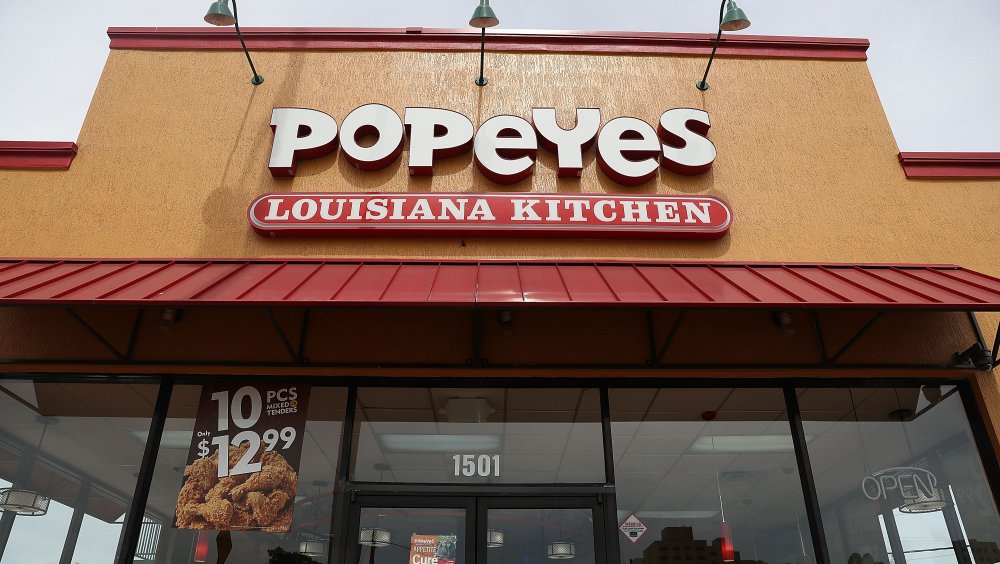 Joe Raedle/Getty Images
Popeyes is a popular fast food, Louisiana-style chicken joint, boasting over 2,500 restaurants in 49 states, with Texas having the most locations (via Scrape Hero). The chain is well known as a go-to destination for all things fried chicken. In fact, when you hear anything about the notorious "chicken sandwich wars", you can bet Popeyes and its fried chicken sandwich is somewhere in the mix. In 2019, the chain's chicken sandwich offering officially went viral, with some locations even running out of the coveted menu item (via NY Daily News). The now infamous sandwich was so successful that Forbes hailed its sell-out as a $65 million marketing miracle.
It's really difficult to think of Popeyes without immediately picturing all of that lovely, crunchy, salty fried chicken, but the chain does offer other menu items that deserve a little bit of the spotlight. From their po'boys and jambalaya to their seasoned fries and delicious onion rings to their buttery biscuits and cinnamon apple pies, Popeyes offers some mouth-watering dishes that should get their 15 minutes; but we're here to tell you that one menu item at Popeyes is by far the most underrated of them all.
Popeyes most underrated menu item is a side dish
Popeyes most underrated menu item is actually one of their side dishes, the red beans and rice. It's easy to understand why the fast food chain was so good at creating their own version of this traditional Louisiana staple, but with the fried chicken always hogging the spotlight, it's also easy to understand why the side dish is sometimes ignored when it comes time to place your order. Per Livestrong, a regular-sized order of red beans and rice from Popeyes is packed with 7 grams of protein, 14 grams of fat, and contains only 230 calories, making this menu item one that won't break the calorie bank if you are concerned about fast food's notoriously unhealthy reputation. Not only is the side fairly low in calories, the seasoned rice swimming in a smoky bean stew tastes good too!
Eat this! Not that! calls Popeyes red beans and rice an "oft-overlooked side" that is frequently abandoned by customers when given the option between it and French fries. Fair point, as fries can be pretty hard to pass up, but you may want to skip the spuds next time (or get both!), as the outlet agrees that Popeyes red beans and rice are one of the best fast food side dishes out there. Twitter user @Sam_J_Hodge even praised Popeyes red beans and rice as "...easily one of the greatest chicken joint sides." So, the next time you're ordering your three-piece fried chicken meal, don't forget to add the red beans and rice.