The Untold Truth Of White Castle's Breakfast Menu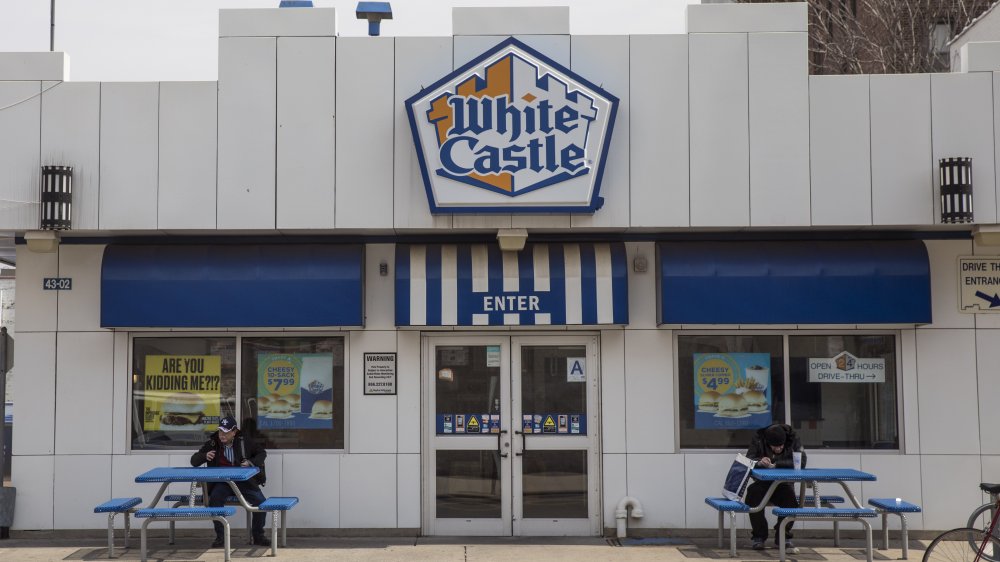 Drew Angerer/Getty Images
One of America's most-loved fast food burger chains, White Castle has totally changed the way people perceive sliders. The chain's small hamburgers with their unique flavor and square shape have managed to stand out in the face of stiff competition. First founded in 1921 (according to Time), White Castle offers a dazzling array of options available on its menu, including a massive variety of hamburgers and sides. Among these products are things like French fries, fish sliders, clam strips, bacon cheese sliders, chicken rings, and mozzarella cheese sticks. The chain has a unique take on sweet treats too, selling items such as fudge dipped cheesecake, fudge dipped brownies, and gooey buttercake, all on a convenient stick. In 2014, Time even listed White Castle's sliders the most influential burgers of all time! Beating out both successful fast food companies and regional specialties like McDonald's classic burger, Minnesota's Juicy Lucy, the semi-imaginary Krusty Burger from the animated television show The Simpsons, and Burger King's Whopper.
As per Time, White Castle's approach towards cleanliness is part of what made it really stand out from the crowd and helped the chain achieve success back in the 1930s. Being able to see the meat being ground in a white room made the hamburger popular among Americans, quelling fears about unsanitary production facilities.
White Castle breakfast sliders are pretty hard to beat
Not only can diners at White Castle can choose from a variety of regular burger joint-fare, the chain has some incredible breakfast options which Spoon University says are freshly prepared to order. The White Castle breakfast options are also available all day, so it's worth considering choosing from the special menu next time you're hungry and looking to try something new.
Back in 2015, Delish reported that White Castle had decided to begin offering their full breakfast menu all day, much to the delight of many of the chain's customers. The outlet states that the company came up with its "Anything, Anytime" campaign after McDonald's reinstated their limited all-day breakfast menu. In a bid to allow White Castle fans time to get their hands on any of their favorites from the chain's breakfast offerings (such as the legendary waffle-and-egg sandwiches or the hash brown nibblers) the company chose not to limit which breakfast items would be available after standard breakfast hours. Of course, since customers were no longer restricted to trying these breakfast items at a specific time, White Castle's move to an all-day breakfast menu definitely contributed to the campaign's success. Now both fans of the White Castle breakfast menu and customers who had not yet had a chance to try the items were able to indulge.
White Castle offers unique breakfast options
While White Castle has some stiff breakfast competition from its fast food peers such as McDonald's and Taco Bell, it has managed to carve a niche for itself with its unique breakfast menu items which are slightly unconventional, yet strangely satisfying. It helps that the breakfast menu is loaded with items that merge with their regular menu, helping you satisfy even the worst hamburger craving while still trying something new.
Diners are not restricted to fancier options like the waffle sandwiches and breakfast sliders, as the White Castle breakfast menu also offers comforting and simple items such as the breakfast toast sandwich, which comes filled with an egg, cheese, and a meat of their choice. Hungrier customers can opt for a combo and pair one or two breakfast sandwiches with a side, and of course there is always coffee. The White Castle breakfast menu has a little something for everyone, and as it is available in full all day, their breakfast offerings are absolutely worth trying at least once.