Mountain Dew Is Working On A Surprising New Product, And It's Not Soda
Mountain Dew has been around for a long time, since the 1940s in fact, when it was marketed to a few cities in the South (via PepsiCo). And to keep maintaining longevity for 80 years, the soda brand has reinvented itself and created a number of other products over time. Besides, if you were a '90s kid, you most definitely remember those soda-flavored lip balms, which you can still get today at Claire's store. Apart from the lip balms, there are Mountain Dew energy drinks like Amp and Kickstart as well as a slew of flavors such as limited-time Vood-Dew, Code Red, Lemon-Lime, Live Wire, and Voltage (via Mountain Dew).
But in the strange times we live in, the soda brand is completely shaking things and making a new product that's definitely not soda. It might not even taste like Mountain Dew, but we will have to wait until it launches to see. The newest product to become part of the lineup is a hot sauce (via The Takeout). But to accomplish this feat, Mountain Dew won't be working alone.
What you need to know about Mountain Dew Hot Sauce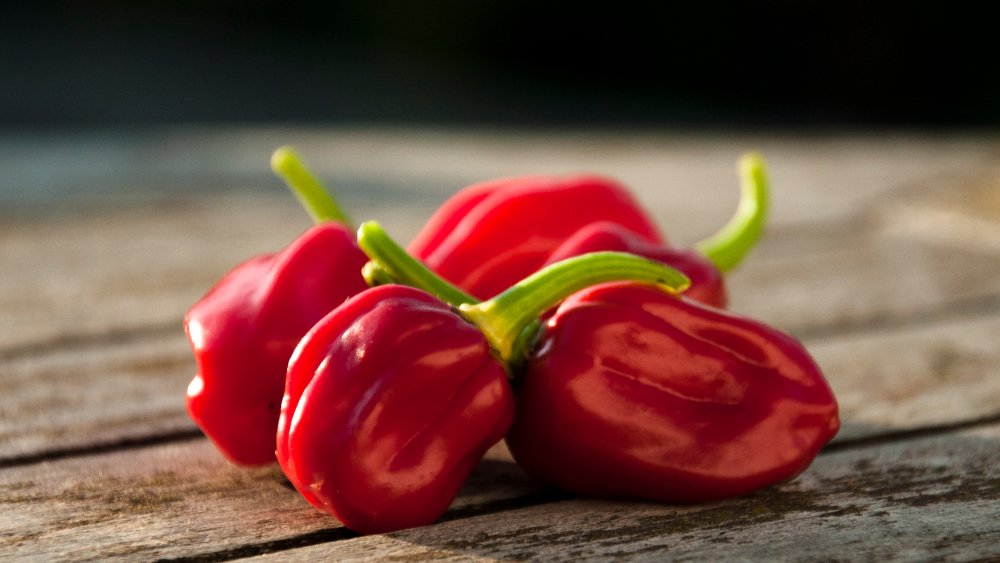 Shutterstock
The soft drink has partnered with both hot sauce shop, iBurn, and Joel Embiid, a Philadelphia 76ers basketball player. Together, the trio is creating and releasing a limited-edition hot sauce that will have a flavor inspired by Mountain Dew. If you're not an avid hot sauce fan and wonder how Embiid fits into this equation, he's a major hot sauce aficionado who appeared on the YouTube series Hot Ones. Embiid even finished every hot wing with the sauces that rang in as hot as 2,000,000 on the Scoville scale (via Delish).
As far as the hot sauce itself, the flavor hasn't yet been determined. Mountain Dew held a poll on Twitter, which ends September 30th, for fans to vote on what the flavor — and level of heat — should be. The choices include Peri-Peri, Fatalii, Habanero, and Datil peppers. While habanero is a well-known very hot pepper, fatalii is actually the hottest option available in the lineup. Though there are a few hours left to vote, habanero is still in the lead, but we'll see which wins out come October 1st.
Whenever this hot sauce is actually made and bottled, you'll have to keep an eye out for it to hit shelves. Once it does, be sure to pick up a bottle or two since it's a limited edition product. You definitely don't want to miss this.