What You Didn't Know About Yuengling Hershey's Chocolate Beer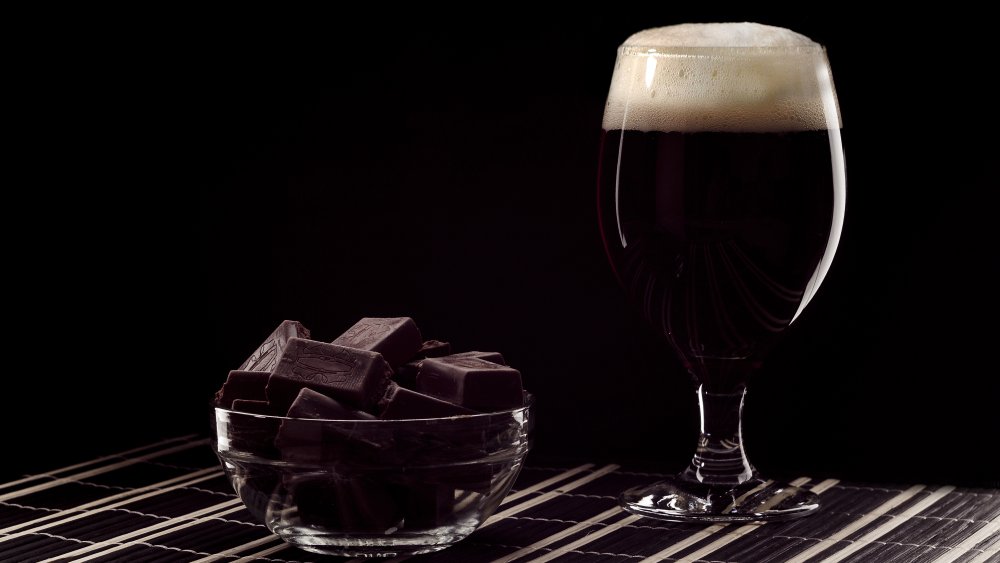 Shutterstock
Self-proclaimed "America's Oldest Brewery", the Yuengling website describes themselves as a tradition-bound business. Founded in the early-1800s by a German immigrant in a Pennsylvania coal town, these brewers also know how to keep up with the times. In a move that brings to mind the many recent collaborations between breweries and coffee companies, USA Today states that Yuengling got together with candy company Hershey's last year to produce kegs of Yuengling Hershey's Chocolate Porter to be sold in bars and restaurants across 14 states. The collab was a hit, but people could only enjoy it by bellying up to a bar or filling up a growler.
"It was exciting to see the overwhelming responses from fans," Jennifer Yuengling, vice president of operations, told Food & Wine. "There were long lines at our Pottsville brewery with fans begging to fill their growlers and consumers searching high and low for where to get their hands on a taste." This year, Yuengling is making it even easier for people to find their special Hershey's brew. The outlet reports that Yuengling has announced they will be bottling the special porter and shipping it to stores throughout their 22-state territory. If you're able to to shop somewhere between Louisiana and Rhode Island, you should be able to find the dark, chocolatey brew.
The taste of Yuengling Hershey's Chocolate Porter doesn't disappoint
Yuengling Hershey's Chocolate Porter not only appeals to consumers because it brings together America's largest craft brewer with the country's largest chocolate company (according to The Philadelphia Inquirer and Statista), but because the beer actually tastes good, too. Reviewers on Beer Advocate praised the combo, with user ovaltine describing the drink as "elevated on the taste, with rich milk chocolate flavors and a smidge of char. Truly like a chocolate bar in a nice porter, and a pleasure to drink over and over." Some of the tasters on the beer rating website recommended the porter as perfect for an after-dinner or end-of-night drink. If you're looking for other ways to enjoy the decadent brew, Yuengling's product page suggests pairing the dark beer with chocolate, barbecue, or cheese.
According to Food & Wine, the Yuengling Hershey's Chocolate Porter will hopefully be available in bottles and on draft through Valentine's Day 2021, as long as supplies last. For those out west who feel they're missing out on the Yuengling experience, Jennifer Yuengling told the outlet the brewery will soon be partnering with Molson Coors to expand its distribution. Unfortunately for all our west coast friends, there's no word on whether or not this expansion will happen in time for the rest of the country to try the Yuengling Hershey's Chocolate Porter.