The Domino's Secret Menu Items You Need To Try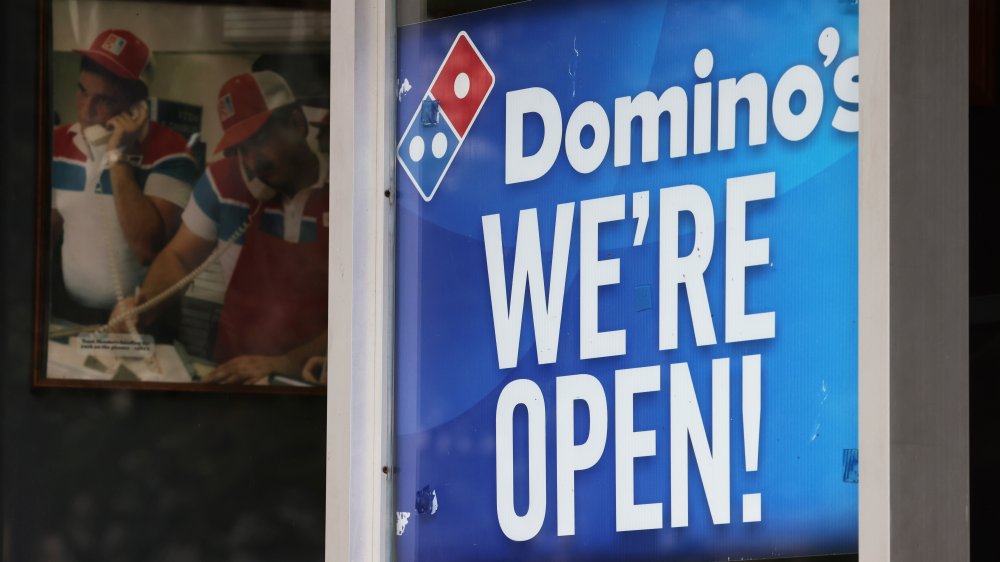 Michael M. Santiago/Getty Images
If you're looking for a quick fix of piping hot pizza and cheese-filled garlic breadsticks, fast food restaurant Domino's rarely disappoints. Fans love the pizza chain for being reliable and familiar — in fact, Domino's is so constant that it only introduced new pizza options (the chicken taco pizza and the cheeseburger pizza) after almost a decade of service, in August of this year (via Eat This, Not That!). Though the menu has remained more or less the same, the pizza chain still has plenty of surprises up its sleeve if you know how to ask. 
Did you know that (like so many other chains) there is a secret menu you can use to order food at Domino's? The trick is to know exactly what you're looking for and be sure to describe it correctly. According to a post on the Reddit message board r/Dominos, there are a ton of over the top off-menu creations that employees have tried making in the past, including one commentator sharing, "People at our store will make pretzels out of the pizza dough and also make chocolate cream filled desserts by mixing icing and the fudge inside a lava cake, and then putting that inside a bit of pizza dough." While this sounds delicious, you will probably have to be pretty connected (or work there) to get your local Domino's to whip up this secret menu dessert up for you. There are, however, two much more reasonable options on the Domino's secret that we think you absolutely must try.
How to order the best foods on Domino's secret menu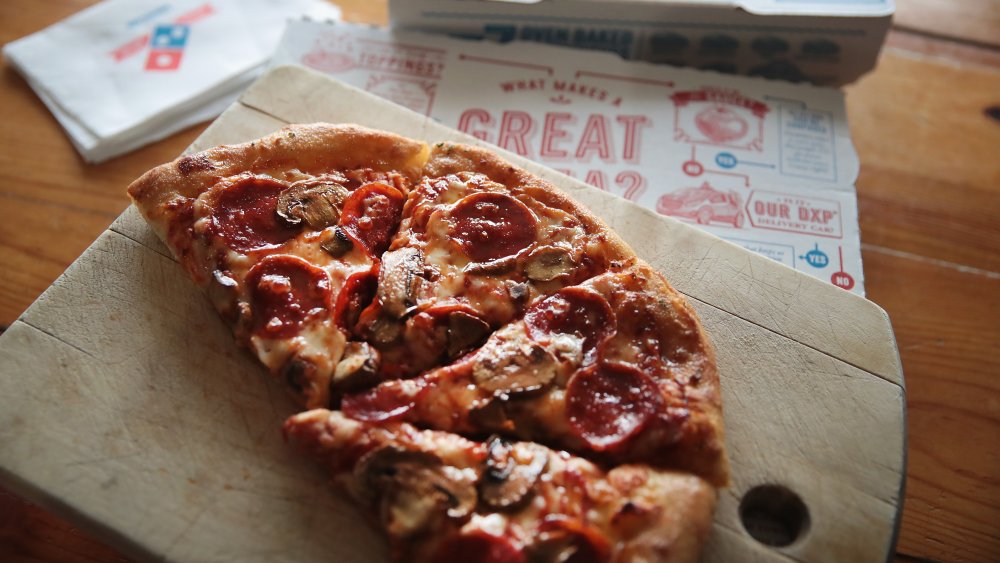 Scott Olson/Getty Images
The two options that are absolutely worth trying on the Domino's secret menu, according to Secret Menus, are the Super Lot Pizza and the All Day Breakfast Pizza. The latter is a real treat if you're into trying fun breakfast combinations, comprised of a pizza loaded with bacon, tomato slices, red onion, and scrambled eggs. If you want, BBQ sauce can (or will, depending on where you order from) sometimes be added-on. While the pizza isn't available at all Domino's, the luckiest diners located in Australia and the U.K. can ask directly for the All Day Breakfast Pizza. If you live outside of those countries however, now that you know the toppings needed you can always try to customize this pizza yourself.
As for the Super Lot Pizza, Secret Menus says the meat-heavy treat is available at most Domino's locations. Again, you can always ask for the toppings yourself and customize your pizza if your request for a "Super Lot" is met by blank stares. The Super Lot Pizza features an irresistible combination of pepperoni, olives, ham, ground beef, red onion, mushrooms, oregano, and pineapple. While we know the ingredient can be a bit off-putting to some, the outlet says that the pineapple does not distract from the rest of this meaty dish.