The Specialty Chick-Fil-A Soufflé You Can Only Get At One Location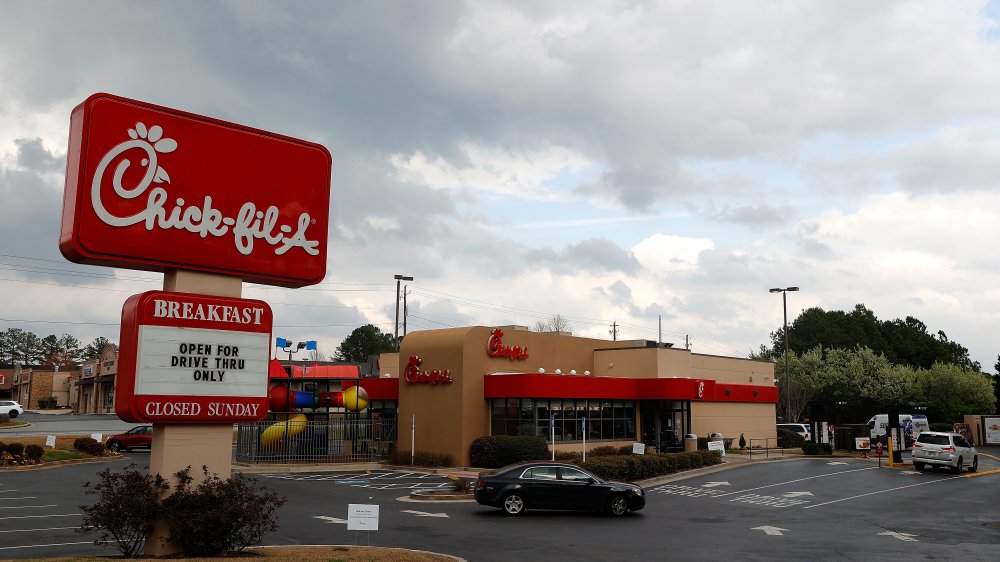 Kevin C. Cox/Getty Images
You know how you probably thought all Chick-fil-A restaurants were created equal? Well, we're about to blow your mind. There is one Chick-fil-A restaurant that is very special. In fact, it was Chick-fil-A founder S. Truett Cathay's first restaurant, which opened in 1946 and is still operating today as the Dwarf House Chick-fil-A. Located in Hapeville, Georgia, this unique location is enough to make any Chick-fil-A lover jealous. It has both booths with table service and a counter you can sit at to order your meal, as well as menu items you can only get if you eat at this specific store. Some call it a secret menu, but it's not really a secret at all. In fact, it is the original menu the Dwarf House used from the start and it's definitely going to leave you wanting more.
From collard greens and macaroni and cheese, to deep-fried okra and cornbread, to coconut pie and BLTs, the Dwarf House Chick-fil-A has many unique offerings available to order up; but as fabulous as all these dishes sound, it's the sweet potato soufflé the Dwarf House offers that has our mouths salivating. If you ever get the opportunity to taste it, you will understand why (via Southern Living).
Chick-fil-A's sweet potato soufflé is something special
The sweet potato soufflé sold at the Chick-fil-A Dwarf House is all kinds of yummy. Per a reviewer on Trip Advisor, this dish is topped with a streusel comprised of oats and brown sugar. Southern Living says there are also candied pecans on top of the dish, but this reviewer did not notice any nuts. It looks so creamy and delicious, we're ready to head to Hapeville and order it now. However, if you are watching your waistline, you may want to opt to share it with a friend. One five ounce serving of the soufflé contains 280 calories and 11 grams of fat according to My Fitness Pal. As a stand alone meal that doesn't seem overwhelming, but add in some of the other "can't resist" menu items like a milkshake and their original chicken sandwich, and your calorie count might be off the charts.
Still, we all deserve to indulge from time to time, and the Chick-fil-A sweet potato soufflé is definitely worth it. One Chick-fil-A fan on Twitter wrote: "Chick-Fil-A's sweet potato soufflé makes me melt ~ Food should not have this affect on me. *whispers: I heart you* #Yum." Another great perk about the Georgia Chick-fil-A store that sells this sweet potato soufflé: its hours. Now, don't get your hopes up — this one is still not open on Sundays, but it is open 24 hours a day for the most part, starting at 6 a.m. Monday morning till 10 p.m. Saturday night.