The Specialty Chick-Fil-A Tacos You Can Only Get At One Restaurant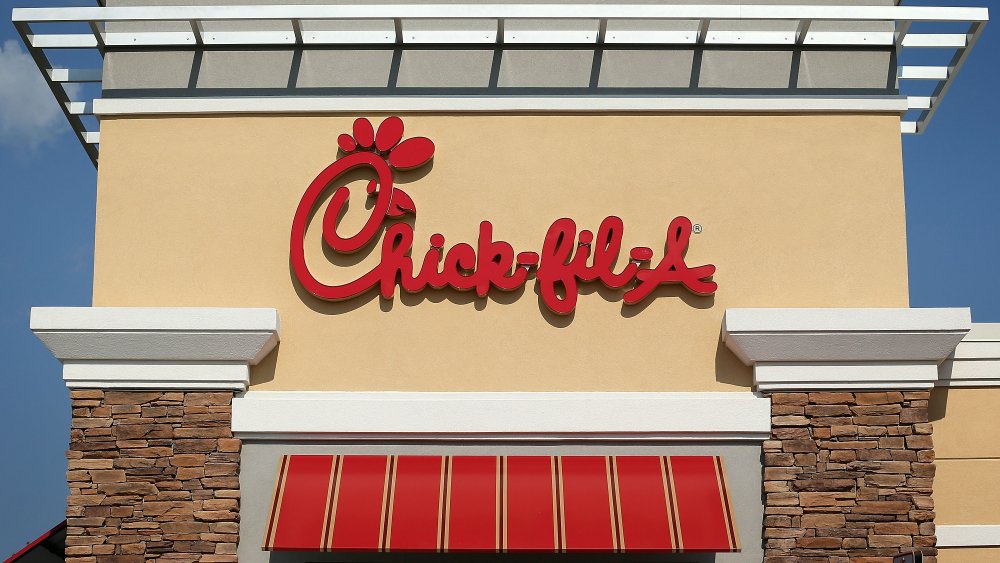 Alex Wong/Getty Images
If you live in the United States, chances are you've been to a Chick-fil-A restaurant. Voted the number one fast-food restaurant in the nation for four years straight (via USA Today), Chick-fil-A is clearly awesome. Those iconic fried chicken sandwiches with the signature pickle they serve-up have our mouths watering at just the thought. But even if you know almost everything there is to know about Chick-fil-A, you might not know that the Eat Mor Chikin quick-service chain claims another restaurant under its umbrella.
Truett's Luau is named for Chick-fil-A founder Truett Cathy and is located in Fayetteville, GA (via News & Information for the Emerald Coast). Its Hawaiian theme incorporates Polynesian elements throughout the 8,000-square-foot restaurant and will give you some seriously good vibrations. It offers the convenience of a drive-thru, the casualness of sitting at the counter, and the fun of gathering with friends for indoor or outdoor dining where servers take your order tableside. Truett's Luau was constructed in 2013 and was Cathy's last big project and perhaps his most meaningful. The Truett's Luau dining experience is the perfect blend of the tried and true, incorporating several of your favorite Chick-fil-A menu items with those that they hope will leave you feeling like you just ate in paradise, including their I'a Makana specialty tacos you can only get at this Chick-fil-A location. 
Tacos at Truett's Luau
Per To-Hawaii.com's Hawaiian dictionary, "I'a" means "fish" while "Makana" means "gift," and that is the perfect way to describe the I'a Makana tacos you can only get at Truett's Luau. They are made with grilled mahi-mahi or fried cod and topped with Luau's tasty coleslaw and word on the street is they are pretty good (via MenuPix). One reviewer on Tripadvisor wrote: "I was very surprised how delicious the fish tacos were! Beautiful place too and not crowded, so go and eat there! Not expensive either." A reviewer on Yelp offered: "The mahi taco, ohhhh the mahi taco. Decently sized pieces of grilled fish, super tender, flavored nicely, fairly juicy with a nice amount of slaw on it. I'd easily recommend this item!" 
Even a Hip2Save writer had to cave to the I'a Makana taco when she wrote: "I'm normally not a fan of cabbage, but man those tacos were delicious!" And if you are lucky enough to make it to the Truett Luau, don't be shy about ordering up some sweet potato waffle fries and a frosted pineapple to go along with your tacos. Your taste buds will thank you.