The Real Reason Kraft Just Pulled Its Controversial Mac And Cheese Ad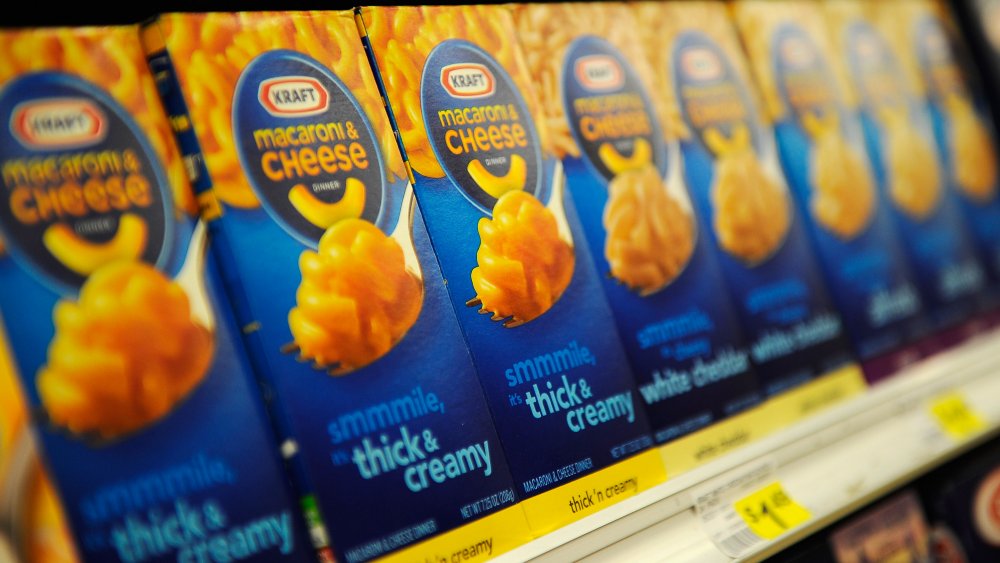 Kevork Djansezian/Getty Images
Search the hashtag #sendnoods on Instagram, and you'll see that eateries such as Phnom Penh Noodle Shack in Long Beach and foodie-influencers including @insta.noodls have been getting away with that double entendre in their posts without any problems. They certainly haven't been accused of promoting sex trafficking. But when Kraft Mac & Cheese tried to get edgy with a "send noods" ad campaign for National Noodle Day, online arbiters of good taste were outraged (via AdWeek).
The "send noods" campaign featured a video with Vanessa Bayer, who many people will recognize as a former member of the Saturday Night Live cast (via BuzzFeed). In the video, she thought she was making it clear when she told people to send noods to loved ones as a source of comfort in these strange times. "To be clear, I'm not advocating you send nudes to anyone," she says. "I'm talking about noods, not nudes." 
Kraft removed all traces of the campaign from social media, but food influencer @thenaughtyfork still has a Kraft "send noods" ad posted on her Instagram account. Her caption describes the promotion: Go online to send Kraft Mac & Cheese to friends, family, or yourself, and you get a free box. The offer ended on October 11. A Kraft Heinz spokesperson told BuzzFeed the campaign led to more than 20,000 deliveries of macaroni and cheese. Kraft removed the social media content because the promotion had ended, the spokesperson said.
People on social media called for a Kraft boycott
The "send noods" campaign was a new direction for Kraft, whose Instagram feed was otherwise filled with images of children, Disney characters, and connect-the-dots pages. It would be a stretch to connect the dots from a humorous ad campaign to child exploitation, but a lot of people online went there. Instagram user @kidboomerang asked Kraft, "Why do you think it's appropriate to suddenly launch a campaign that aims to desensitize children to sexual immorality and groom them for abuse?" Another Instagram comment under a recent Kraft post, this one by @republicanbarbie_, was just as pointed: "Just because you continue to push a pedo agenda in a 'discreet' way doesn't make it any more normal or okay."
Several Instagram users tagged their comments with #boycottkraft and vowed never to buy the brand's macaroni and cheese again. "I can't wait to hear about how badly their sales tank after their latest cringeworthy advertising gimmick," @bbrownwest commented.
It will be interesting to see whether blowback from outraged people will harm Kraft Heinz, which doesn't need another bad year. The company that owns Oscar Mayer, Planters, and Jell-O saw sales drop 5 percent in a recent quarter, before the pandemic (via AdWeek). Sales were up during the pandemic, as people in COVID-19 lockdown gravitated toward the company's comfort foods. Still, AdWeek reported the company lost more than $1 billion in the first three months of the pandemic because it devalued several of its brands.