Dunkin's DIY Donut Kit Is A Halloween Game Changer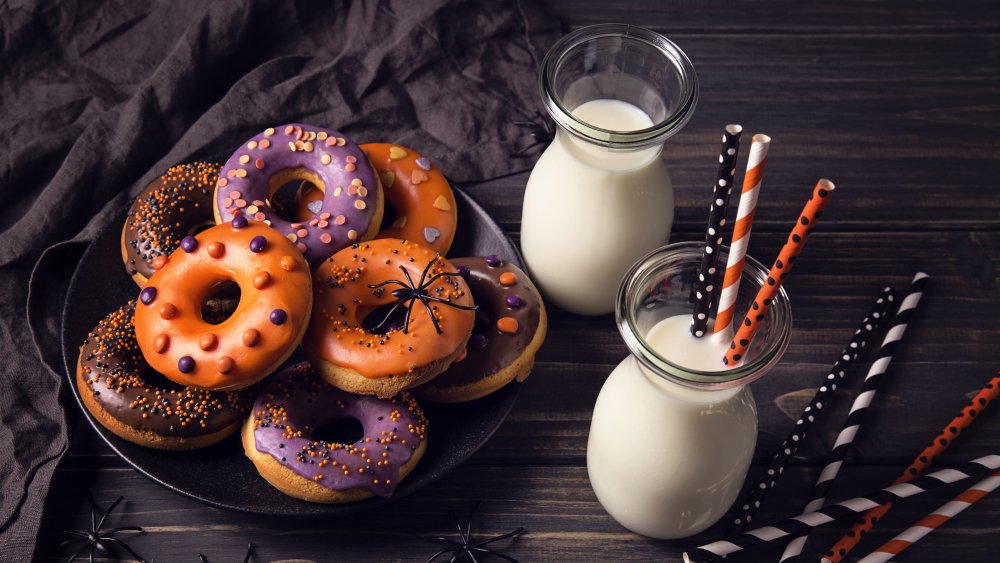 Shutterstock
Halloween may be looking even scarier than usual this year thanks to the Covid-19 pandemic, but that's no reason to forgo Fright Night all together. Dunkin' is officially coming to the rescue with DIY Donut Kits that will satisfy your sweet tooth and quell your craving for spooky creativity, all from the comfort of your own home (via Delish). Dunkin's Halloween DIY donut decorating kits are available in four-count and nine-count boxes, and feature plain or old-fashioned cake donuts. The kits also comes with with three different colors of icing: orange, white, and black; and multiple sprinkle blends, providing lots of options for devilish donut decorating.
Is anyone else feeling like DIY donuts could surpass Reese's Peanut Butter Cups as the most popular Halloween candy this year? In case you need more sugary sweetness to round out your Halloween celebrations, Dunkin has a couple other festive treats up their sleeves to go along with these DIY kits.
Dunkin's DIY kits are only a small part of their Halloween line-up
If you want to go all out on Halloween-themed donuts this year, Dunkin's DIY donut kit is just one part of a delightfully creepy line-up of tricks and treats. On October 14th, Dunkin's Spicy Ghost Pepper Donut hit stores, much to the delight of pepperheads everywhere. The donut is made with spicy ghost peppers and is topped with strawberry icing and red sanding sugar. For those looking for hauntingly good treats without the heat, Dunkin' also brought back their popular Spider Donut, which is a donut coated in orange icing with a glazed chocolate "spider body" Munchkin in the center and chocolate icing "spider legs".
In the Dunkin' press release announcing their Halloween specialties, Jill Nelson, Vice President of Marketing Strategy, said, "Halloween looks a little different this year, and so do our donuts... With our scary-good lineup of the Spicy Ghost Pepper Donut, Halloween DIY Dunkin' Donut Decorating Kits, and fan-favorite Spider Donut, Dunkin' is here to help our guests keep their Halloween spirit alive this season." Of course, these treats are only available for a limited time so be sure to snatch yours up before they're gone.