Why You Shouldn't Eat An 8-Year-Old Twinkie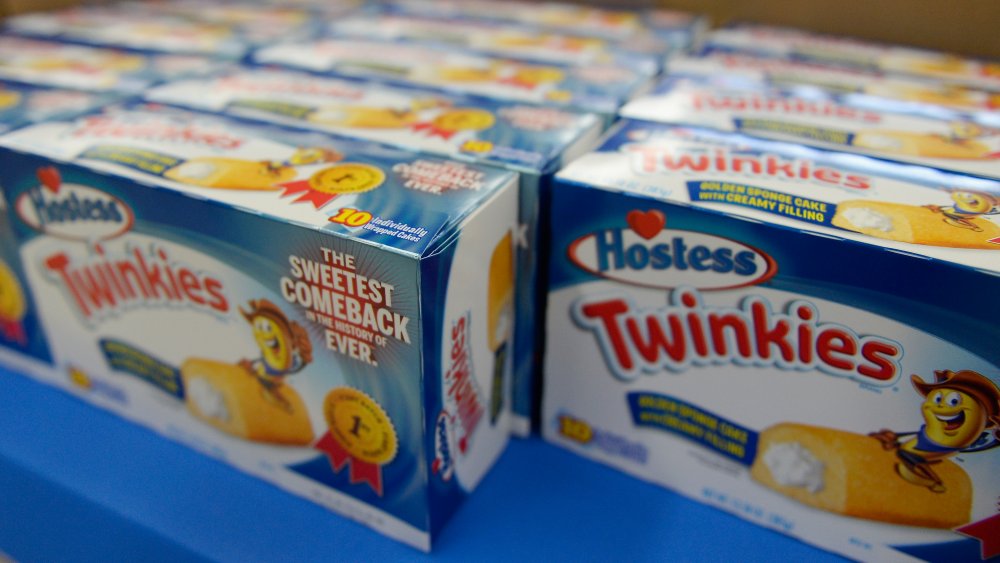 Kevork Djansezian/Getty Images
"Believe it or not, Twinkies have an expiration date." This is what Tallahassee, Woody Harrelson's character in Zombieland, said before risking his life to enter a grocery store in the zombie apocalypse. He wanted to taste sweet civilization one more time, knowing that "life's little Twinkie gauge is going to go empty."
Back in 2012, Colin Purrington, a self-described "geeky" scientist from Pennsylvania, also worried about the universe running out of Twinkies. Zombies hadn't taken over the planet, but for Tallahassee, the news would have been just as bad: Hostess declared bankruptcy and shuttered all of its Twinkies, Ding Dongs, and Zingers plants (via Food & Wine). So Purrington bought Twinkies for "future giggles" and stored them in his basement.
Fast forward to 2020. Still no zombie apocalypse, but we do have the global COVID-19 pandemic to contend with. For Purrington, that meant boredom (via NPR). He also didn't have any desserts in the house. So he retrieved that 8-year-old stash of Twinkies from his basement. He believed, as many do, that Twinkies never expire. (The rumor is so rampant that Snopes had to debunk it.)
"Although I grew up thinking Twinkies would last for years, if not forever, I was wrong," Purrington tweeted. "The one I bit into was chewy, unsweet, and smelled like rotting ginkgo fruit. I gagged." He noticed the box did have an expiration date printed on it: "Best Used by Nov 26th" (2012).
One 8-year-old Twinkie was mummified inside its wrapper
Purrington came out of his disgusting Twinkie experience OK, with no aversion to cream-filled sponge cakes. He told his Twitter followers not only that he ran eight miles shortly afterward, but he did so to justify his plan to eat a whole box of fresh Twinkies.
Meanwhile, Purrington donated his basement Twinkies to science. Researchers at West Virginia University who had studied fungal growth in Peeps wanted to get their hands on Purrington's unintentional mad-science experiment. Two of Purrington's Twinkies looked especially ripe for research. One had a blotch on it, about the size of a quarter. The other was shrunken and gray, mummified inside of its cellophane wrapper.
The mummified Twinkie had a couple of surprises: It didn't smell bad, and it still had some soft cream filling in the center (no word on how it tasted). The fact that the wrapper was shrunk along with the mummified Twinkie suggested that whatever fungus got to that particular Twinkie was inside the sweet cake before it was sealed at the factory.
Which is all the more reason to pay attention to those expiration dates, even in mass-produced baked goods with chemical ingredients that are in there "to retain freshness" (via H-E-B). It's a lesson Purrington has learned the hard way. "I think if you're browsing baked goods at the store, if you get the freshest one, it's probably going to taste better," he told NPR.