The Untold Truth Of Cape Cod Chips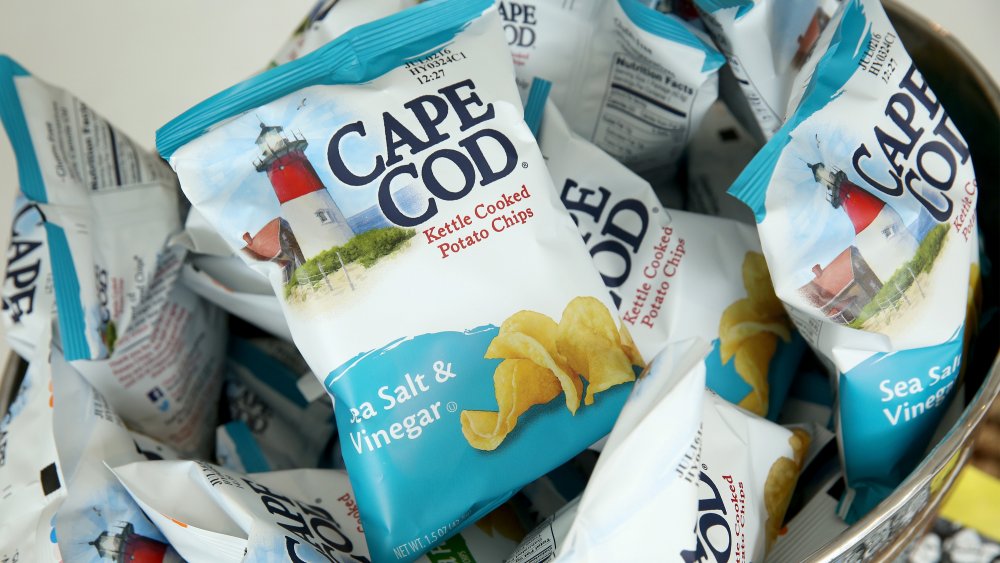 Cindy Ord/Getty Images
Cape Cod chips are a great snacking option, aren't they? According to Boston Magazine, fans can treat themselves to as many 20 different flavors of Cape Cod chips, including the excellent Sour Cream & Onion variant. The brand has stayed true to its kettle cooking style from the time it first started making chips and claims to always stick to specific, high-quality ingredients to achieve the best results. That tried and true process allows them to create crunchy, crispy, salty chips. 
Cape Cod, as explained on its official website, was first started  by two entrepreneurs in 1980 with a mission to offer high-quality, crispy potato chips to the public. The first storefront was in Hyannis, Massachusetts, and from there the company grew and expanded. Their product was a hit with the locals in Massachusetts, which helped it grow and achieve more success. To this day, the brand acknowledges its humble beginnings, even as it continues to evolve and offer more variety and more products to its customers. 
Customers can see how the chips are made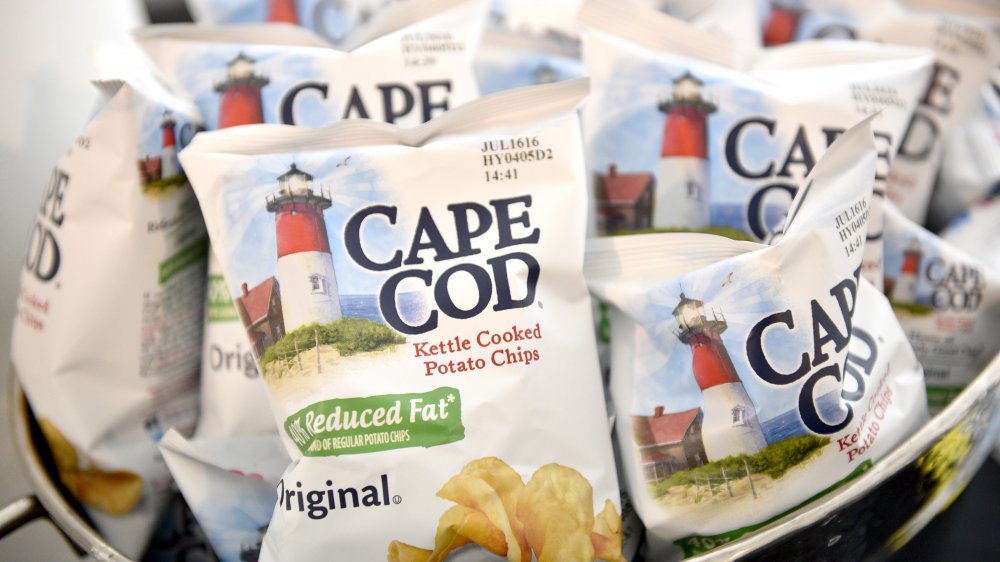 Bryan Bedder/Getty Images
Cape Cod decided to give its customers a glimpse into its world by letting customers visit its factory. They first began the initiative in 1985 and have continued with the tradition since then, including free samples during the visits. According to Food 52,  the brand started with approximately 200 bags of chips when they first began making them, and are now capable of producing over 136 million bags each years. Whoa.
The brand has stayed true to its New England roots over the years. In fact, its lighthouse design on Cape Cod's chips is a visual tribute to the Nauset Lighthouse in Eastham, Massachusetts. This red, white and black lighthouse has been a part of the region's history for more than 100 years and is a symbol of the area (via Boston.com). The story behind the design is pretty interesting too. The company's original founders, Stephen and Lynn Bernard, who'd sold the company once, repurchased it to save it from closing down in 1996. They worked with an artist, Elizabeth Mumford, to create a design for the brand. They already had a lighthouse and a boat copyrighted, but reinvented the imagery and honored the Nauset Lighthouse.
Their flavors have evolved
As explained by Food52, the Cape Cod brand did play around with textures and even the kind of potatoes they chose. In 2000, the company introduced the public to its Dark Russet chips, that were a bit sweet and had more butter compared to its original counterpart. The brand isn't afraid to come up with different options to satisfy every kind of customer. This seems to have worked well for the brand.
There is a Reddit thread, "How important are Cape Cod potato chips to you?" with some interesting answers posted. A Cape Cod chips enthusiast wrote, "When I was a kid, I got to visit the Cape Cod potato chip factory. I'd never had salt and vinegar chips before — let alone the Cape Cod ones. They had samples out and they were amazing; I think I ate almost all of them. That's when my favorite chip was decided."
When in doubt, and looking for a crunchy snack, you probably can't go wrong with a trustworthy bag of Cape Cod chips. Feast away.