The Reason Everyone Is Talking About This Wendy's Diss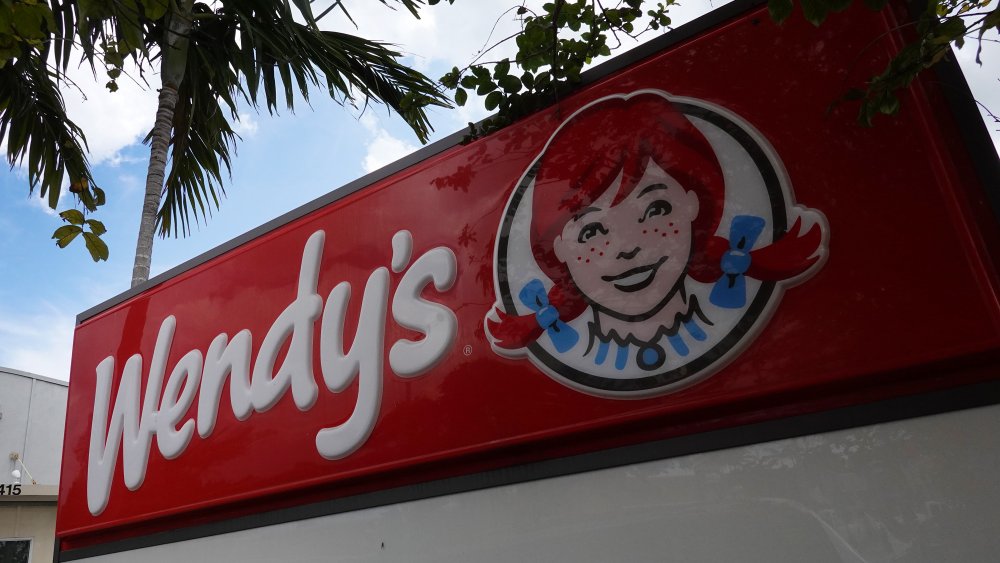 Joe Raedle/Getty Images
Long gone are the days when Wendy's used its Twitter account to modestly plug a new menu item or run a "best looking potato" contest. Wendy's Twitter has grown up to have a wicked sense of humor, and it doesn't take any guff from anybody. Much of Wendy's Twitter personality in recent years has been based on the chain's savage disses of fast-food rivals and just about anyone else who asks for it (via Bored Panda). But earlier this week, Wendy's Twitter manager broke character with tweets that showed off their knowledge of pop music. It all started in a familiar way, with a spat between Wendy's and another restaurant chain.
Dunkin' started it. They tried to roast Wendy's by posting a photo on Twitter of a woman in a donut costume, holding up a sign in front of a Wendy's restaurant that read, "Listen to the life-sized donut. You don't have to settle for spicy nuggets." Wendy's responded to the chain formerly known as Dunkin' Donuts with the sort of sharp, self-assured dig its followers have come to expect: "Stick to pushing the food that's so 'good' you took it out of your name. My grandma has more heat in her roasts." Dunkin' was promoting its Spicy Ghost Pepper Donut, but that hardly matters at this point. The thread went in a whole new direction.
Wendy's target wasn't a rival; it was a musician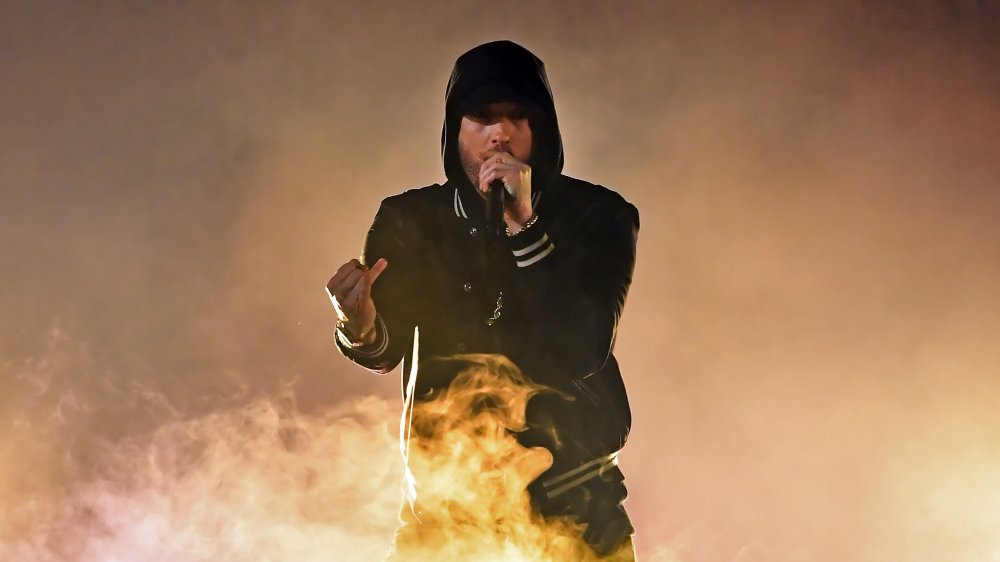 Kevin Winter/Getty Images
Twitter user Ishan Sauhta was impressed and tweeted about how Wendy's could match up against the world's all-time greatest disser. Sauhta tweeted, "Top 5 things Eminem's afraid to diss," implying that Wendy's is surely on that list. Wendy's reply to Sauhta ended up being another diss – not directed at Dunkin', McDonald's, or Burger King this time but at the young rapper turned rocker Machine Gun Kelly. MGK had a beef with Eminem a few years ago, before Kelly switched genres and put out a pop punk album (via Loudwire). MGK bounced back after Eminem's verbal attack, but Wendy's didn't think it could recover so easily. "Please don't make him do it," Wendy's tweeted back to Sauhta. "My pop punk album to recover after his diss isn't ready."
Wendy's made many more musical references after the Dunkin' tweet. Joel Madden of the band Good Charlotte slipped into the conversation with, "Now that's what I call a dunk!" Wendy's demonstrated its familiarity with Madden's band, offering up a variation on lyrics from Good Charlotte's hit song "The Anthem": "Now that you feel me, tweet if you're with me." Wendy's Twitter was playing to a niche audience at this point, but that audience responded with love. After the Good Charlotte reference, Paige Shelby tweeted, "This tweet right here solidifies my belief that Wendy's is the best fast food chain." What will Wendy's Twitter comes up with next?