Here's What You Didn't Know About SweeTARTS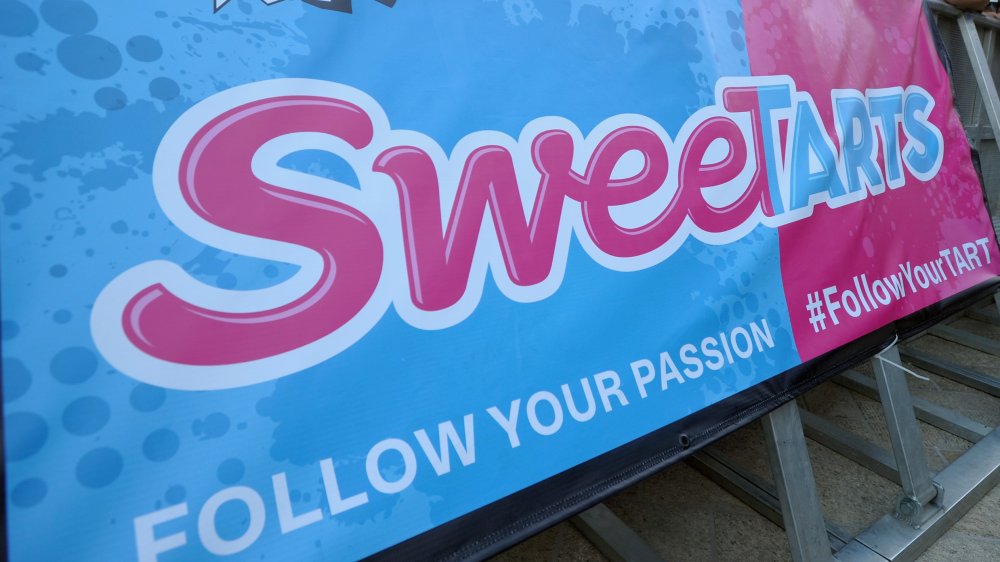 Dave Mangels/Getty Images
The spooky season of candy consumption is upon us, and with candy sales this year already topping last year's records, it's more obvious than ever that candy brands are expanding their product lines (via 3WTKR). Take SweeTARTS, for example. While they've been around since 1963 and once came in only one form, as a tube of chalky, yet still somehow delicious treats, the brand now offers 14 different versions for kids and adults alike to enjoy. These varieties can, for the most part, be divided into three main categories: ropes, chewy, and original (via SweeTARTS).
The originals are the SweeTARTS you'll remember from childhood: the round, sweet, and slightly sour candies that come in a tube or a box. The ropes are a newer fan favorite with a soft external texture of licorice ropes stuffed with a sour filling (via Business Wire). Finally, the chewy SweeTARTS are, as the name suggests, a chewy version of the classic sweet topped with a candy coating. In 2015, CandyGuru described the mini version of these as the best on offer at the time, being both sourer and chewier than the others plus small enough to eat by the handful. Once you've picked the texture you prefer, each version of SweeTARTS comes in a variety of flavors, from Berries & Cherries to Extreme Sour, and different sizes, from mini to giant.
SweeTARTS teamed up with Wonder Woman
As super fans of superheroes might already know, SweeTARTS recently collaborated with Warner Bros to release a tropical punch flavor of SweeTARTS ropes promoting the 2020 film Wonder Woman 1984 (via Red Tricycle). The yellow candy ropes were designed to look like the heroine's iconic lasso of truth. However, the press around this release shows that the brand takes its marketing collaborations seriously.
According to Ashley Incarnato, senior brand manager for SweeTARTS, "This partnership is a great fit because SweeTARTS stands for being more than one thing: sweet and tart, long and short, soft and chewy. Wonder Woman embodies that same idea of duality with her strength and wisdom, power and justice, and courage and truth" (via PR Newswire). The brand even worked with the film's costume designer to create and release a limited-edition golden ropes holder (i.e. fanny pack) to go with the candy promotion. Incarnato continued: "Our 'Golden Ropes Holder' is more than just one thing, too! It is a candy dispenser and a collectible for Wonder Woman fans." As if that wasn't enough, there's also an exclusive Snapchat filter to be unlocked by purchasing a package of SweeTARTS golden ropes.
The future of SweeTARTS
When it comes to future launches, the SweeTARTS brand often looks to its fans and customers for input. For example, in 2018 they held a contest to determine the next shape to be added to their SweeTARTS gummy candies (via Business Wire). They received more than 3 thousand entries, and from them decided on the cellphone as the next gummy shape. Not only that, but the brand gave the fan who submitted the idea of a year's supply of SweeTARTS Gummies.
However, unique shapes aren't the only way in which SweeTARTS seeks to connect with fans. Their "Be Both" marketing tagline and collaborations with celebrities such as designer Christian Siriano have also been interpreted as a subtle way of supporting non-binary gender identities (via The Takeout). In Siriano's own words: "It's impressive to see a candy brand really think about the world today, and want to be as inclusive and diverse as our society is becoming. ... Anyone can be anything, and even candy can be more than one thing." With such an open-minded philosophy, it's clear SweeTARTS is and likely will continue evolving with the times in order to stay relevant.