Denny's Bizarre Halloween Sandwich Is Turning Heads
We may receive a commission on purchases made from links.
Halloween this year is really going to be something special. First off, it's on a Saturday, which is always fun, but what's even better is that this year there will be not only a full moon, but a blue moon! While the phrase "once in a blue moon" implies something incredibly rare, such as seeing a yak nibbling your geraniums (don't you hate it when that happens?), a blue moon actually refers to the second full moon occurring in a calendar month, according to The Old Farmer's Almanac.
What's really rare about this particular blue moon, however, is the fact that it's happening on Halloween! Despite the fact that nearly every Halloween scene seems to picture a full moon complete with broomstick-riding witches, The Old Farmer's Almanac asserts that Halloween full moons actually only occur every 18 to 19 years. While all these uncanny convergences would be really, really cool if trick-or-treating, Halloween parties, parades, et cetera were all on as scheduled, Halloween is infinitely more enjoyable if it remains a light-hearted celebration of the macabre rather than a way to actually end up muerto. Still, if you live in South Florida, there is something very special you can do to celebrate this few times-in-a-lifetime occurrence. Don your spookiest face mask (perhaps one reminiscent of the old fashioned beaked model) and head out for some eats to that eeriest of all destinations, Denny's.
What Denny's is offering to commemorate the occasion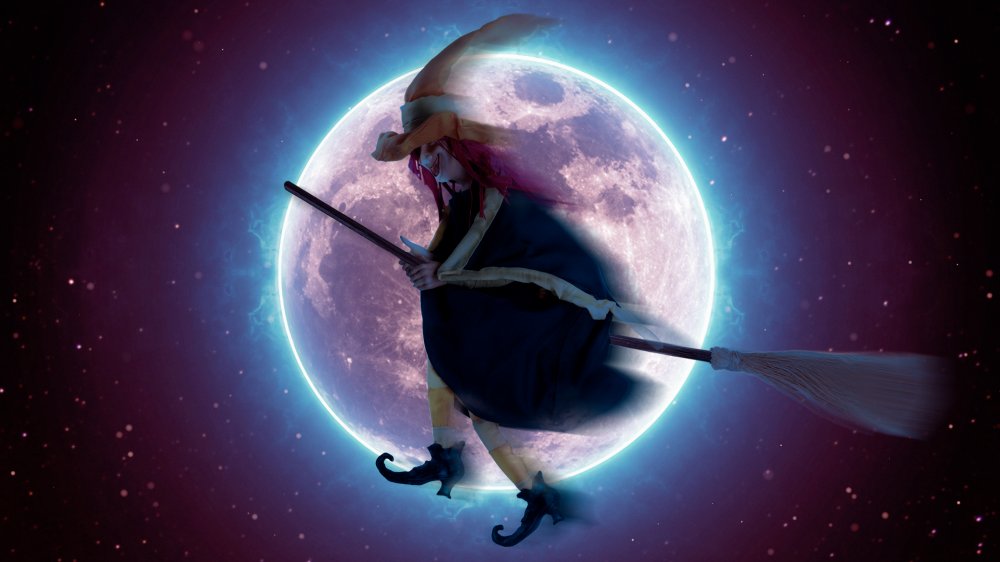 Shutterstock
One of Denny's signature menu items, the Moons Over My Hammy sandwich, is about to get a Halloween makeover. According to the company website, this dish includes a sandwich made of scrambled eggs and ham, topped with melted Swiss and American cheese between slices of grilled sourdough bread, with a side of hash browns. For just one night, in just a few locations, you can get a very special version of this signature dish, renamed the Blue Moons Over Miami, according to Fox News. As Denny's (adopting the handle of Halloweeny's for the occasion) announced via Twitter, the sandwich features "Blue bread for a Blue Moon," although apparently the ham, cheese, and eggs will all retain their original colors (which should come as a relief to Sam-I-Am's buddy). While a blue-breaded breakfast sandwich may be just what our nation needs right now, unfortunately Fox News points out that Denny's is so dedicated to remaining true to their pun that they will only be offering it in Miami-Dade county.
We'd like to point out that Blue Moon over Miami is also the title of a book that describes itself as "an adult fairytale about the 2000 presidential election miscounts." Let's hope this diner dish doesn't presage a return of that year's nightmare... After all, perhaps the scariest thing about Halloween this year is that it's just three days before the election.