If You're Not Pairing Your Halloween Candy With Cheese, You're Missing Out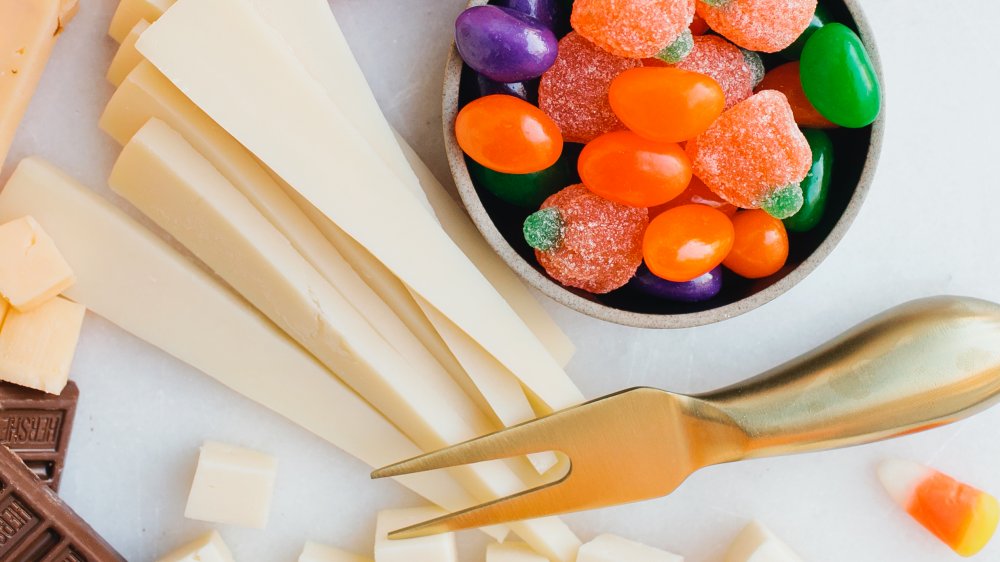 Roth Cheese
Halloween is here again, and this year there's more to look forward to than just candy. While you might have plans to do nothing but eat plenty of sweets and watch movies, there's a new way to enjoy the night. Though you probably know you can pair candy with wine, we're here to tell you you can pair it with cheese too! Match all three for a scary good Halloween-worthy charcuterie board this year.
Molly Browne, an American Cheese Society Certified Cheese Professional, explains how you can match up your favorite candy with cheeses for the perfect pairings. "Pairing is all about finding interesting textures and unique flavor combinations to elevate an ordinary eating experience. Candy is categorically filled with both." With so many cheeses to choose from for this unconventional duo, it might be best to turn to Wisconsin Cheese, since almost half the nation's specialty cheese comes from the state to begin with, according to Browne.
Though you could find your own pairings, Browne has suggested several Wisconsin Cheeses to match with different candies. Besides, Browne says, "combining the two turns an ordinary snack or dessert into an eating adventure. Furthermore, it will help expand your palate and enhance your understanding of the sensory qualities of both the cheese and candy, so really, you should do it purely in the pursuit of knowledge." In the spirit of Halloween, why not pair the two to continue educating yourself and your palate?
Here's what to pair with your Halloween treats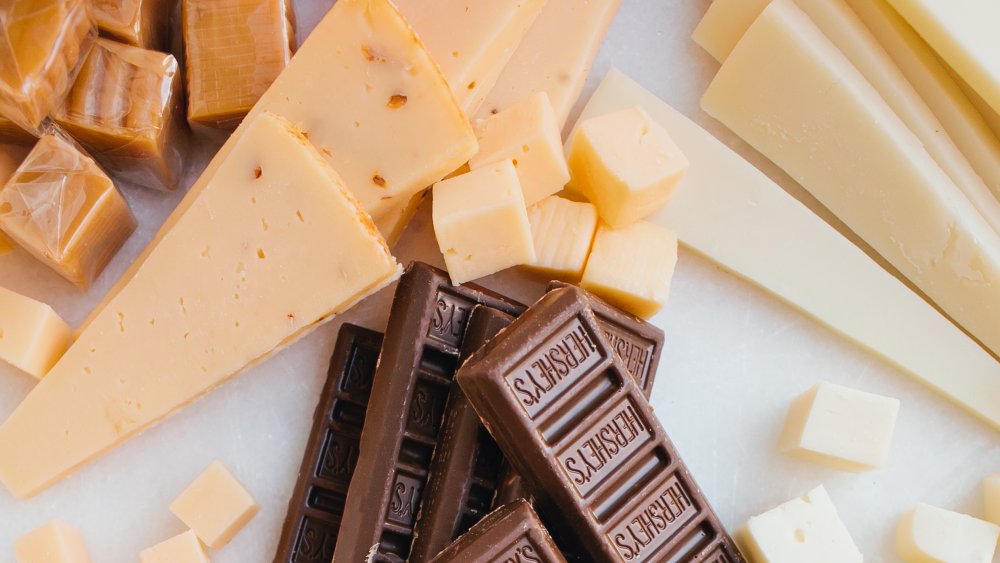 Roth Cheese
The first cheese and candy pairing is for a classic Halloween candy favorite, Reese's. Browne suggests eating the peanut butter cups with Wisconsin Roth Grand Cru. The nuttiness of the cheese is brought out by the peanut butter, which the chocolate counters. If you want to pair wine too, opt for a rosé that will cut through the richness of the chocolate. A cabernet sauvignon would do nicely as well, thanks to its deep jammy notes (via Forbes).
Another Halloween staple is candy corn, whether you love it or hate it. Candy corn's overly sweet flavor blends well with Wisconsin Saxon Snowfields Butterkase Cheese, which is smooth with a hint of almond. The rich and creamy cheese should melt in your mouth, just like the candy. Pop a clean prosecco to mellow the sweetness. Barefoot's moscato is another good choice due to its added carbon dioxide.
Butterfingers are up next with Wisconsin Deer Creek The Stag, an aged cheddar. This cheese develops toffee and butterscotch notes, making it perfect for the candy. Both have a flaky texture, though the cheese is denser, with some crystallization. Have a glass of unoaked chardonnay to cut through the sweetness and finish with a creamy note (via Better).
While you can start here, experiment with your own pairings such as Whoppers with parmesan, dark chocolate with a spicy cheese, or gouda with PayDay bars. Whatever you end up drinking and eating, it should be a fun way to celebrate an at home Halloween.