The Untold Truth Of Atlantic Beach Pie
Atlantic Beach Pie is a North Carolina phenomenon: neither completely lemon nor lime, free of graham-crackers, and topped with whipped cream instead of meringue, it's close to other citrus pies but also something completely different (via Our State and the Detroit News) This citrusy new Southern staple burst onto the public scene around 2011, when chef Bill Smith decided to recreate a dessert from his childhood. He remembered eating at seafood shacks along the Carolina coast and espousing a long-held belief to never eat dessert after a seafood meal (via Our State). The one exception? The lemon pies they served.
With the ingredients he had on hand, Smith threw together a quick version of the pie he remembered, using crushed saltine crackers instead of cookies or graham crackers, and whipped cream in place of a traditional meringue – it was just easier, and less prone to cracking or sweating. Then he began to serve "Atlantic Beach Pie" at his restaurant, Crook's Corner in Chapel Hill, and the dessert took off. Eventually, NPR got wind of it, spawning countless admiring blog posts and recipes from devotees in the South and beyond.
How to make sweet, salty Atlantic Beach Pie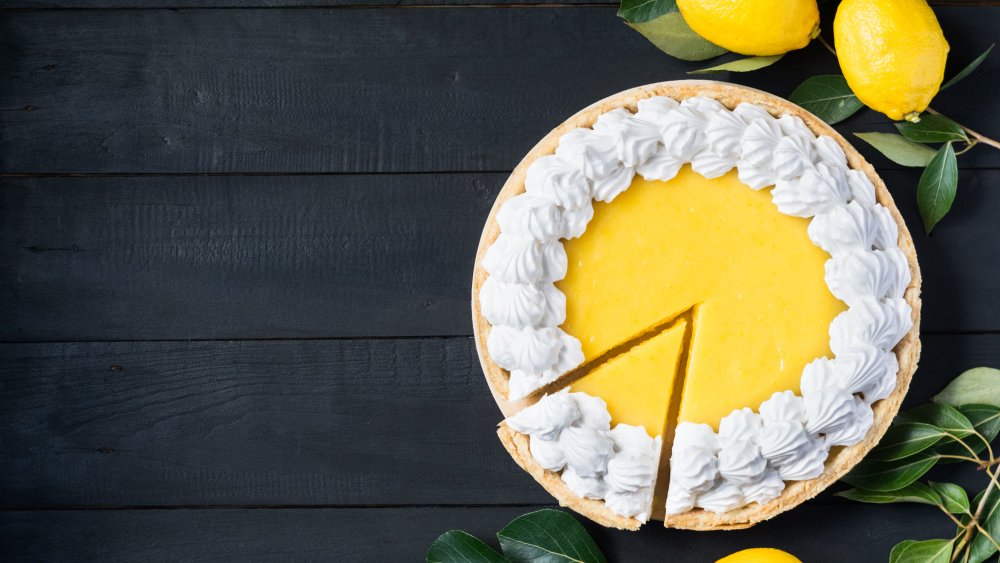 Shutterstock
An added perk of this pie is how relatively fast and easy it is to make. Instead of pie dough, you crush up saltine crackers in a ziplock with a rolling pin, mix with butter, and press into a pie pan. The filling is just sweetened condensed milk, lemon and lime juice, and egg yolks. The pie only needs to bake for 18 minutes after chilling, and as it cools, you can whip the cream for the topping. A few flakes of sea salt complete this tart, sweet treat.
But the real magic is the taste. Katie Workman, the author who helped popularize the Atlantic Beach Pie, told NPR, "It's this dense, crispy, thick, salty saltine crust, which is such an amazing balance to the tanginess and sweetness of the inside." The blog A Family Feast also sang the praises of this pie's marriage of sweet filling and salty crust: "It's fantastic and the perfect complement to the citrusy custard filling. It's also unlike any other crumb crust I've tasted before!" But don't take their word for it – try it out yourself.