Why The Pringles Mascot Just Lost Its Mustache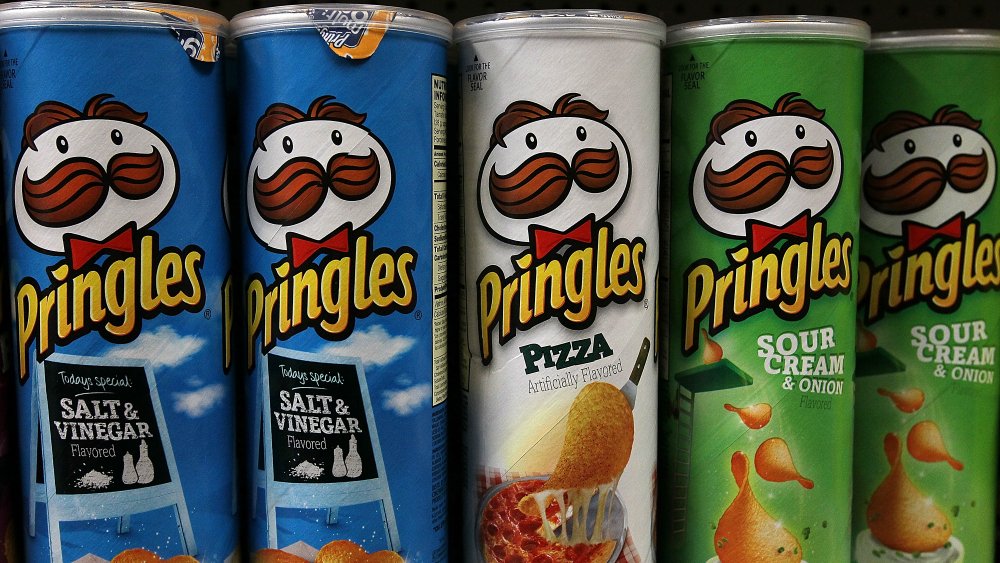 Justin Sullivan/Getty Images
For the first time in 52 years, according to PR Week, Mr. Pringles is getting a hair cut. He's not having an election season meltdown. The version of Mr. Pringles who has submitted to the hairstyle change is British. You can watch him chop off his signature, full mustache on Pringle's UK Instagram. His new aesthetic has already attracted admirers. "He finally going baby face," wrote one impressed follower. "So wanna see his baby stash," seconded another.
It's not just Mr. Pringles who is undergoing the major logo change. KFC France's Colonel Sanders is also suddenly mustache-free. No, this is not some sudden European rebellion against hipster hairdos. Mustaches, Esquire says, are still very much alive in 2020. Both Britain's Mr. Pringles and France's Colonel Sanders have shaved off their facial hair in the name of charity. We'll give you a hint. It's a cause that's quickly spreading across the world. Even select members of the Las Vegas Golden Knights hockey team have announced that they are participating.
This is why Mr. Pringles got rid of his mustache
Mr. Pringles, who you might know better as Julius Pringles, the face of salty party snacks, is chopping off his signatures mustache in order to support Movember. During the month of Movember, supporters of the charity event band together to raise money and awareness about "the face of men's health on a global scale, focusing on mental health and suicide prevention, prostate cancer, and testicular cancer." To help make raise money for the charity, many supporters chop off their mustache and let it grow back during the course of November.
According to the charity, Movember's supporters have helped fund over 1,250 men's health initiatives since 2003, among them a mental health program for first responders, and new medical technologies that look to combat prostate cancers. Don't think you can grow a mustache? Don't be so sure. Even the British lingerie model, Abbey Clancy has dawned one for the event (via The Sun).