Star Wars Fans Need This Baby Yoda Slow Cooker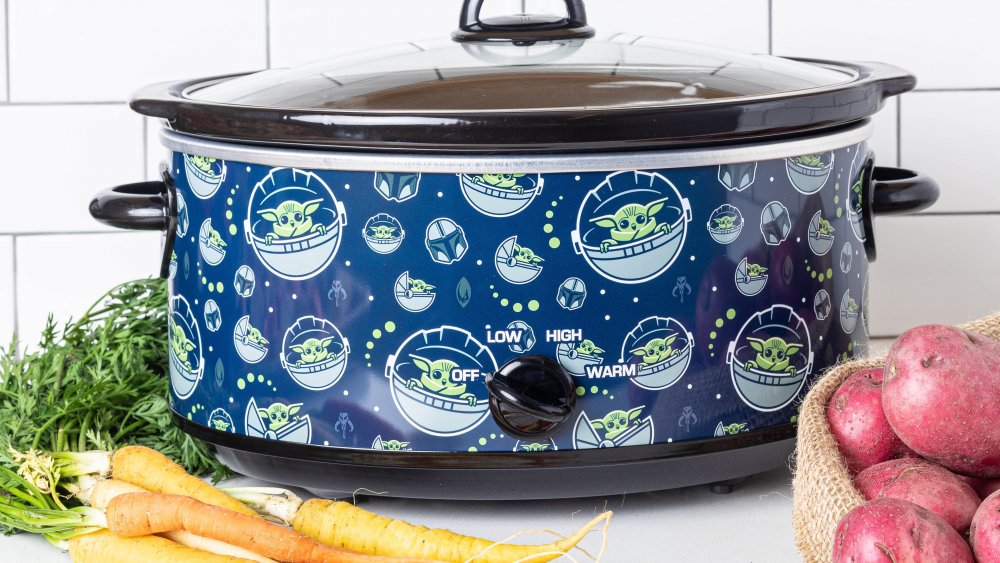 Uncanny Brands
The Mandalorian fans will need to rearrange their kitchens and find themselves some extra space, because this Baby Yoda-themed slow cooker is the next must-have kitchen appliance for Star Wars fans. 
Technicalities first: yes, we know, it's not officially Baby Yoda, but instead, an adorable smiling alien who looks a whole lot like our favorite green Jedi Master known as "The Child" by Disney Officials. What is official is that Disney has licensed this new 7-quart slow cooker as official Star Wars merchandise, although it might be noted that it isn't an official "Crock Pot" which is a brand name. The cooker holds 7 quarts, which is enough for a whole chicken or your favorite chili recipe and can be set at low, high, or warm. The cooker comes with a lid, removable ceramic insert, and a graphic-wrapped aluminum exterior that operates on standard U.S. power outlets. 
Fans can purchase this cooker for $49.99 from vendor Uncanny Brands, and keep a look out for website discounts like free shipping. But just why do you need another kitchen appliance?
This is the way — to cook your holiday food with Baby Yoda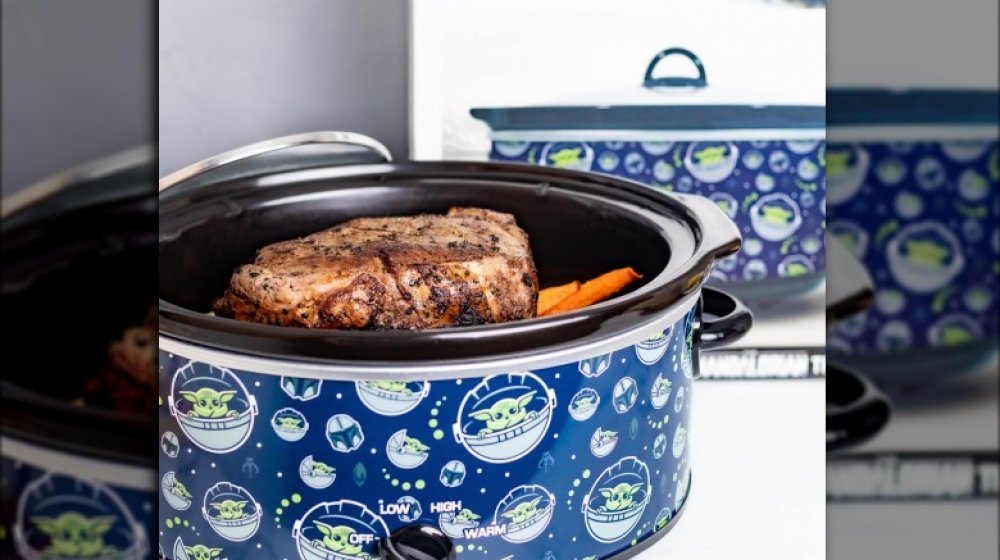 Uncanny Brands
First of all, it's Baby Yoda — enough said. This stylish blue would look good on any Star Wars fan's counter. Second, is that even if you have an Instant Pot, you can still find many uses for a traditional slow cooker. While a pressure cooker like Instant Pot can be incredibly useful, many people feel like the slow cooker function on these devices is lacking (via Recipe This). For one thing, pressurizing food can affect the flavor. You may not want to switch over grandma's chicken soup recipe just yet.
Slow cookers are also more travel-friendly with handles and lids, as well as entertaining-friendly because the food will stay warm but not overcook (via Good Housekeeping). If you are feeding other people, you now have your excuse to get a Baby Yoda. 
And don't worry, we've got a suggestion to get you started too. Whip up a big batch of hot cocoa and set to warm in your new Star Wars appliance. Add a Force-worthy take on s'mores by creating TIE Fighters with graham crackers for wings and a marshmallow center, held together by Nutella (via Pinterest). Dunk that graham goodness in your cocoa and you're good to go!