These Are The Best Things To Pair With Tomato Soup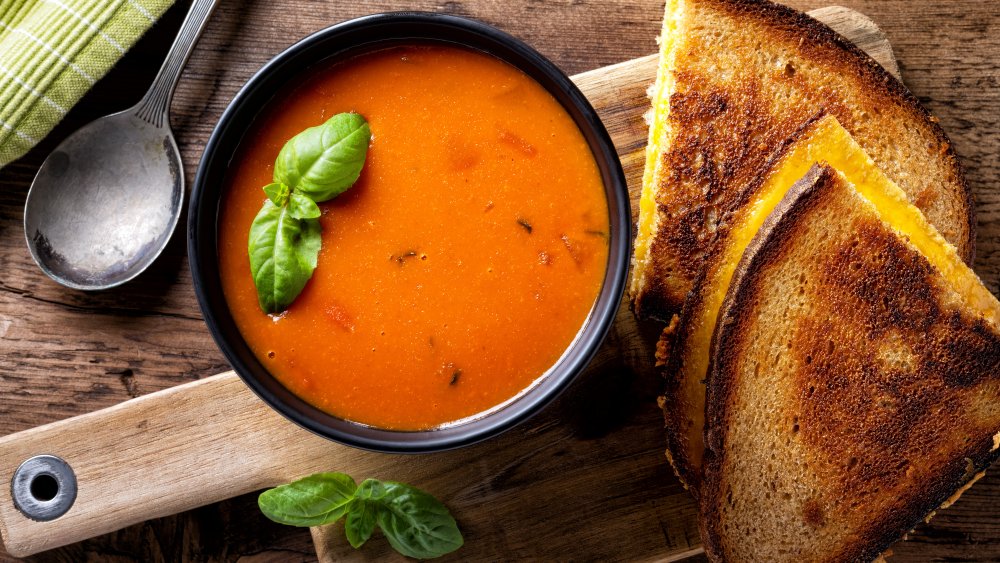 Shutterstock
What is it about hot tomato soup that screams ultimate comfort and fulfillment? Whether you enjoy your tomato soup creamy, sweet, spicy, roasted, savory, filled with herbs, homemade, or from a can, the love affair with this anytime favorite is real. Who doesn't love soup? Tomato soup is not only good to eat; it is also good for you. Per Style Craze, it is filled with healthy nutrients and antioxidants that may help prevent cancer and combat stress and inflammation. The calorie count on this childhood favorite can vary depending on how it's made - Campbell's condensed tomato soup contains 90 calories per serving while this recipe for cream of tomato soup from Food and Nutrition provides 158 calories. But it's kind to your waistline.
The only thing better than a bowl of this satisfying hot goodness is when you match it with some of your favorite salads, sandwiches, pizzas, and seafood dishes. Yes, tomato soup is by its very nature so versatile you can pair it with a large variety of other foods to make it a complete meal. While some pairings may seem obvious, others may surprise and inspire you to get creative the next time you whip up a pot of your favorite tomato soup recipe. What are they?
Grilled cheese and BLT sandwiches pair well with tomato soup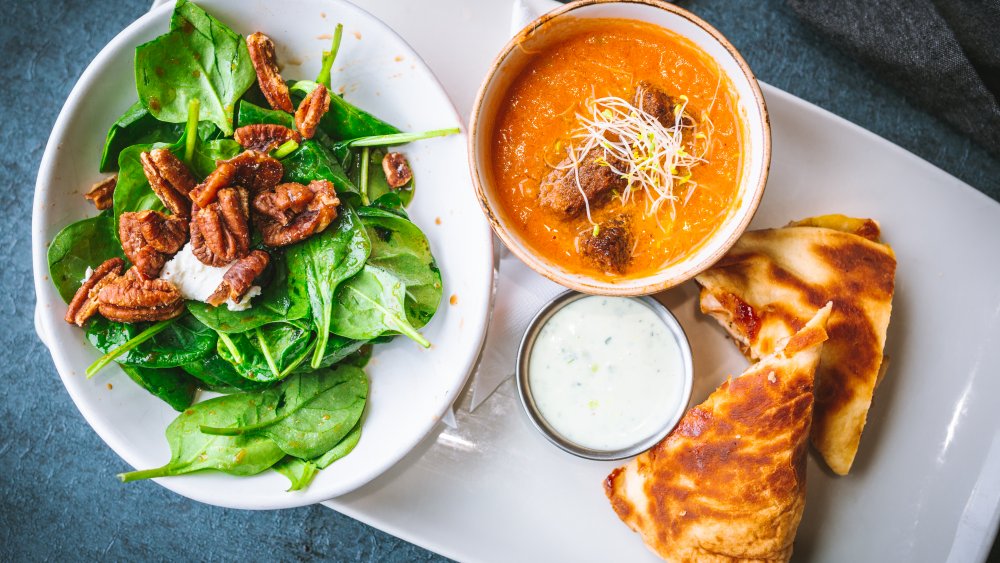 Shutterstock
This list wouldn't be complete without the grilled cheese sandwich. It's really a match made in heaven. What's it about that salty, buttery, crunch of the grilled bread and the ooey-gooey, stringy, melted cheese that can make a sweet, yet savory, soup even more enjoyable? Cheesetique in Del Ray, Virginia, serves up a bowl of cheddar-topped creamy tomato soup that it describes as a "perfect grilled cheese dipper." If you are trying to figure out what recipe to use for your sandwich, we love Ina Garten's Ultimate Grilled Cheese which uses sourdough for the bread and blends the flavors of salty Parmesan cheese with that of nutty Gruyère, and rounds it out with extra sharp cheddar. And if that doesn't sound decadent enough, the Barefoot Contessa adds in a couple of slices of applewood smoked bacon. Smells Like Home says pairing this sandwich with creamy roasted tomato basil soup will totally wow you.
But grilled cheese isn't the only sandwich that makes our tomato soup sing. Per Chowhound, a BLT is a great choice. It sounds quite magical, especially if you pair this bacon lover's sandwich with a bowl of roasted garlic and tomato soup. To really up your game, they suggest using a peppercorn crusted bacon, along with some pesto, mayo, mustard, and sprouts to make this food pop. 
Try pairing pizza or seafood with your tomato soup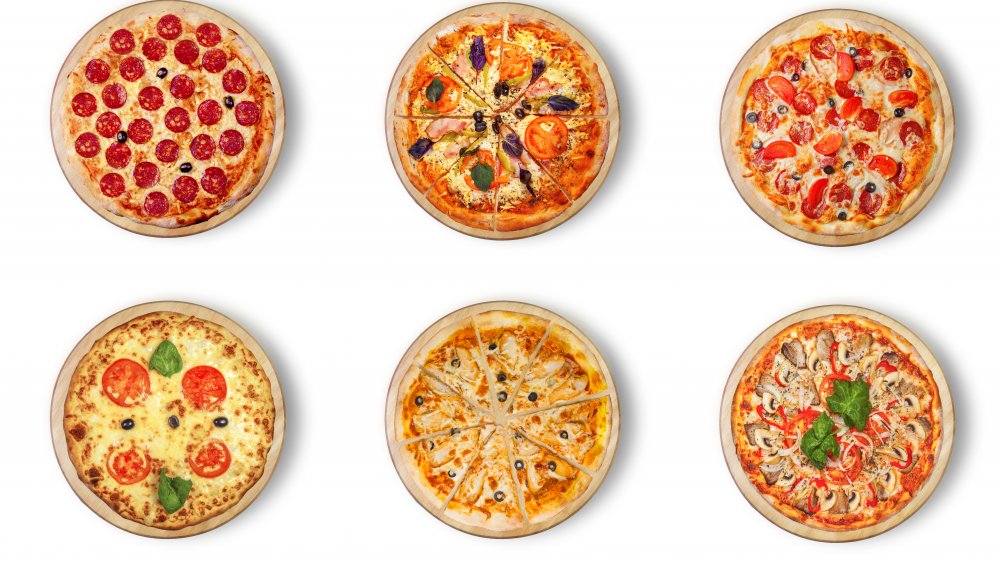 Shutterstock
If you've never paired pizza with your tomato soup, you are missing out. Don't believe us? Just ask Rachael Ray, who shared one of her favorite soup-meets-pizza matchups: roasted garlic white flatbread pizza partnered with a creamy, sausage-filled tomato soup. This combination is nothing short of outstanding and hits all the right savory notes our palette desires. Not to mention, this duo makes for both a convenient and filling meal.
However, if you are looking for something that sounds a little healthier to pair with your tomato soup, you can always opt for Chowhound's recommendation to couple tomato basil soup with shrimp ceviche and avocado salad. And you don't need to limit yourself when it comes to seafood and tomato soup. Recipe 4 Living recommends pairing a tomato bisque with crab cakes. But if seafood isn't your jam, you can choose from a wide variety of salads. The Kitchn suggests matching a sweet roasted tomato soup with a baked goat cheese spring lettuce salad, noting the simplicity of the tomato soup pairs well with this salad.