The Untold Truth Of Wetzel's Pretzels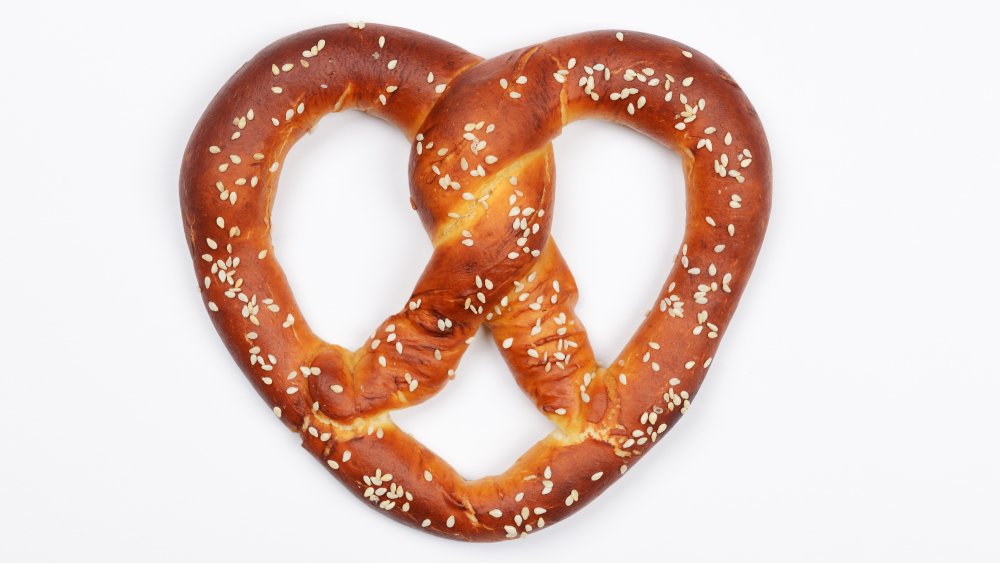 Shutterstock
The appetizing aroma and the buttery-salty soft chew of a Wetzel's pretzel are immediately synonymous with malls and airports. While those aren't typically the most enjoyable locales, the taste of a Wetzel's pretzel can be at once nostalgic and deeply satisfying. From pretzels (duh) to hot dogs and specialty drinks, Wetzel's has a pretty limited menu of offerings – but what they do is done very, very well. Bill Phelps and Rick Wetzel opened the first Wetzel's Pretzels in Redondo Beach, California in 1994. According to its website, the company now has over 340 locations throughout the world, including Disney World. 
Starting with only pretzels, Wetzel's introduced hot dogs in 1996 and cheesy dog bites in 2018. In an interview with The Daily Meal, Wetzel's president Jennifer Schuler stated that "our pretzels are made from simple ingredients, like flour, yeast and a pinch of salt." This year, Mashed interviewed Rick Wetzel himself, who revealed that the pretzels came first — and then the company name! Obviously, the rhyming combination of his last name and 'pretzels' stuck, and the rest is history.
Wetzel's offerings
According to the company website, Wetzel's Pretzels currently offers 4 variations of 'regular' pretzels and 5 cheese pretzels, with some of the highlights being Wetzel's Original, Sour Cream & Onion, Cheese Meltdown, Jalapeno Cheese Melt, and Grateful Garlic. It also offers 4 different hot dog options, multiple "Bitz" offerings of smaller servings, a slew of drinks, and multiple dips and glazes — both sweet and savory. Copycat and DIY Wetzel's pretzel recipes can be found on the internet, such as this one from YouTubers The Josh and Melissa, but to our knowledge, the company itself hasn't released any official recipes or formulas. 
The eatery clearly has fans in high places. Wetzel's Pretzels website even has a gallery of photos of celebs enjoying the famous pretzels, including the likes of Olivia Munn, Vanessa Hudgens, Elon Musk, and Tyler the Creator. The site also includes a listing of television shows that have featured Wetzel's Pretzels, including Curb Your Enthusiasm, Jimmy Kimmel Live, and Last Week Tonight. Although the franchise traditionally operated in malls and airports, recent locations have popped up in sports stadiums, entertainment complexes, and even at Disney parks. Last summer, the company even opened its first store at a military installment, according to Fort Hood Sentinel. The company now also has mobile food trucks in multiple states.
The future of Wetzel's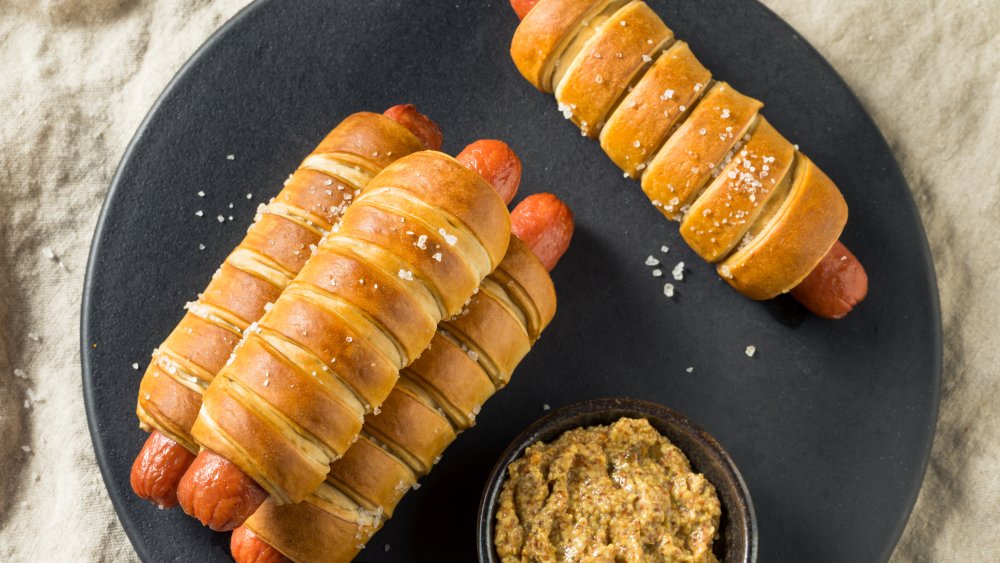 Shutterstock
In a 2019 interview with Nation's Restaurant News, the brand president, Jennifer Schuler, said that the company would begin trying out "delivery, ghost kitchens, and mobile ordering and pickup," but that the company "[continues] to believe in malls and will grow in malls." Malls may not be as ubiquitous nowadays as they were in the past, but from the sound of things, that won't stop Wetzel's from continuing to prioritize malls as a central locations for their stores. 
Of course, delivery and pick-up are two features that many foodservice companies and restaurants have been forced to rely on throughout 2020 because of the pandemic. Schuler didn't specifically mention new products that are currently being developed, but did hint at a new drink that will feature "fresh cherry puree and contain boba-style cherry balls." If all goes well, then for years to come, Wetzel's will continue to be a reliable option that is sure to delight frantic shoppers, delayed flyers, and Disney fanatics alike.