The Real Reason Finger Limes Are So Expensive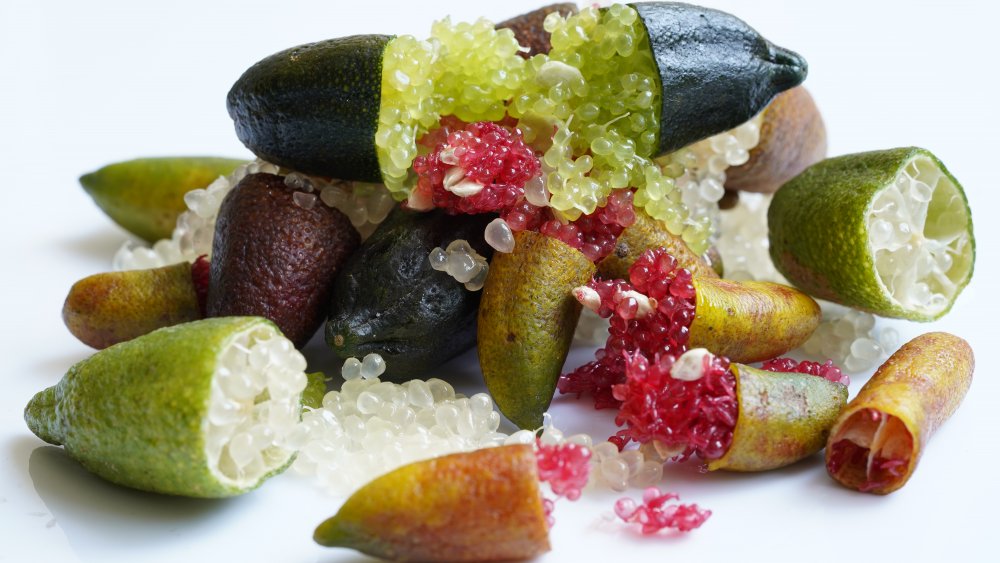 Shutterstock
Have you ever heard of finger limes? Don't feel bad if you haven't. This finger-shaped fruit comes in a variety of colors, including green, yellow, and red. Per Food 52, it grows to roughly three inches long. It is native to Australia, where people also refer to it as the caviar lime. Bust one open and as the tiny bubbles of pulp pop out, you will easily see the resemblance to caviar. In fact, Australian chef and owner of high-end restaurant Maude in Los Angeles, Curtis Stone, told Bloomberg, "The little bites of lime pop just like caviar, and your mind goes crazy the first time you try it." 
According to South Mountain Creamery, lime fingers are often used to add a burst of citrus to seafood and chicken dishes, sprinkled over cut-up avocados and melons, or in creamy desserts. Stone has even used them in pasta dishes but shared that the cost of getting these little treasures shipped is kind of pricey at about $150 a pound for mail orders in some cases. Stone's solution was to grow his own lime finger trees in his backyard. But not all of us have a green thumb and instead need to depend on growers. So why is this exotic, delicate, and eye-catching fruit so expensive?
In the United States, finger limes are only grown in California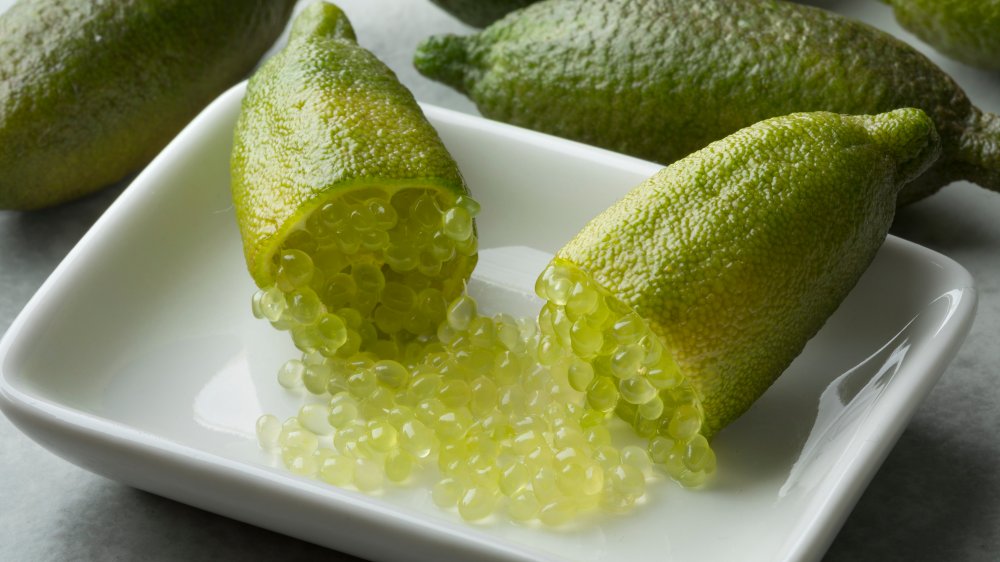 Shutterstock
Supply and demand are at the heart of why growers are able to charge such high prices for lime fingers. These in-demand fruits are mostly grown commercially in the United States in California, which makes them in short supply, and thus an expensive fruit that's difficult to find in your regular grocery store. Per Fresh Plaza, there are less than a dozen growers of lime fingers in California with most of them situated in the state's Central Valley, as well as along the Central Coast near Morro Bay. 
This fruit has an in-season period that begins in July and goes through the end of December (via South Mountain Creamery), but Fresh Plaza notes that you can find them as early as May. According to Oddity Central, the high price of the lime finger also has to do with the small amount of fruit the trees produce and the difficulty in caring for and cultivating these trees. Melissa's Produce in Los Angeles sells 3 ounces of lime fingers for $27.39 while as of this writing, California's Pearson Ranch sells one pound of this citrus for $50. So, if you want to experience this fruity caviar, be prepared to pay up.