How To Order Starbucks' Secret Menu Santa Claus Frapp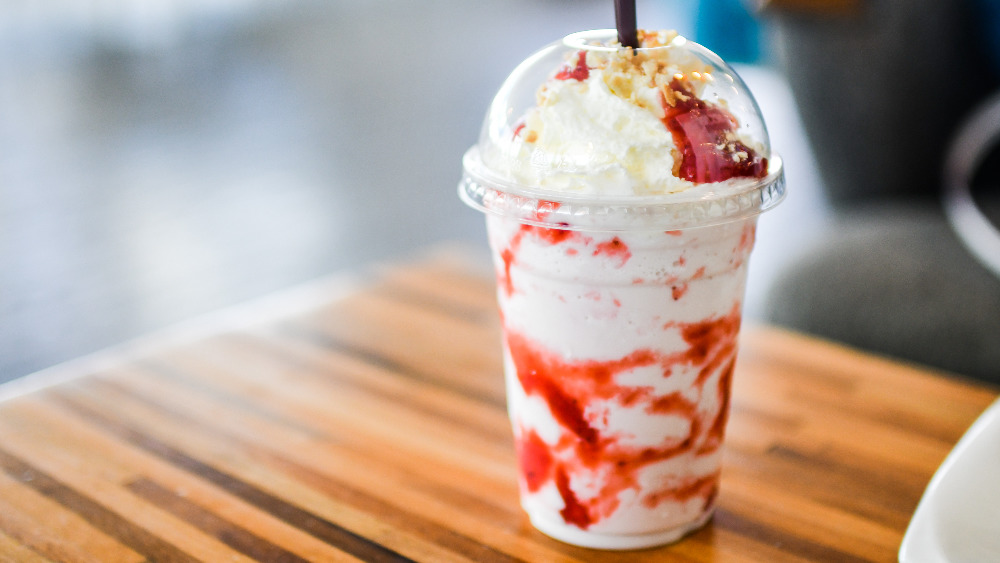 Shutterstock
It was only a matter of time before Totally the Bomb swooped in with a must-try Starbucks secret menu drink ever since the coffee chain launched its winter flavors on Friday, Nov. 6. With red cup season in full swing, the masterminds that have come up with so many amazing flavors are focusing on holiday-themed drinks these days. The latest is a Santa Claus frappuccino. While it won't make up for the Starbucks keeping the gingerbread latte flavor off the menu, the new Santa Claus drink is enough to put you in the holiday spirit (via Delish).
The Santa Claus drink isn't an official Starbucks menu item, so you'll need to order it step-by-step. Even though this drink doesn't require any over-the-top requests or long-winded ordering skills, it's still important to be patient and polite with your barista. Once you have your Santa Claus Frappuccino in hand, you'll feel merrier by the minute thanks to its white and red aesthetic.
Here's how to ask your barista for a Santa Claus Frapp
When Totally the Bomb invented this drink, they had Tim Allen from The Santa Clause in mind. Just like the dad-turned-Santa-Claus, this drink is a sweet treat that will have you feeling holly jolly. To order it, start with a grande vanilla bean creme Frappuccino as your base. Next, ask to have strawberry puree layered into the cup. Essentially, you should have the puree on the bottom, a layer of vanilla Frappuccino, a layer of strawberry puree, then another layer of vanilla Frappuccino. To top it off, get whipped cream on top and ask for red Christmas sprinkles, too.
The best part about this drink, for kids at least, is that it doesn't have any coffee. So, if you're pulling through Starbucks and want to help your little ones get into the holiday spirit with something other than a snowman cookie or cake pop, it's a great option for them. Either way, this delicious drink is worth trying. No doubt it's all the red and white stripes you'll need to feel the happiness of the holidays.