5-Ingredient Vegan Risotto Recipe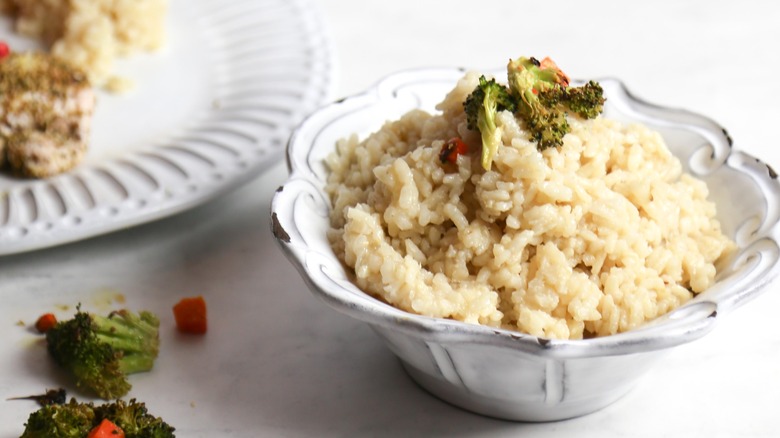 Maren Epstein/Mashed
There's nothing more comforting than a warm bowl of creamy risotto. The rice dish originally comes from Italy, and it's known for its hearty consistency. Classic risotto is a rich dish, getting much of its flavor from hefty additions of butter, Parmesan cheese, and broth. But if you strip risotto down to its core, it's possible to create a simple vegan version that's just as fulfilling.
Our 5-ingredient vegan risotto, developed by Maren Epstein, the certified holistic health chef behind Eating Works, is inspired by the classic vegetarian risottos she grew up with. Those, however, can be quite laborious and they take more than a handful of ingredients — as do most non-vegan versions. After much trial and error, Epstein came up with just the right combination of ingredients. Using those, paired with just the right techniques, you'll have a vegan risotto that anyone can make — and, most importantly, enjoy — with just a little time and effort.
"The level of creaminess is really the same," Epstein says. "I was so impressed that you can achieve the same results without traditional ingredients! It's perfect for those avoiding dairy and meat, either for health or ethical reasons."
While risotto has a reputation for being a complicated dish that takes constant attention to prepare, Epstein's recipe is more than manageable.
Gather the ingredients for 5-ingredient vegan risotto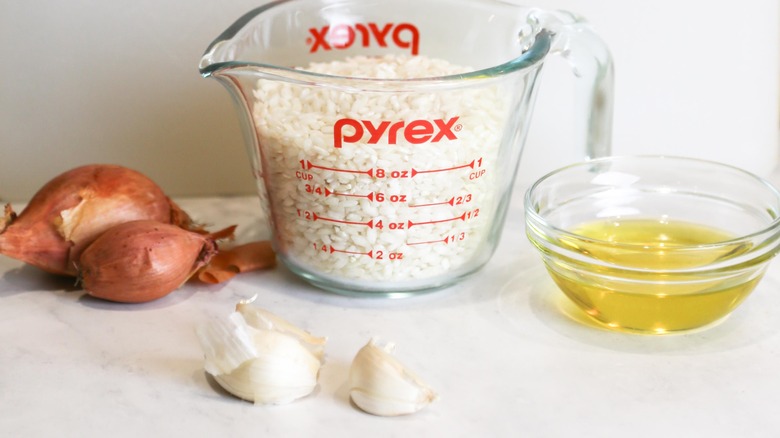 Maren Epstein/Mashed
Most of the ingredients for this 5-ingredient vegan risotto recipe are kitchen staples, while the others are easy enough to find. One important distinction to make while gathering ingredients is to use arborio rice, which is a type of Italian short-grain rice that's typically used in risotto. The high level of starch in arborio rice is part of what makes the risotto so creamy. Packages of arborio rice sometimes have "risotto" written right there on the package, making it easier to spot. 
Epstein suggests using cold pressed olive oil, though you can substitute regular olive oil if that's what you have on hand. Cold pressed olive oil isn't heated, as the name suggests, which can sometimes alter the flavor. Extra virgin olive oil is always cold pressed. Shallots, garlic, lemons, and either vegetable stock or water round out the rest of the necessary ingredients.
In terms of cooking tools you'll need, be sure to have a cutting board and chef's knife on hand. You'll also need a large frying pan and a whisk — the whisk is important to getting the consistency correct, so don't think you can squeak by with your trusty wooden spoon.
Mince your shallots and garlic for this 5-ingredient vegan risotto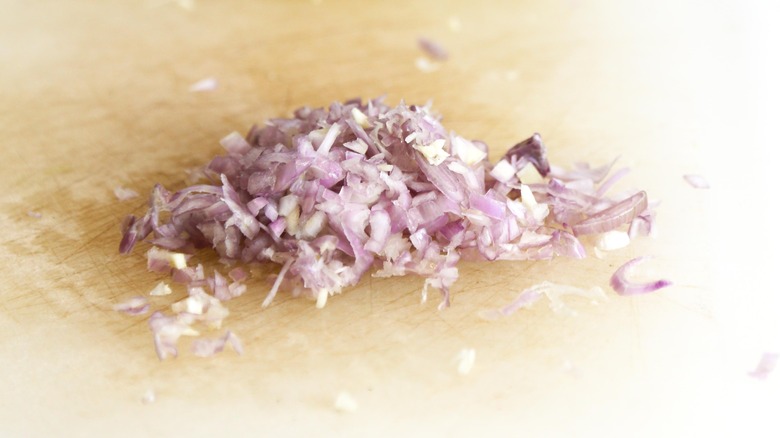 Maren Epstein/Mashed
You'll need to finely mince both the garlic and shallots before you get started on this for 5-ingredient vegan risotto. To mince something is to cut it up into very fine pieces — we're not talking about just chopping or dicing here. This is where the chef's knife comes in. Carefully cut the shallots and garlic into small pieces, but keep them separate because each is added to the pan at separate times (more on that later).
If you don't have the time (or motivation) to mince the garlic, you can also use pre-minced garlic from the jar. It's not exactly a one-to-one switch, however.
"Jarred is going to be a little bit less spicy than fresh and it's totally something you can use if you're in a rush," Epstein says. "Instead of the three cloves, if you're using jarred, I would use 2 tablespoons instead."
There's an easier way to prep the 5-ingredient vegan risotto ingredients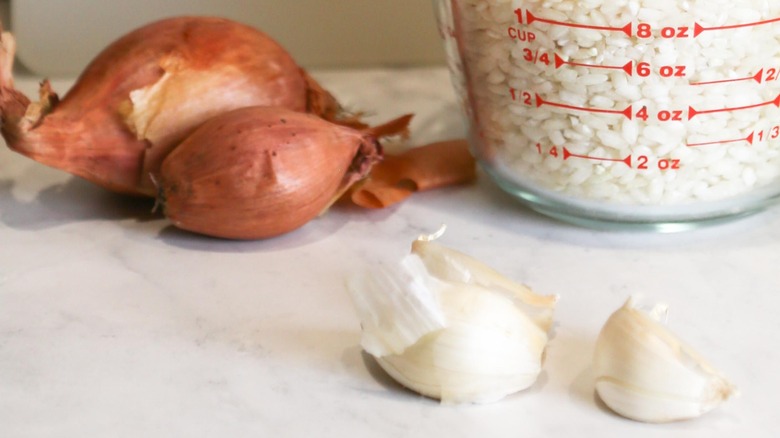 Maren Epstein/Mashed
If you'd rather not spend the time chopping the shallots and garlic into fine pieces (but you're not a fan of the jarred stuff), there's also the option of using a food processor to help prepare your for 5-ingredient vegan risotto. Roughly chopped onions can be easily brought down to the right size using the pulse setting of a food processor, though garlic takes a little more care to make sure the pieces come out an even size. For the proper way to finely cut garlic in a food processor, add in the cloves one at a time as the food processor is running.
Admittedly, a food processor works better for onions than for garlic, Epstein says.
"It might get annoying to clean the blade because the oils in the garlic might gum up the blade," Epstein says. "A garlic press is easier and faster."
A garlic press (which is sometimes called a garlic crusher) is a hand-held tool that squeezes a clove of garlic through small holes. The end result is a finely minced clove of garlic without any of the slicing and dicing. Depending on your exact tool, you may not even need to peel the clove — it doesn't get much easier than that. 
Get started by cooking the onion and garlic in oil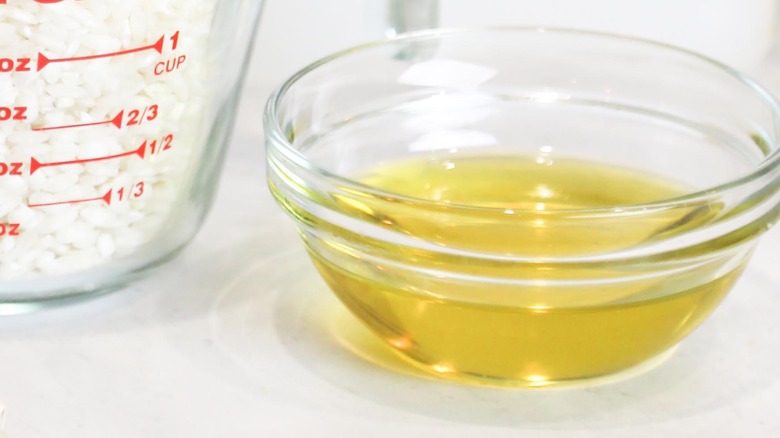 Maren Epstein/Mashed
All of the ingredients for this for 5-ingredient vegan risotto are slowly cooked over medium to medium-high heat. It's important to add each ingredient to the pan in the correct order — shallots, garlic, and then the rice — to make sure each is cooked to the perfect doneness.
The shallots go on the pan first because they take a little longer to cook. Lightly season them as they cook for around five to seven minutes. Use the time as a guide, but the best way to tell when the shallots are ready is when they turn slightly translucent, Epstein says.
After the shallots comes cooking the garlic, and this step right is a make or break part of the recipe.
"The trickiest part to cooking this recipe is not burning the garlic," Epstein says, adding that the pan will be hot after sautéing the onions, so you have to stir the garlic constantly after you add it to make sure it doesn't brown. "Browning the garlic will ruin the dish! If you do make this mistake I highly suggest starting over."
Toast the rice for your 5-ingredient vegan risotto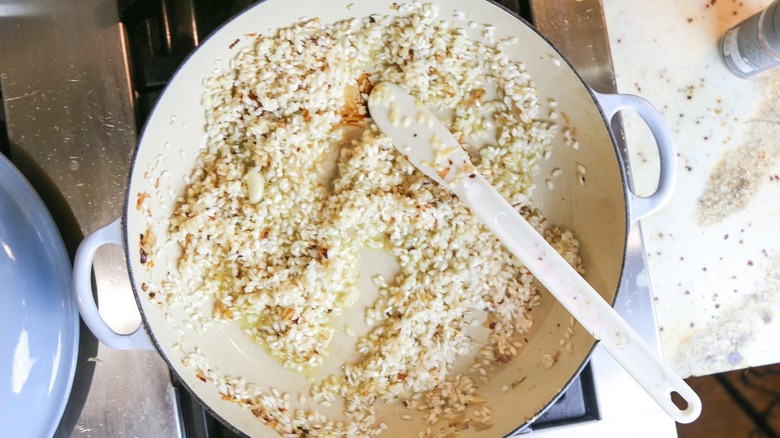 Maren Epstein/Mashed
After the garlic comes the rice, which you need to saute until it's dry in order to create perfect 5-ingredient vegan risotto. The rice should be toasted (without being burnt) before adding in lemon juice and more olive oil for the rice to fully absorb. One optional step is to add a bit of dry white wine for the rice to absorb as well.
White wine can balance the creaminess of the risotto when it's added at the right time in the cooking process. For the best results, first let the rice toast. Then, before you add stock to the pan, add a few splashes of wine and let the rice fully absorb the liquid. The alcohol will burn off as you let it cook.
Slowly add the vegetable stock for your 5-ingredient vegan risotto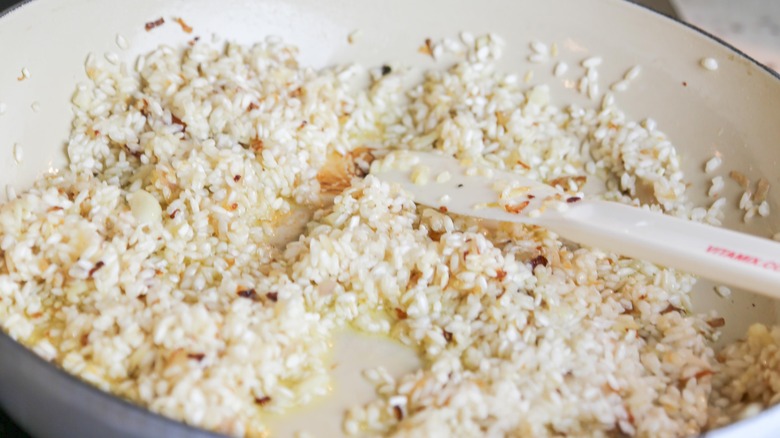 Maren Epstein/Mashed
Adding vegetable stock to this 5-ingredient vegan risotto can be trickier than it initially sounds — this isn't your typical dump-and-stir recipe. The vegetable stock must be added one cup at a time, and then whisked until it's nearly all absorbed. That's followed by the next cup and so on until all of the stock is added and the dish is finished.
"For people who are familiar with cooking, the hardest aspect of this recipe is simply the patience," Epstein says. "Remembering to whisk the rice while making other dishes at the same time can be complicated. You almost always have to have a hand on the whisk!"
For the best results, make sure to stir the mixture over medium heat a few times per minute until the rice has fully absorbed all of the vegetable stock.
Serve the 5-ingredient vegan risotto as a side or main dish, and embrace the leftovers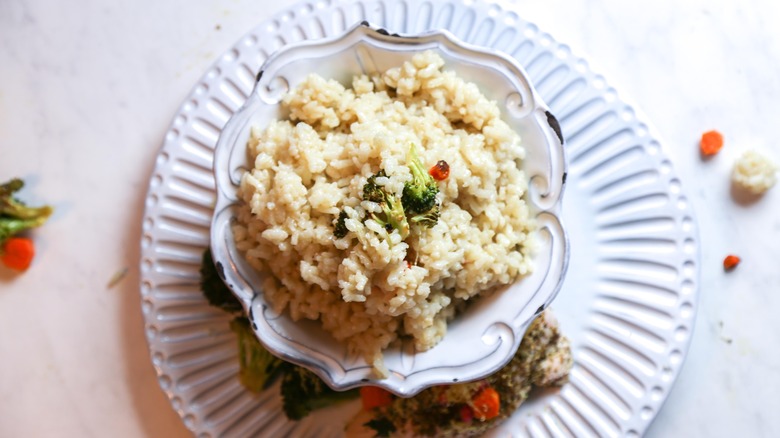 Maren Epstein/Mashed
All that's left to do after all of that stirring and whisking is to enjoy.
"The risotto is a good stand alone, but it can be served as a side to pretty much anything," Epstein says. It goes really well with sautéed broccoli, and if you're sharing a meal with someone who eats meat, vegan risotto is a tasty complimentary side to roasted chicken.
This vegan risotto recipe is easy to store and stays delicious even when it's stored in the fridge or freezer. For best results, store your risotto for no more than five days in the refrigerator. If you want to keep it for longer, a container of risotto will stay good for a few months in the freezer.
Preparing the leftovers is easy. "You can reheat it in a skillet or in a microwave," Epstein says. "You don't need to add anything, but if you see it's getting dry and burning, you can always add a tablespoon of olive oil."
5-Ingredient Vegan Risotto Recipe
There are lots of risotto recipes but this one is a simple vegan version of risotto that's just as fulfilling as the others -- and with only five ingredients.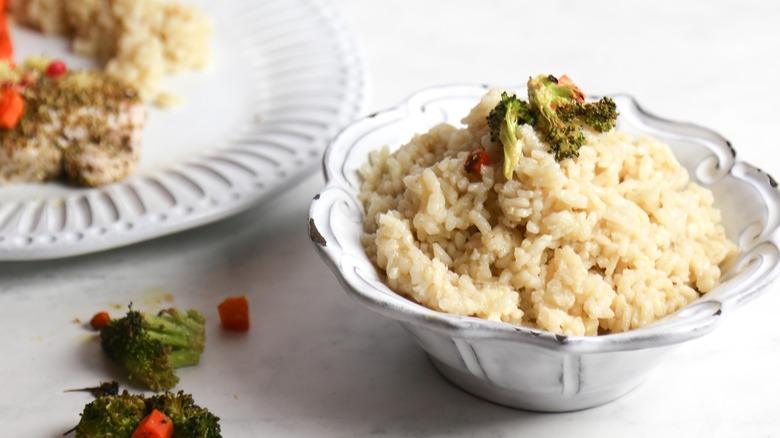 Ingredients
3 tablespoons olive oil
⅓ cup shallots, minced
3 cloves garlic, minced
1 cup arborio rice, rinsed
4 cups vegetable stock
1 lemon, juiced
Optional Ingredients
Directions
Heat 2 tablespoons of olive oil in a skillet over medium high heat. Once hot, add the shallots. Season with salt and saute until soft, translucent and slightly brown.
Lower the heat to medium and add the garlic. Saute for another 2-3 minutes, being careful not to let the garlic burn.
Add the rice and saute until toasted and dry.
Pour an additional tablespoon of olive oil and lemon juice to the pan. Continue to cook the rice until the oil is fully absorbed.
If adding white wine, add a few splashes and stir until the liquid is absorbed.
Add 1 cup of vegetable stock. Whisk until almost all of the stock is absorbed. Repeat this step another 3 times, until all four cups of stock are added.
Season with salt and pepper to taste.
Nutrition
| | |
| --- | --- |
| Calories per Serving | 192 |
| Total Fat | 7.0 g |
| Saturated Fat | 1.0 g |
| Trans Fat | 0.0 g |
| Cholesterol | 0.0 mg |
| | |
| --- | --- |
| Total Carbohydrates | 29.5 g |
| Dietary Fiber | 1.6 g |
| Total Sugars | 1.0 g |
| Sodium | 25.9 mg |
| Protein | 2.6 g |