Lay's Sweet New Chip Flavor Has The Internet Divided
Much like politics and religion, certain topics are so controversial, that it might be best to avoid them during your next video conference call. Now you can add Lay's new chip flavor, Salted Caramel, to the list. Reportedly showing up on Kroger shelves, the new flavor has the internet's attention.
Apparently, Lay's had designs to fulfill our salty and sweet cravings with the new offering, but after seeing responses to first-on-the-scene Instagram account @thejunkgoat's post featuring a picture of the new bags, it remains to be seen whether the new flavor will answer the call. While some Instagram users approvingly declared, "need neeeeed these" and "I'm putting these on top of ice cream," comments like @FoodieWithTheBeast's "Awesome find but that's just nasty lol" makes us think that not everyone is entirely stoked about the new flavor. We're not sure if Salted Caramel chips will be sold at any stores besides Kroger, but it's likely they won't be around for too long. These bags are designated "Limited Time Flavor," meaning you might have to try them soon if you want to form your own polarizing opinion (via Best Products).
This isn't the first time Lay's has tried out unique flavors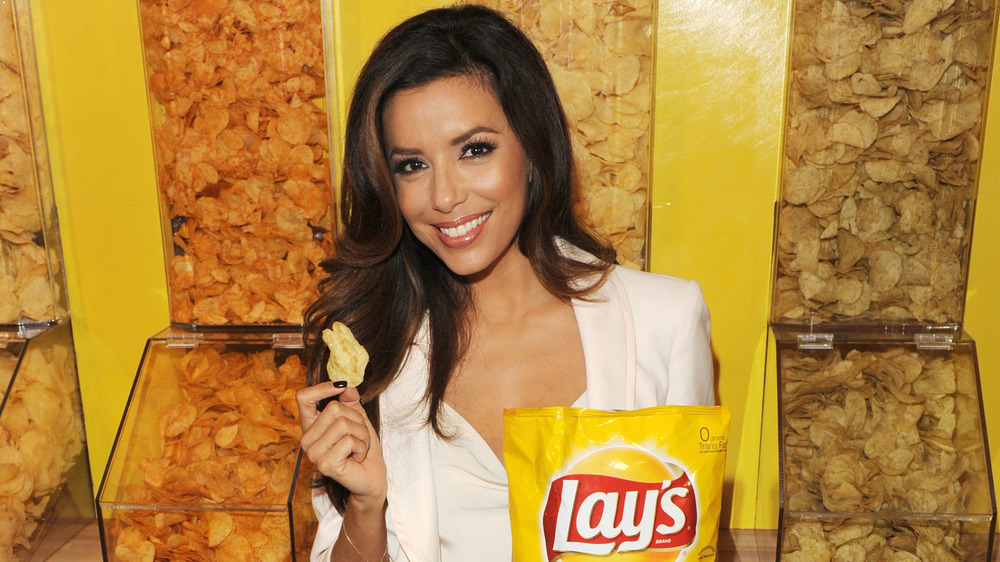 Craig Barritt/Getty Images
Throughout the snack company's reign, Lay's has repeatedly upped its chip game by offering exciting, limited-time flavors to help snackers get their potato chip thrill on. According to Food Business News, Lay's launched a line of limited-batch potato chips called Flavor Icons that were inspired by restaurants across the country. The eatery-influenced flavors included: Nashville Hot Chicken, which was based on Nashville's Party Fowl; Kettle Cooked New York Style Pizza - a hat tip to NYC's Grimaldi's; Philly Cheesesteak, which showed some brotherly love to Philadelphia's Geno's Steaks; Wavy Carnitas Street Taco, which was LA's El Torito, and Chile Relleno, which was influenced by Albuquerque's Cocina Azul.
Another fun promo from Lay's is their "Do Us a Flavor" campaign, which they have hosted on and off throughout the years. The campaign challenges chip fans to create a new flavor in exchange for prize money. The contest has been held in several countries, and some of the oddities that have emerged have included: Caesar Salad, Wasabi Ginger, Mint, Blueberry, and Grilled Cheese and Ketchup. According to Elite Daily, the Do Us a Flavor varieties Fried Green Tomatoes and Crispy Taco were so popular with fans that they even held a reunion tour a few years later.