Steak 'N Shake Just Brought Back Two Seasonal Favorites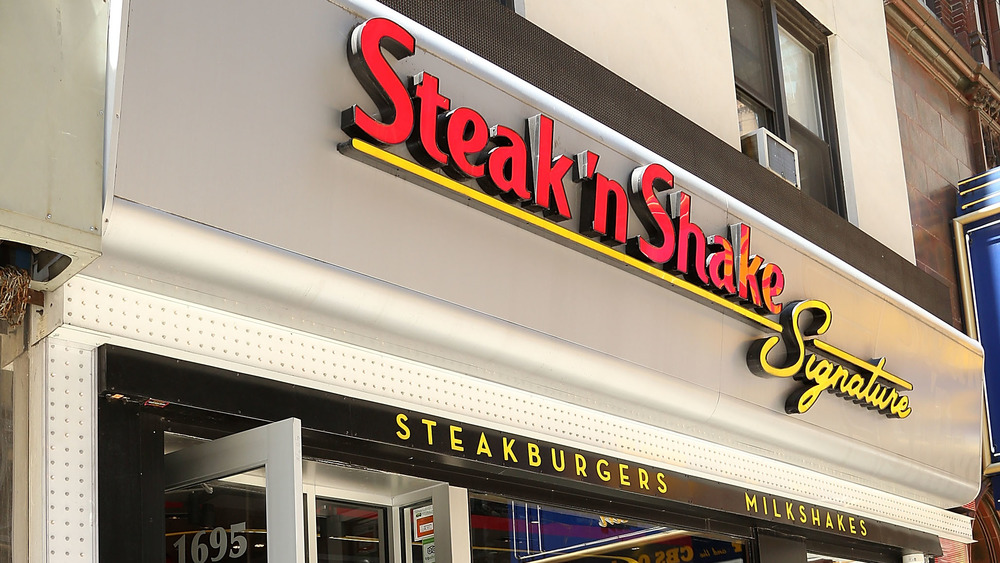 Monica Schipper/Getty Images
It's been a tough year for most restaurant chains, and Steak 'n Shake is no exception, closing 82 locations since the year began (via the San Antonio Business Journal). However, this doesn't mean that the chain is giving up on holiday cheer. This holiday season, Steak 'n Shake is bringing back two festive favorites, the Egg Nog Shake and the Peppermint Chocolate Chip Shake, to celebrate the season (via Chew Boom).
If you're not familiar with these two fan favorites, here's a description of each shake: the Egg Nog Shake is a hand-dipped milkshake with eggnog syrup, whipped cream, a cherry, and a sprinkling of nutmeg. The Peppermint Chocolate Chip Shake is also hand-dipped, with peppermint syrup and chocolate and peppermint candy, and it's topped with whipped cream, more peppermint candy, and a cherry. To get these drinks at half-price, stop in at Steak 'n Shake on a weekday between 2 p.m. and 5 p.m. to take advantage of their Happy Hour Promotion.
More Steak 'n Shake promotions to take advantage of this holiday season
This isn't the first (and probably won't be the last) seasonal promotion that Steak 'n Shake has run. Just a few weeks ago, on Halloween, they offered any child in a costume a free milkshake, an offer that even included their limited-edition Snickers Shake (via CultureMap Fort Worth). 
However, thanks to the ever-present risk of coronavirus, many foodies are turning to takeout and delivery options over dining in. In fact, interest in takeout has increased 306 percent since the pandemic started, according to Google. Luckily, Steak 'n Shake is making it even easier to order their food by offering free delivery through November 30th (via QSR). The only caveats are that there is a $10 minimum, and you must make the order via the Steak 'n Shake website or app. So, if you do decide to order one (or both) of these seasonal shakes for delivery during Happy Hour, they'll cost you less than $2 each (via Steak 'n Shake). Of course, to reach the $10 minimum, you'll have to add a couple of their delicious burgers to the order.