On The Border Has Good News For Fans Of Its Salsa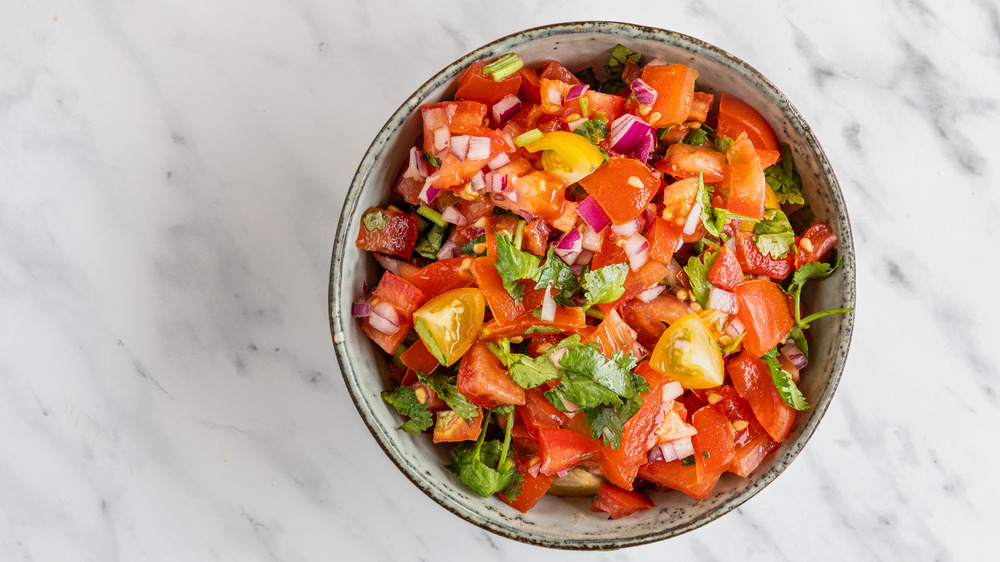 Shutterstock
With the winter creeping in, COVID-19 cases have begun to jump and restaurants are feeling the pressure. According to CNBC, pandemic restrictions have forced restaurants to once again shutter in order to curb the spread of the disease. While you might have a harder time visiting an On the Border and ordering table service amid these new closures, you can now take a slice of the experience home. The perfect meal at the iconic Tex-Mex chain always starts with a basket of tortilla chips and your favorite dipping sauce and for all of us who can't get enough of the restaurant's salsa, we have good news on how to score some of this sauce at home that doesn't involve sneaking it out of the restaurant.
According to Spoon University, anyone who wants to bring their On the Border experience home can now do so a bit easier with the restaurant's salsa and queso available for sale on Amazon. While you won't have the opportunity to score the full line of salsas and dips, you can still get the trusted standards of the classic salsa, a guacamole salsa made with real avocados, and the brand's signature queso that all come in easy-to-pour squeeze bottles (via Spoon University). Anyone who has avoided eating out frequently due to the pandemic can take comfort and recreate some of the fun at home with these fan favorites.
Are these salsas the same as the ones at On the Border?
For anyone looking to replicate that On the Border experience at home, you don't have to rely on copycat recipes to get the myriad of flavors. According to Persnickety Plates, On the Border's copycat salsa recipe requires you not only have a list of cooking implements, but also requires some involved preparation. For anyone who wants salsa without the hassle, you can now go straight to the source with the official bottled salsa. In the same vein, if you love the chain's warm, gooey queso but don't have the time to whip it up when you crave it most, have no fear. The 100 precent real cheese can even get thrown in the microwave for an instant treat (via Spoon University).
Like the brand's queso, the green avocado salsa will not only provide your meals with a touch of spice, but the creamy avocado complements any bold flavors you can throw at it — and it still goes great with a basket of tortilla chips. With no artificial flavors or color added, a taste of these sauces can trick your tastebuds into thinking they are back at the restaurant (via Spoon University). For anyone missing the dining-out experience, these sauces make any taco night at home pop and keep you coming back for seconds.