The Most Popular Thanksgiving Pie On Instagram Is Not What You'd Expect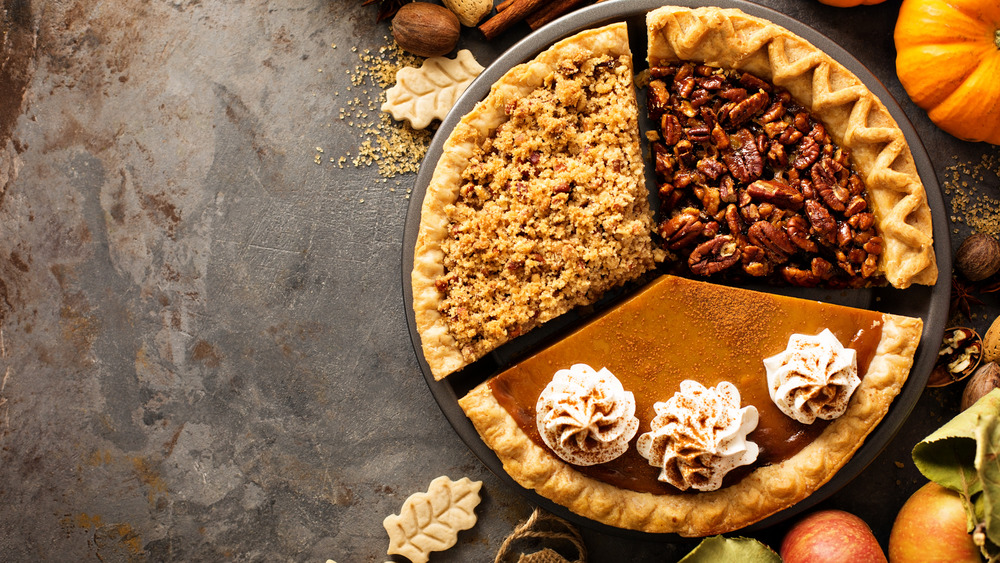 Shutterstock
If we had it our way, we'd have two Thanksgivings. One for the main meal: the turkey and cranberry sauce, the mashed potatoes and green beans, the sweet potato casseroles (one with and one without marshmallows), the cornbread, and the gravy. Then we'd do another Thanksgiving, just for the pies. The apple pies, pumpkin pies, sweet potato pies, pecan pies, the apple pies again, merengue pies — just really all the pies. At Mashed, we wear our pie obsession like a badge of honor. That's why we polled people living in the United States to find out what the country's favorite Thanksgiving pie is.
Instagram, it seems, has a similar obsession. Turns out, the social media platform has vastly different ideas of what makes a good Thanksgiving dessert compared to the Americans we surveyed on the topic. According to a statement sent to Mashed, over the past month, Instagram collected data "based on the likes and mentions of pie flavors... from in-feed and Instagram Story posts," to determine the favorite Thanksgiving pie flavors in each state. Eight pies made the final cut: cranberry, cherry, pecan, pumpkin, sweet potato, blueberry, strawberry, and apple. The social media platform warned Mashed that its users' Thanksgiving pie favorite was "very 2020-esque." Oh dear...
This is America's favorite Thanksgiving pie, according to Instagram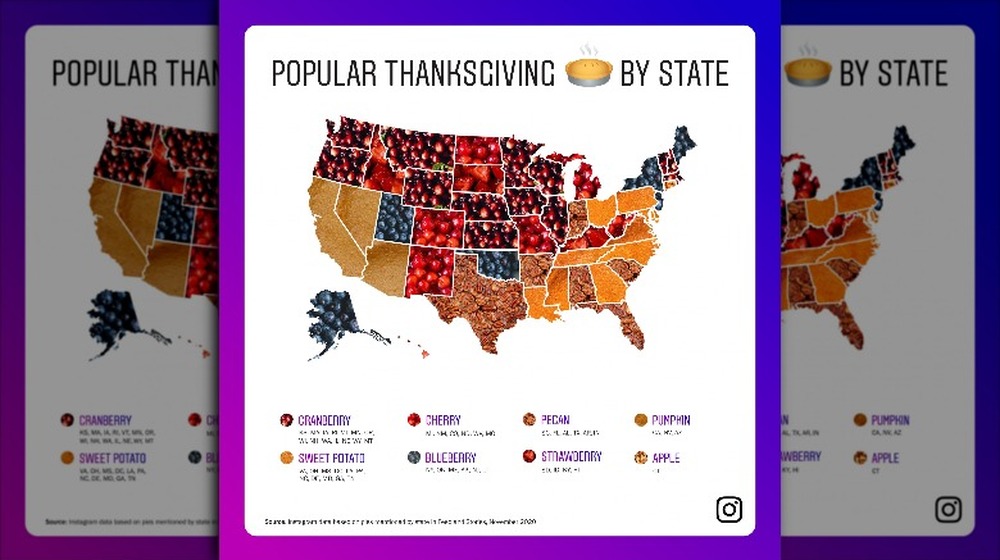 Instagram
"Instagram users have surprisingly talked more about cranberry and sweet potato pie more than any other flavor," Instagram told Mashed. Allow us to rant for a moment, 2020 style. Sweet potato we can get behind; There's a precedent for it. Ray Charles sung a song called "Sweet Potato Pie" with James Taylor. Grammy award-winning Patti LaBelle is famous for them (via People). If you're lucky, you can even buy LaBelle's recipe at Walmart. The fact that sweet potato pie is an Instagram favorite in Virginia, Ohio, Mississippi, DC, Louisiana, Pennsylvania, North Carolina, Delaware, Maryland, Georgia, and Tennessee is fine.
But cranberry? Forgive us for going all Gordon Ramsay on you, but what are the states of Kansas, Massachusetts, Iowa, Vermont, Rhode Island, Minnesota, Oregon, Wisconsin, New Hampshire, Washington, Illinois, Nebraska, Wyoming, and Montana thinking? Even more shocking is that Mashed's survey's favorite, pumpkin pie, was Instagram's favorite Thanksgiving dessert in just three states (California, Nevada, and Arizona), and the traditional Thanksgiving classic, apple pie, won Instagram's popularity contest in just one: Connecticut. Who knows, maybe we'll eventually branch out and try the photo-worthy cranberry pie, but probably not this Thanksgiving.