This Chick-Fil-A's Over-The-Top Christmas Decorations Are Turning Heads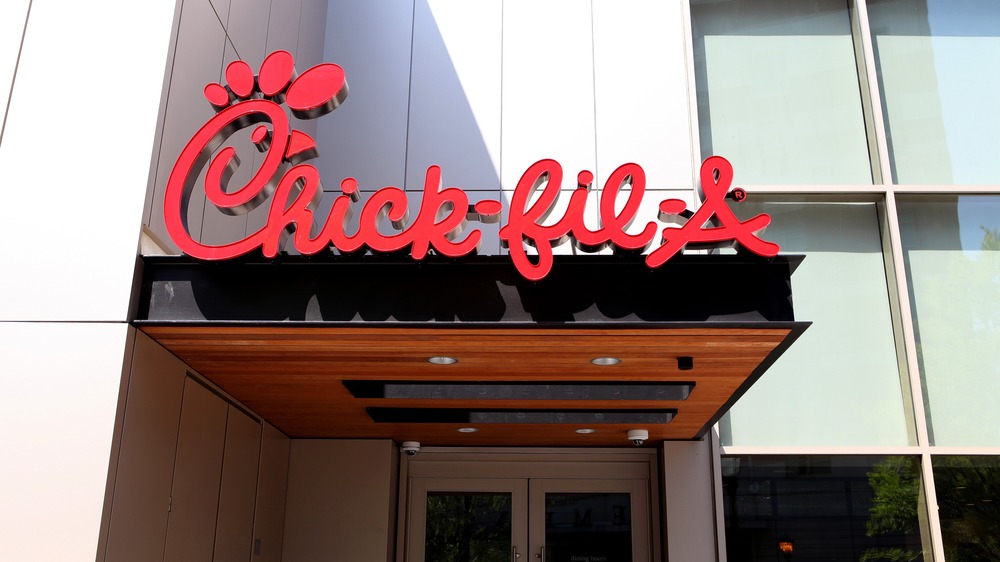 Raymond Boyd/Getty Images
Chick-fil-A is not the kind of fast food chain that's going to go light on Christmas displays. In fact, you might even say that two Chick-fil-A restaurants in the South are going lights-out — except that expression would be misleading in this case, considering that the exact opposite is true. It's more like "lights on" at Chick-fil-A locations in Athens, Georgia and Roanoke, Virginia. Lots and lots of lights.
Chick-fil-A operator Alex Clark is credited with putting up nearly half a million lights at the Athens location (via Facebook). While we're guessing he had some help, the lights he strung cover the restaurant, stretch from the building to the edge of the property, and adorn the trees on the perimeter of the lot. This particular Chick-fil-A runs its own TikTok account and got people excited a few days in advance of its Nov. 2 lighting ceremony with a preview video that's been viewed 1.2 million times.
The response all across social media has been warm and positive. "Thank you for helping bring light into our world — I'm sure in more ways than this. Blessings!" read one Facebook comment. Another commenter on Facebook said, "Thank you. They are beautiful and much needed this year." Clark started lighting up his Chick-fil-A years ago in a project he calls #LightsOfAthens, as a way to spread hope and create a family tradition (via WBTW).
Chick-fil-A embraces the Christmas spirit
The owner of the Roanoke Chick-fil-A had been thinking about going big with the Christmas lights at his restaurant for the past five years, and he finally flipped the switch in 2020 (via WSLS). A local Christmas decoration company put up 55,001 lights at the Roanoke location, which does a good job of copying the Athens Chick-fil-A's look with far fewer bulbs. "Small things like this just remind us that this is a beautiful season," a customer told WSLS. "We love that Chick-Fil-A embraces Christmas in such an extravagant way."
Chick-fil-A's founding family, the Cathys, are unapologetically Christian. As the chain's CEO Dan Cathy told the Baptist Press several years ago, working at Chick-fil-A is like missionary work: "... [O]ur performance in the workplace ... opens the gateway to interest people in knowing God."
Nothing lights the way better than a half million Christmas lights. Decorating your tree, your house, or your fast-food restaurant with lights wasn't originally a Christian thing, but it has taken on a Christian meaning among believers. Christmas lights are said to represent the Star of David that appeared over Bethlehem on the first Christmas, or the light of Christ's love (via The Positive Mom). For this holiday season, in Roanoke and Athens at least, they can also be a guiding light to America's favorite chicken sandwich (via USA Today).