The Secret To Making Roasted Potatoes In An Air Fryer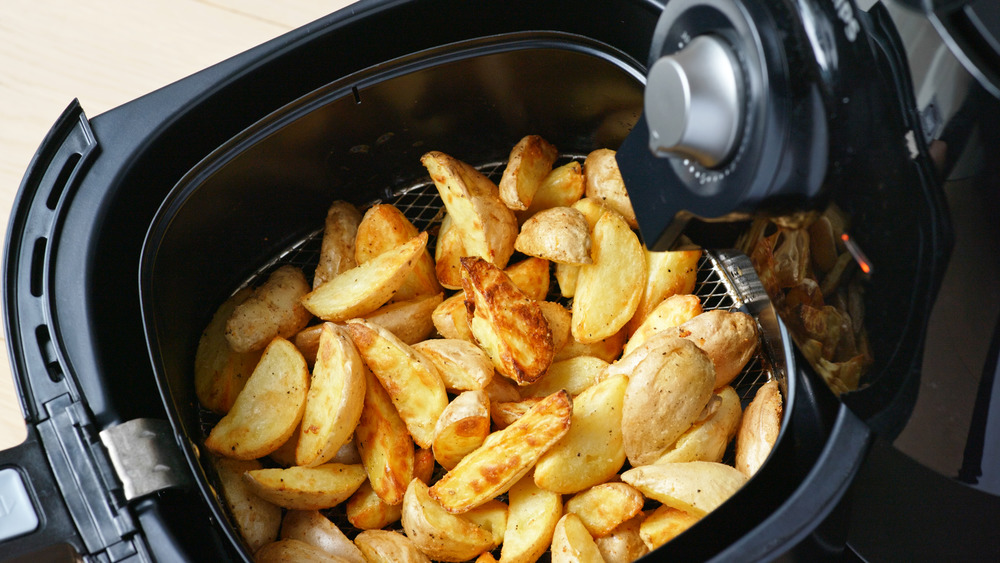 Shutterstock
Frying food makes so many recipes possible but does a ton of damage to our health. According to Healthline, deep frying food in hot oil not only jam-packs calories into our meals, but it also loads them up with dangerous trans fats that can lead to heart disease and weight-related illness. Luckily, air fryers come to our rescue, providing us with crispy versions of our favorite traditionally-fried foods with less fat, thanks to the secret of convection cooking. This style of cooking can change your life, especially if you have never encountered it before. According to Taste of Home, air fryers function by holding the food in a fryer-style basket, while hot air rushes around the surface of the ingredients, causing the surface to crisp up, just like frying would. 
If you have an air fryer at home or even like the idea of testing one out, you have to try air-crisped roasted potatoes. According to Spend With Pennies, you just need five ingredients to whip up the perfect air-fried potatoes that go great as a side or simply a snack with way less oil than their deep-fried cousins. Once you gather up your favorite type of potato, a tiny bit of oil of your choosing, garlic powder, salt, pepper, and rosemary, you are ready to send your taste buds on a journey.
How do you air fry potatoes?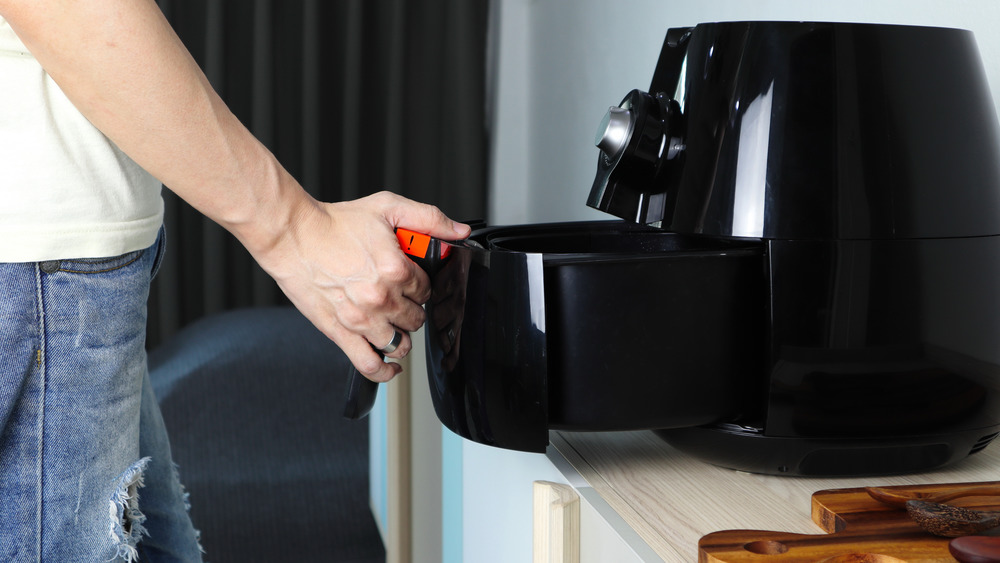 Shutterstock
After you gather up your ingredients, the next steps couldn't prove easier. According to Spend With Pennies, you need to cut your potatoes into even, bite-sized bits, toss the potatoes with your oil and spices, arrange them flat on the fryer basket, and cook the batch for 20 to 22 minutes, stirring them up at the 10-minute mark. After you take them out of the fryer, feel free to serve these crispy morsels with any main course, as an appetizer, or pair them with some sour cream or ketchup as a quick snack.
Once you try out this technique, take your air-frying to the next level and make sure your air fryer has pre-heated thoroughly before sticking your potatoes in, pat the potatoes dry before coating with oil and seasonings, and reheat your leftovers by throwing them back in the preheated air fryer for 5 to 10 minutes for a whole new take on this classic side. Once you taste one bite, you'll swear by this cooking method and leave deep-frying behind. Try it out for yourself to taste the difference with this new method of cooking!