Costco Shoppers Can't Get Enough Of These Mini Wontons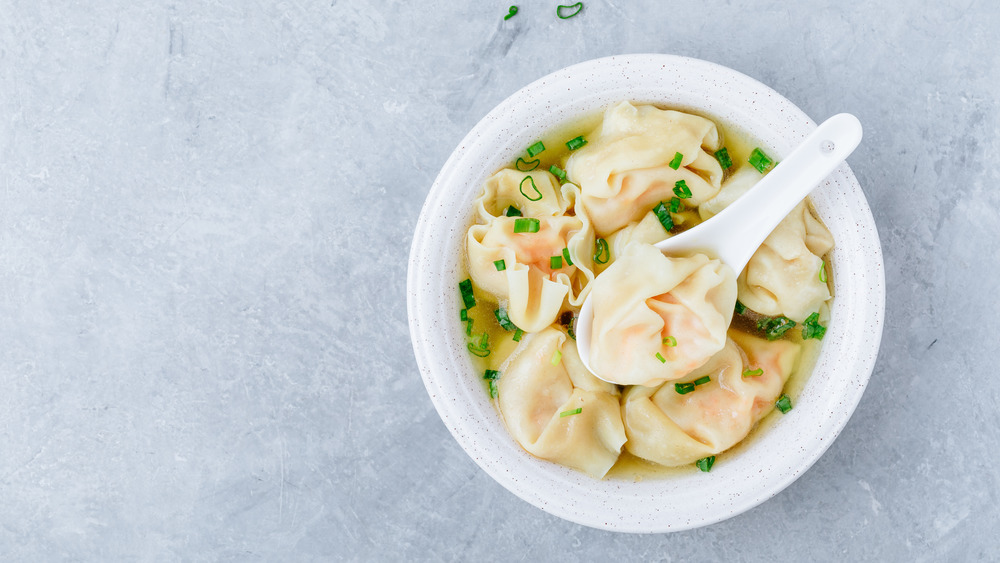 Shutterstock
Wontons are a versatile egg noodle used in popular Asian dishes. You may have tried wonton soup, featuring soft and pillowy dumplings filled with chicken, shrimp, pork, or vegetables, boiled in a delicious broth (via Delish). Maybe you've enjoyed crab rangoon, a fried wonton appetizer filled with imitation crab and cream cheese. Fried wonton strips are also popular for snacking or as a topping in salads.
Recently, Costco shoppers have been gushing over the frozen, heat-and-eat, Chicken & Cilantro Mini Wontons by Bibigo. They are packaged in a resealable freezer bag and only take two minutes to boil since they're already fully cooked (they can also be fried or microwaved). YouTuber Ms. Ming lifestyle cooked some Bibigo mini wontons in July, creating a wonton soup with them, and was impressed with the flavor and ease of prep. Costco fans on Reddit have said that the bag at Costco contains about 160 wontons.
More places to find Bibigo products
If you aren't a Costco member, but want to try some of Bibigo's products, you're in luck. If you live anywhere near Century City, California, Bibigo has a restaurant called Bibigo Kitchen inside the Westfield Century City Mall, serving Korean-inspired fare. If you aren't local to the restaurant, we've found Bibigo items at several retailers outside of Costco, including Target, Ralphs, and Wegmans (the mini wontons are only available at Costco). To ensure you find the specific item you want, you can use the product finder on the Bibigo site.
If you're curious about the nutritional content of the Bibigo Mini Wontons with Chicken & Cilantro, according to the company site, four mini wontons contain 50 calories, 1 gram of fat, 150 milligrams of sodium, 8 grams of carbohydrates, and 3 grams of protein. The wonton filling consists of chicken, cabbage, bean thread, onion, cilantro, green onion, soy sauce, sugar, salt, garlic, and black pepper (via Bibigo).