The Ridiculous Amount Of Bread The UK Has Baked During The Pandemic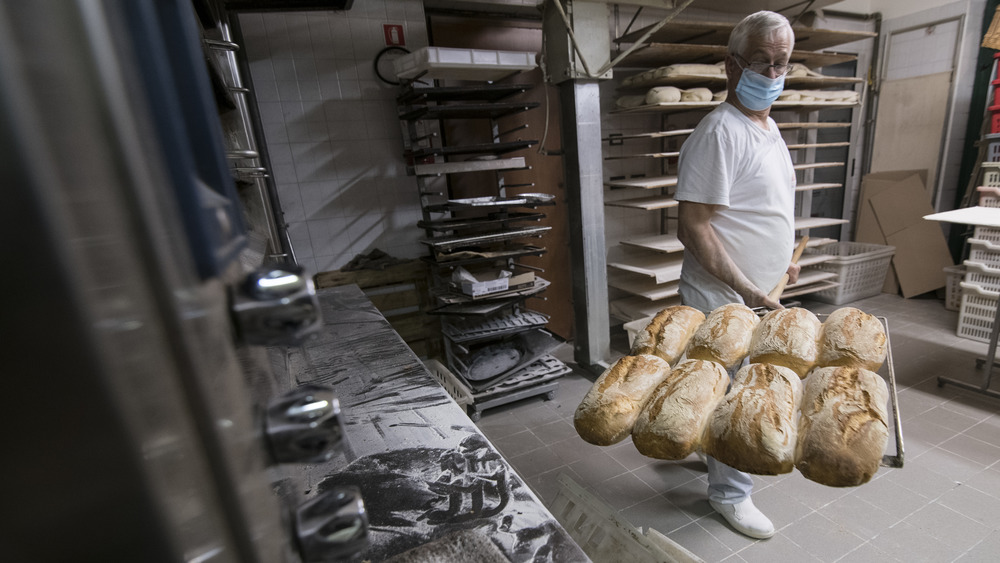 Stefano Guidi/Getty Images
Shortages of flour and yeast have been making headlines since the beginning of the COVID-19 lockdowns, as people started baking at home as a way to bring comfort food and a family-friendly activity into their lives. But no one could have guessed exactly how much bread had been baked under quarantine until a British cookware company did a study and came up with a ridiculous number: Britons baked almost 1 billion loaves of bread between March and September of this year (via MailOnline).
The 960 million loaves, to be more exact (it's certainly over 1 billion by now!), breaks down to more than one loaf baked every week in every household in Britain. The Lakeland cookware company came up with this figure by looking at customer surveys and at how much yeast, flour, and baking equipment had been sold. More than a third of the adults surveyed said they started baking bread this year, at an average clip of two loaves a week.
A clinical psychologist told the Desert Sun that people are baking bread for both physical and emotional sustenance. The process of mixing, kneading, and rolling dough can center people in the moment and take them away from their worries. Bread-baking can be a group project that brings the family together, too.
Not just bread: Cakes have been popular during quarantine, too
For British bakers who preferred a sweeter treat, the most popular pandemic cake has been Victoria sponge, which overtook an earlier pandemic favorite, banana bread. It so happens that banana bread also was the most popular item to bake in the U.S., according to an analysis of Google searches in March and April (via Bid on Equipment).
Back in Britain, the baking craze appears to have influenced people's TV-watching habits, too. The Great British Bake Off, which is called The Great British Baking Show in the U.S., had its highest-rated season ever on Channel 4, according to Variety. The show was especially popular among young viewers, with 63.6 percent of 16-to-34-year-olds who were watching telly at the time tuned in to season 11 of GBBO.
Baking is not just a popular spectator sport among younger people, either. We already mentioned that more than one-third of adults in Britain started baking bread at home this year. Of those, almost half were between 25 and 34 years old.