One-Pot Chicken Teriyaki Recipe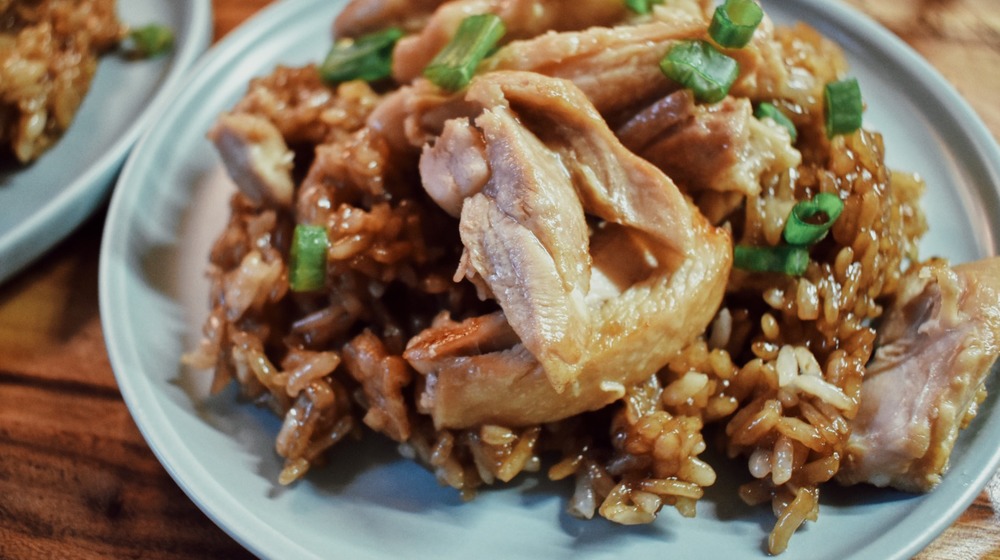 Carina Finn/Mashed
Teriyaki chicken is a classic of American Asian-fusion takeout. It's warm, comforting, and simple enough that even the pickiest of eaters tend to love it. However, takeout teriyaki chicken usually has a ton of cornstarch and sugar, as well as random ingredients like coin-shaped carrot slices that don't really make sense in the dish. It's also an easy at-home stir fry dish, but entirely too many people waste money on bottled teriyaki sauce that tends to be big on sugar and preservatives, but low on flavor. 
It doesn't have to be this way. In fact, you can make a delicious homemade chicken teriyaki over rice using only six ingredients and one pot. That's right, we're not going to ask you to break out the rice cooker for this recipe, it's all going to cook together in a single cast-iron skillet. And while this isn't the most traditional recipe, it's a tasty one. 
It's worth noting that traditional teriyaki chicken is quite different from what most Americans think of as teriyaki chicken. Rather than cornstarch-thickened mall food court fare made with white meat chicken and random vegetables, authentic Japanese chicken teriyaki is another thing entirely. The word teriyaki itself refers simply to a food that has been marinated in a sweetened soy sauce to give it some shine (teri) before it is grilled (yaki). Our recipe takes its inspiration from the real thing, but we simplify things with the one-pot method. 
Gather the ingredients to make one-pot teriyaki chicken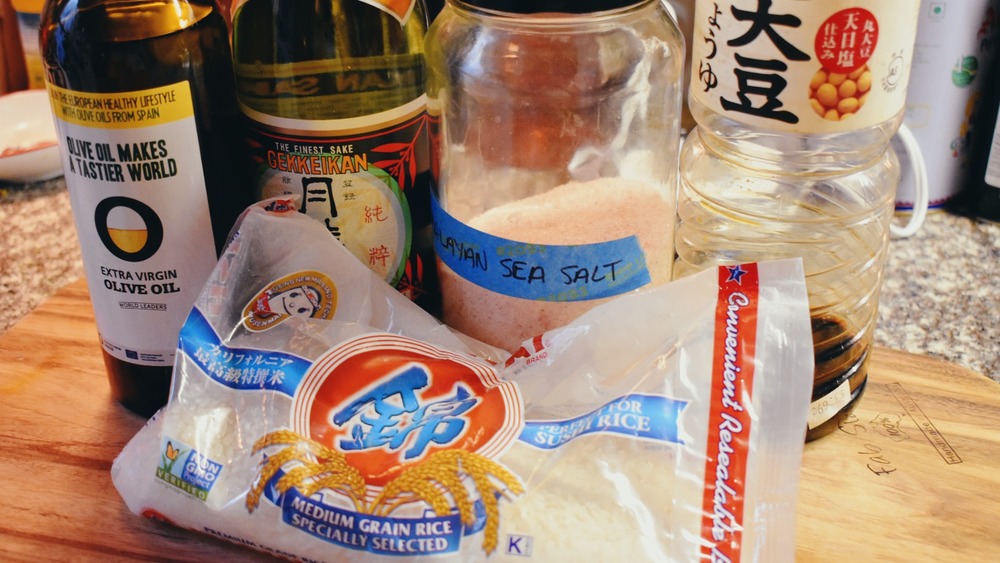 Carina Finn/Mashed
The list of ingredients you'll need to make this one-pot teriyaki chicken is pretty small, and you might even already have everything you need on hand. To start with, you'll need chicken. There are a few different cuts that will work, which we'll get into a bit later. You'll also need a good quality medium-grain white rice. Brown rice will work as well, but you'll need to increase the cooking time by 10-15 minutes. The teriyaki sauce is made from just three ingredients: soy sauce, white sugar, and sake. If you can't find sake where you live, a dry white wine will work as an adequate substitute. Finally, you'll also need salt, which will help draw out the moisture in the chicken before you pan fry it, and some olive oil for the actual pan-frying. You can also add sesame seeds and scallions as a garnish, if you'd like. 
What cut of chicken is best for one-pot chicken teriyaki?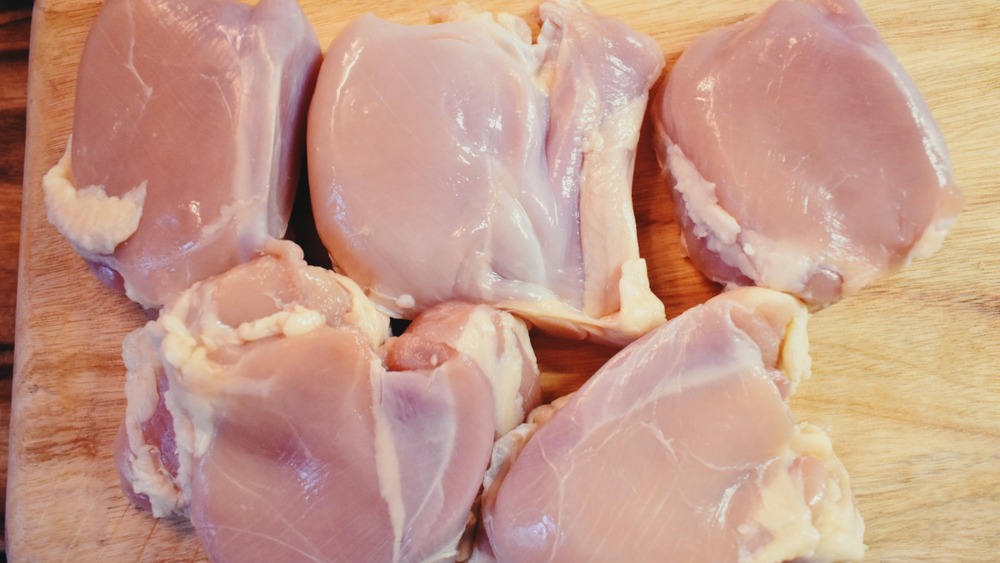 Carina Finn/Mashed
The best cut to use when you're making this recipe, without a doubt, is boneless, skin-on chicken thighs to retain flavor and moisture. Boneless, skinless chicken thighs are a close runner-up, while chicken breasts or chicken tenders are the next best option. Since traditional teriyaki dishes are rarely made with white meat, using the thighs will give you a more authentic flavor profile. Keeping the skin on will always add more flavor, which is never a bad thing, but skinless dark meat is still going to be richer and more flavorful than white meat. Do avoid using bone-in chicken thighs for this recipe unless you are super confident in your meat preparation, because it will change the cooking time by anywhere from 15-20 minutes. Since we're going to be cooking the chicken and the rice in the same pan for this recipe, sticking with the shorter cook time is going to be the better and more reliable option. 
Salt your teriyaki chicken before cooking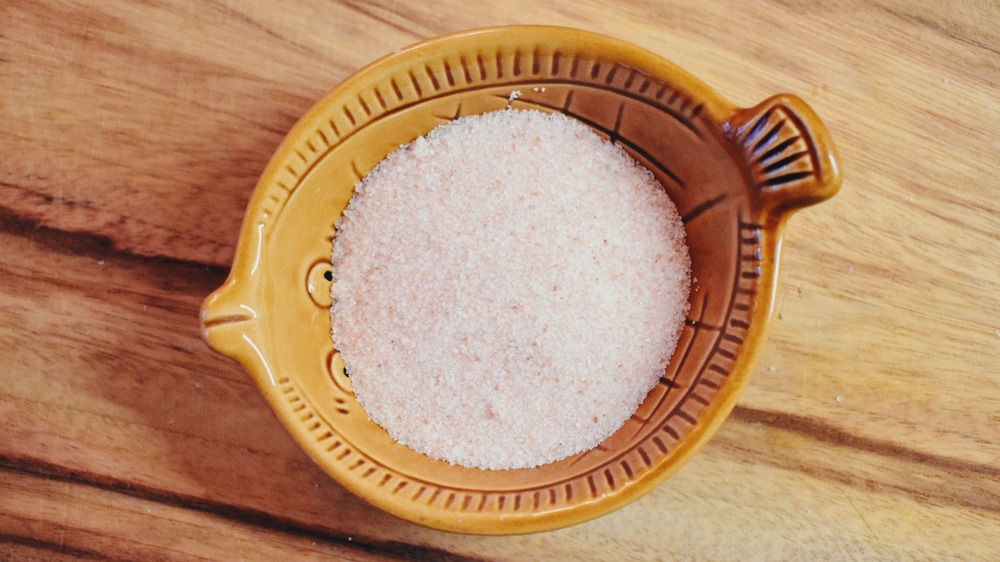 Carina Finn/Mashed
Since we are taking the one-pot method for this teriyaki chicken recipe, you're not going to get a super crispy exterior, but we can get a little closer to the ideal texture by using this trick. Before you pan fry your chicken thighs, it's a good idea to salt the chicken and let it sit for at least five minutes. This will help draw out any excess moisture from the meat, resulting in a better texture once it's been cooked. If you do prefer really crispy chicken teriyaki, you can always cook the chicken and rice separately — but then you'll need to break out your rice cooker or use a second pot. This method is all about reducing the dishes. Plus, cooking the chicken with the rice helps to incorporate more of the chicken's flavor into the rice itself, resulting in an overall tastier dish. Again, it's not traditional, but sometimes experimentation leads us to more interesting flavors. 
Soak your rice while you start the teriyaki chicken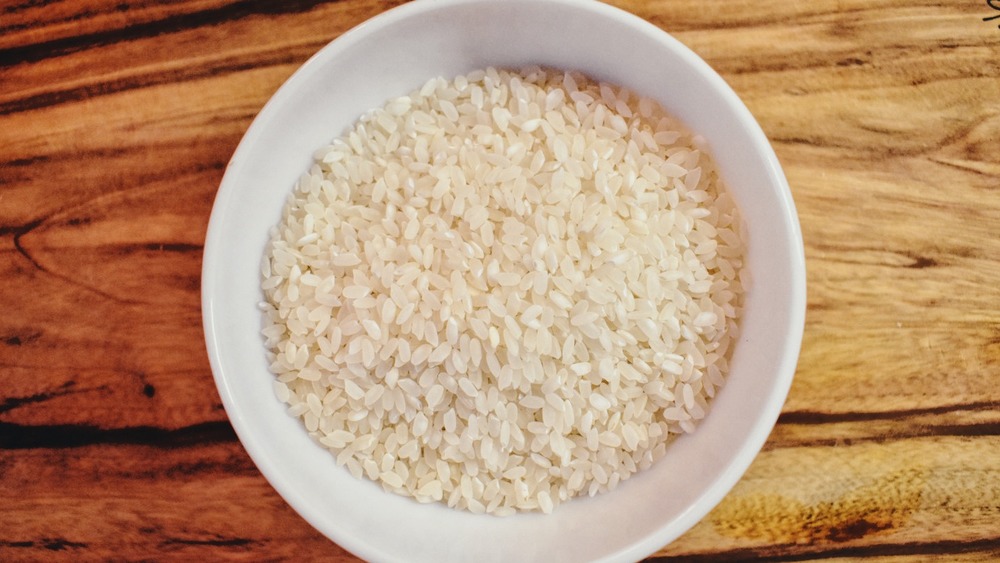 Carina Finn/Mashed
While your salted chicken is resting, this is a great opportunity to rinse and soak your rice. Taking the time to prepare your rice properly before you start to cook it helps to ensure that you end up with clearly defined individual grains of rice at the end of this process, rather than a sticky, starchy mess. Rinse your rice under cold running water, then allow it to soak for at least 10 minutes while you salt, dry, and pan fry the chicken. By the time your pan is ready for the rice, you can give it another rinse under running water and add it. If you always take the extra few minutes to rinse and soak your rice, odds are that you'll end up with rice that's cooked properly in the end, whether you're using a rice cooker or preparing it on the stove top. The rice is really the best part of this one-pot teriyaki chicken, so don't skimp on the prep here! 
Pan-fry the teriyaki chicken in plenty of olive oil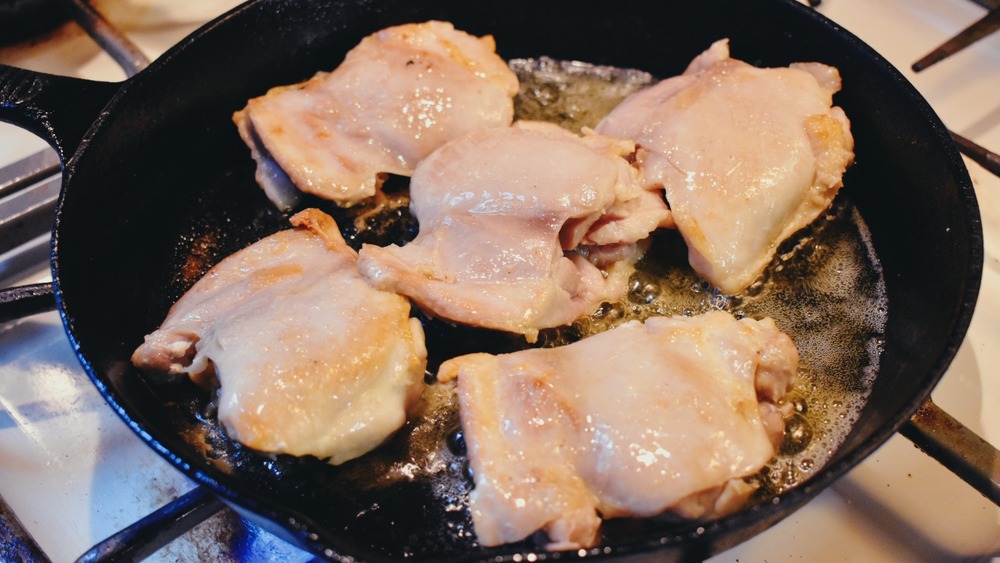 Carina Finn/Mashed
Using a fair amount of olive oil might seem counter-intuitive for a one-pot teriyaki chicken recipe, but it's actually a critical step in terms of getting a rich flavor into the rice. You'll want to use a scant quarter cup of olive oil for this part. Get the oil in your pan super hot before adding your salted chicken thighs to the pan. You'll want to cook the chicken thighs for around 2-3 minutes on each side, until they just start to get lightly golden brown. If you're using skin-on thighs, cook the skin side first so it gets nice and crispy. The point of this step isn't to cook the chicken all the way through. Instead, it's to give the chicken a bit of a sear and to infuse the olive oil with lots of chicken flavor. Since the rice will then be toasted in the oil and cooked in the same pan, this will help ensure that the flavor of chicken permeates the entire finished dish — especially the rice. 
Set the seared teriyaki chicken aside and get started on the rice.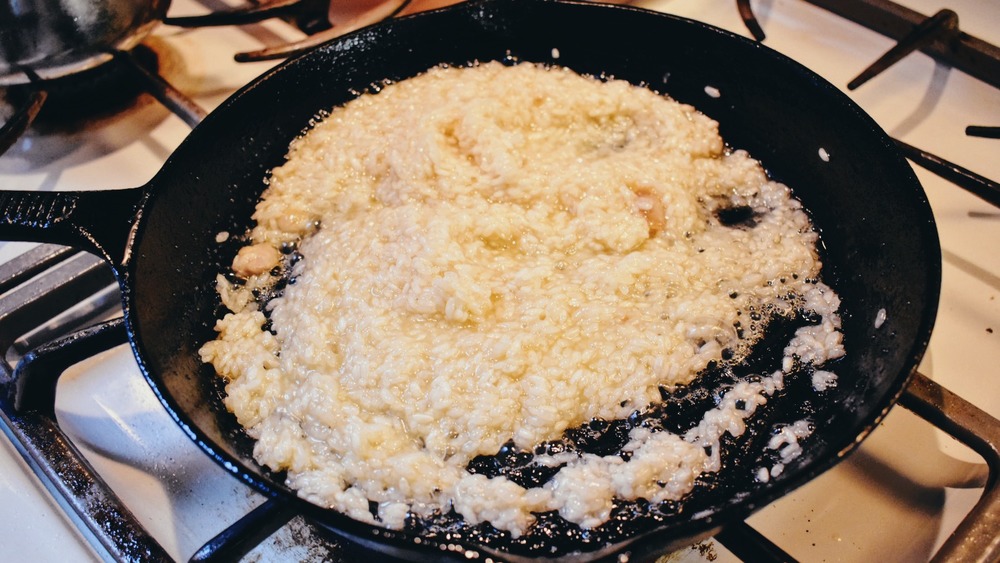 Carina Finn/Mashed
Once your chicken is seared, remove it to a plate or cutting board and set it aside for now. While the heat on the pan is still high, add the rinsed and drained rice, and toast it in the hot, chicken-infused olive oil for a minute or two. Then, reduce the heat to medium-low and add the sake, stirring constantly until most of the liquid has evaporated. Add a cup of water, stir well, then cover and cook on low heat for around 10 minutes. This process will give your rice plenty of time to absorb all of the flavors that are already present in the pan from searing the chicken, but it won't fully cook the rice. When you add the chicken at the end, the rice and chicken can finish cooking at the same time along with the teriyaki sauce. This step is what really helps to determine the flavor of this one-pot teriyaki chicken. 
While the rice is cooking, mix together your teriyaki sauce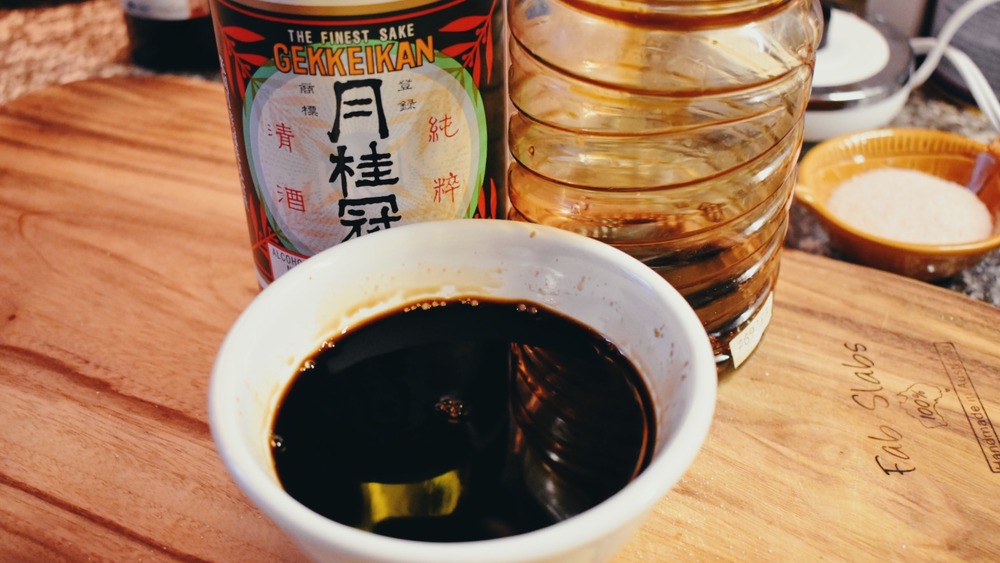 Carina Finn/Mashed
Making the actual teriyaki sauce that gives this one-pot teriyaki chicken its name couldn't be more simple. All you need to do is mix together equal parts white sugar, soy sauce, and sake. If you have a microwave, it's a good idea to heat up the mixture for around a minute and then stir it so that the sugar can easily dissolve. You can also do this on the stovetop if you have a small saucepan. While the extra step isn't strictly necessary, since the sugar will dissolve while the sauce cooks in the pan with the chicken and rice later on, it does make sure that your teriyaki sauce is smooth and fully mixed before you add it to the chicken. Sake really does add a distinctive flavor to teriyaki sauce, so we recommend that you use it if you can. Most liquor stores will sell an inexpensive bottle of dry sake that is perfectly suited for cooking. 
Add the teriyaki chicken back into the pan to finish the cooking process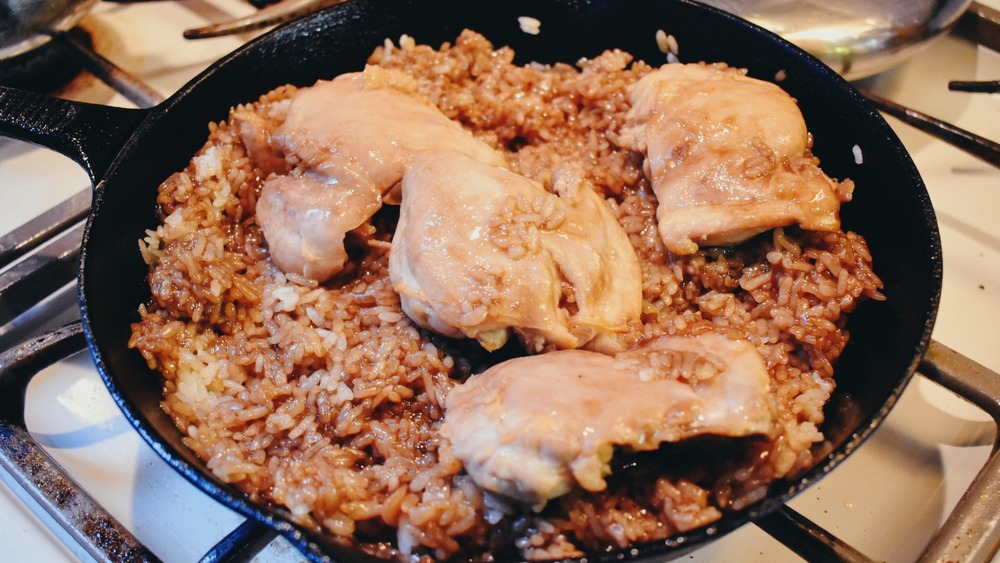 Carina Finn/Mashed
After 10 minutes, it's time to add the chicken back into the pan. First, give everything in the pan a good stir, then nestle the seared chicken pieces on top of the rice. Pour the teriyaki sauce evenly over the chicken and rice, then replace the cover and keep the heat on low. You'll want to give this a second round of cooking until the chicken is thoroughly cooked through. Depending on the size of your chicken thighs, this could take as little as 8-10 minutes or as many as 12-14 minutes. To test for doneness, remove the largest chicken thigh to a cutting board and slice it in half. The interior should be opaque, with no signs of pinkness. If it's still a little pink in the middle, put the chicken back in the pan, cover, and cook for an additional 3-5 minutes. The combination of searing and steaming the chicken in this one-pot teriyaki chicken recipe will make it extra juicy and tender. 
Slice the teriyaki chicken before serving.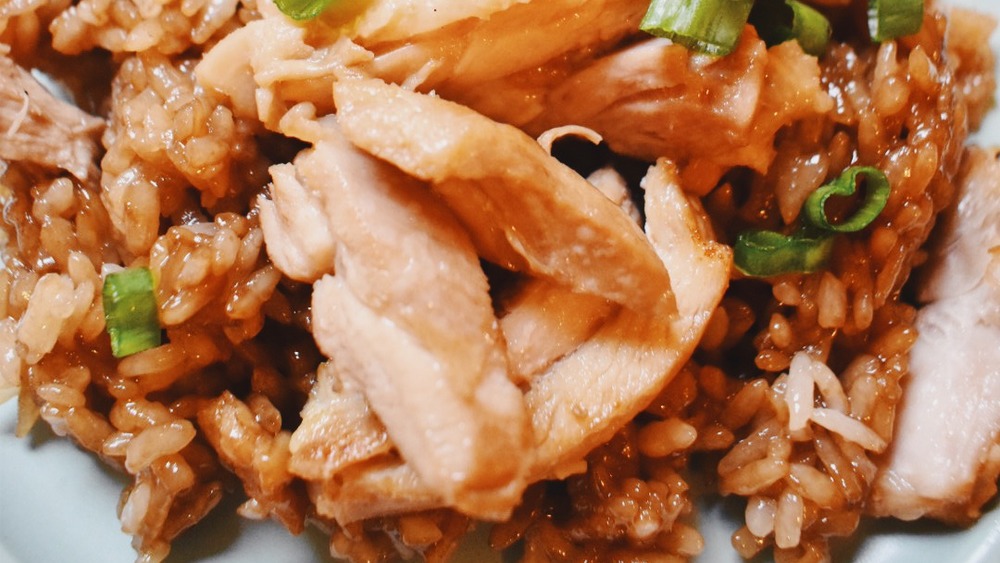 Carina Finn/Mashed
One of the great things about eating chicken teriyaki is that is usually comes pre-cut, so can eat it with chopsticks rather than a fork and knife. Once your chicken has cooked through, turn off the heat and place the chicken on a cutting board. Slice each chicken thigh into strips, then give the rice that's still in the pan a good stir to make sure that the teriyaki sauce is evenly distributed. The chicken in this dish is delicious, but the rice is the real sleeper hit of our one-pot teriyaki chicken. Spoon the rice onto plates or into bowls, then top it off with the chicken. Sliced green scallions are the perfect way to garnish this dish, since they add a pop of color and a nice, bright flavor. You could also sprinkle this with toasted sesame seeds before serving if you want a little bit of extra crunch. 
One-Pot Chicken Teriyaki Recipe
This teriyaki chicken is warm, comforting, and simple enough that even the pickiest of eaters tend to love it. Even better, you can make it all in one pot.
Ingredients
4-5 boneless chicken thighs, skin on or off — boneless chicken breasts or chicken tenders would also work well in this recipe. 
1 tablespoon fine salt 
scant ¼ cup olive oil 
1 cup medium grain white rice 
3 cups + 4 tablespoons dry sake 
4 tablespoons soy sauce 
4 tablespoons granulated sugar 
Optional Ingredients
Scallions and sesame seeds (for garnish)
Directions
Rinse and pat dry your chicken pieces, then generously salt them on all sides. Let sit on a cutting board to dry out for around 5 minutes.
While the chicken is resting, thoroughly rinse 1 cup of medium grained white rice under cold running water. Place it in a medium-sized bowl and cover with cold water. Set aside.
In a large cast iron skillet, heat a scant quarter cup of olive oil on high heat. If you don't have a cast iron skillet, another large skillet with high sides, a pot, or a Dutch oven will also work.
Once the oil is well heated, sear the chicken pieces until they begin to turn a light golden brown. This should take between 2-3 minutes per side, depending on the size of your chicken pieces.
Remove the seared chicken pieces to a cutting board. Drain and rinse the rice, and add it to the pan with the heat still on high. Fry the uncooked rice in the olive oil for around two minutes, then reduce the heat to medium and add a half cup of dry sake. Cook, stirring constantly, until most of the liquid has evaporated. This should take around 3-4 minutes.
Reduce the heat to low and add a cup of water. Stir well, then cover and cook for 10 minutes.
While the rice is cooking, make the teriyaki sauce. In a small bowl, mix together soy sauce, granulated sugar, and the remaining sake. You can heat this mixture gently in the microwave or in a small saucepan to thoroughly dissolve the sugar, but this step isn't totally necessary.
After 10 minutes have passed, remove the cover from the skillet, give the rice a stir, and nestle the chicken pieces on top of the rice. Cover the mixture evenly with teriyaki sauce, then replace the lid and cook for an additional 12-14 minutes, until the chicken is cooked through.
Turn off the heat, and remove the chicken to a cutting board. Cut the chicken thighs into slices.
Stir the rice in the pan to ensure that it is evenly coated with teriyaki sauce, then spoon it onto plates or into bowls. Top with sliced chicken, and garnish with sliced scallions and/or toasted sesame seeds.
Nutrition
| | |
| --- | --- |
| Calories per Serving | 1,052 |
| Total Fat | 40.6 g |
| Saturated Fat | 7.5 g |
| Trans Fat | 0.0 |
| Cholesterol | 69.6 mg |
| | |
| --- | --- |
| Total Carbohydrates | 86.9 g |
| Dietary Fiber | 2.0 g |
| Total Sugars | 13.2 g |
| Sodium | 1,649.7 mg |
| Protein | 30.5 g |