You Won't Be Able To Get Popeyes In This Country Anymore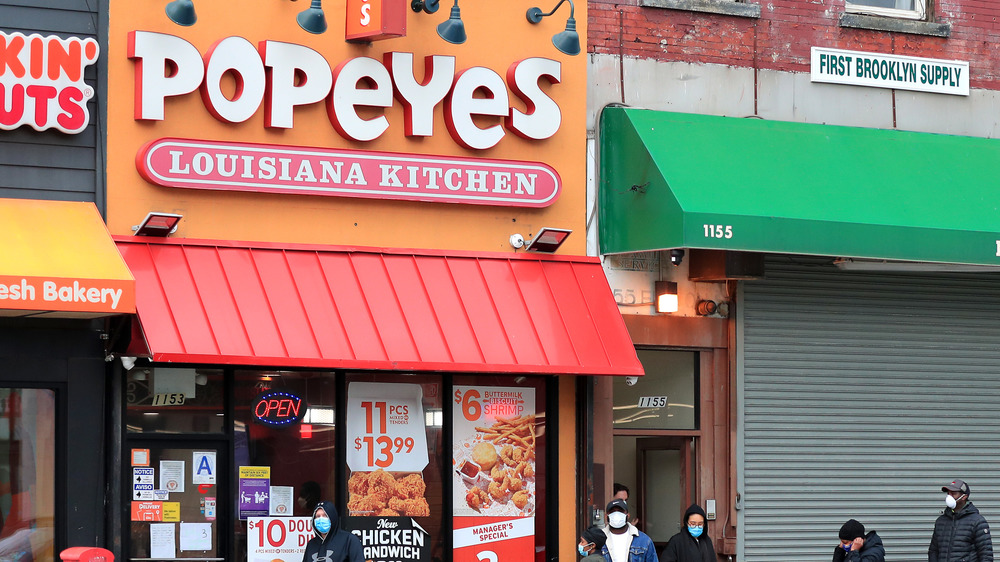 Mike Lawrie/Getty Images
The fast-food restaurant business is growing fast in South Korea (via Statista), but Popeyes won't be part of that wave. The Korea Herald reports the chicken chain will close all of its South Korean locations at the end of this year. The country's lone franchisee, TS Food & System, apparently has no intention of renewing a contract that is about to expire.
It looks as if Popeyes wanted to stay in South Korea, however. The Korea Herald mentioned reports that Popeyes tried unsuccessfully to find a willing buyer for the franchise in September. South Korea, which is more populous than Canada with a population of 51 million (via Worldometer), has only 10 Popeyes restaurants after closing a number of locations earlier this year. Popeyes once boasted more than 200 restaurants in South Korea, and the chain has been in the Pacific Rim nation since 1994. The report in the Herald said South Korea's Popeyes endured poor sales made worse by the COVID-19 pandemic.
As of 2019, Popeyes had more than 3,100 restaurants in over 25 countries (via PR Newswire). Popeyes' first international location opened in Toronto, Canada in 1984. In May of this year, the chain opened its first restaurant in China, after the COVID-19 pandemic had begun to subside there (via Reuters). The chain announced plans last year to open 1,500 locations in China over the next decade.
Popeyes couldn't compete with a South Korean chain promoted by Korean boy bands
COVID-19 may have been the final straw in the demise of Popeyes in South Korea, but the chain has done extremely well in the U.S. this year, despite restrictions imposed on restaurants to limit the spread of the disease. Same-store sales grew 28.5 percent in the U.S. in the second quarter of 2020 compared to the same period (April, May, and June) in 2019, despite the pandemic. In fact, same-store sales grew internationally during the second quarter at a rate of 24.8 percent (via Restaurant Dive). Credit for these enormous gains goes to Popeyes' hugely popular chicken sandwich, which was introduced in August 2019 and therefore didn't exist in the second quarter of 2019.
Sadly for Popeyes fans in South Korea, the chicken sandwich's success didn't translate to that country. Popeyes was able to grow in the U.S., despite the strength of a bigger competitor in Chick-fil-A. But South Korea's own homegrown chicken chain might have been too strong for Popeyes to contend with. Nene Chicken, after all, had a hard-to-beat advantage: It has been promoted in recent years by K-pop idols Nu'est and Seventeen (via SnackFever).