Baked Rigatoni Recipe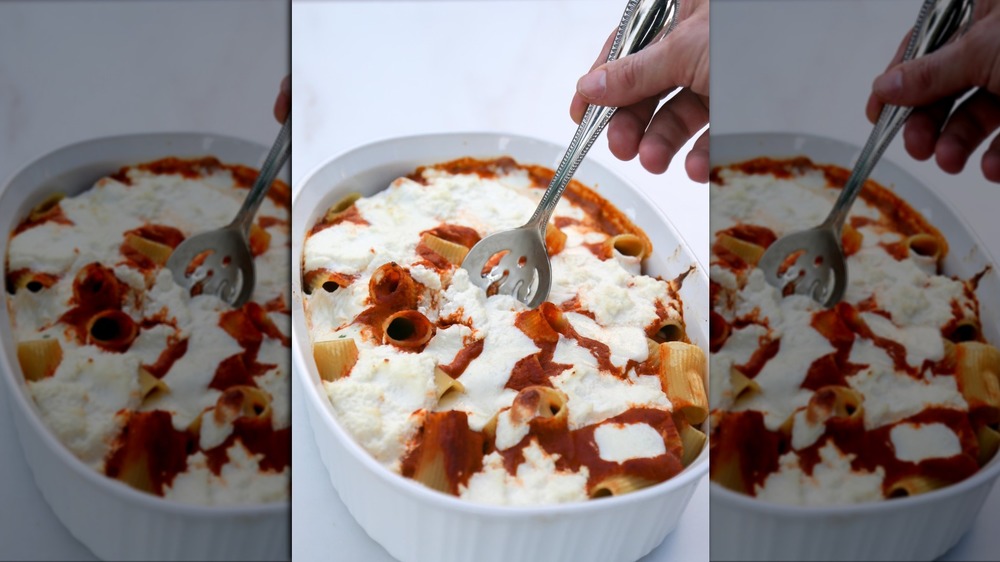 Maren Epstein/Mashed
There are certain recipes out there that are simple to make yet taste as if the meal was assembled by a professional chef. Maybe you know one (or a few) pasta dishes that fall into this category. Even out of the many delicious pasta recipes, this baked rigatoni with roasted red pepper tomato sauce, ricotta, and mozzarella stands out. Plus, it's easy to make and can just as easily satisfy a large group of people as it can a small family for multiple meals.
This baked pasta recipe was created by Maren Epstein, the certified holistic health chef who runs the healthy food blog Eating Works.
"This recipe is absolutely perfect to serve for a crowd or family," Epstein says. "It's always a crowd pleaser and I love that you can make it all in one pot, it's easy to make and goes well with anything."
Make this baked rigatoni recipe whenever you're looking for something that's easy enough to put together and never disappoints.
Gather your ingredients for the baked rigatoni's roasted red pepper sauce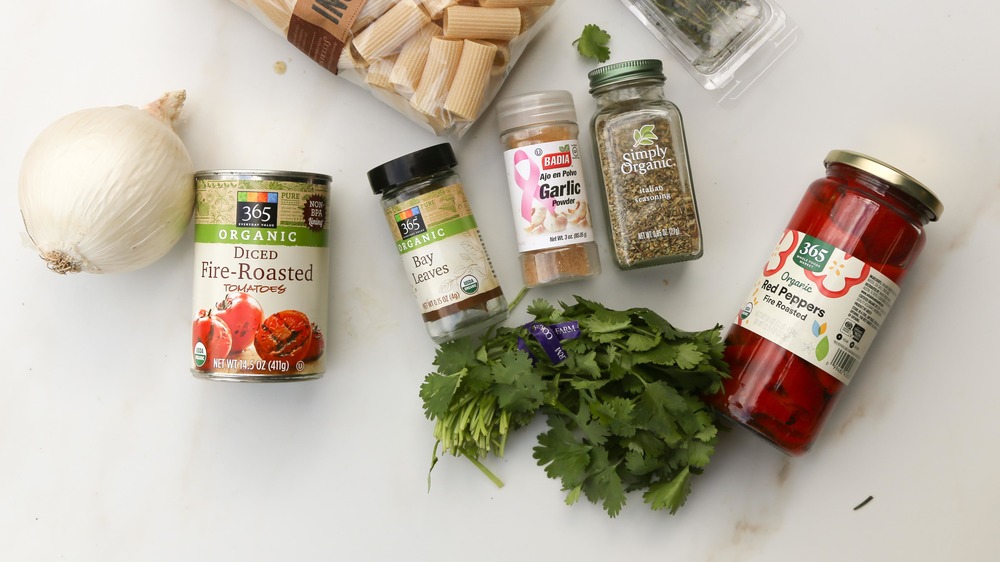 Maren Epstein/Mashed
For this recipe, you will need olive oil, an onion, three cans of fire roasted tomatoes, basic Italian seasoning, a bay leaf, garlic powder, and cilantro. Perhaps the most important ingredient, however, are the namesake roasted red peppers. For the peppers, you can choose to use ones that are pre-roasted and jarred or you can cook fresh red peppers yourself. 
While "people can roast the peppers themselves," Epstein says, "I just like to use the jarred ones because it's much less work. If you roast your own peppers, make sure to remove all of the blackened pieces before putting them in the sauce."
The right cheese and pasta are key for this baked rigatoni recipe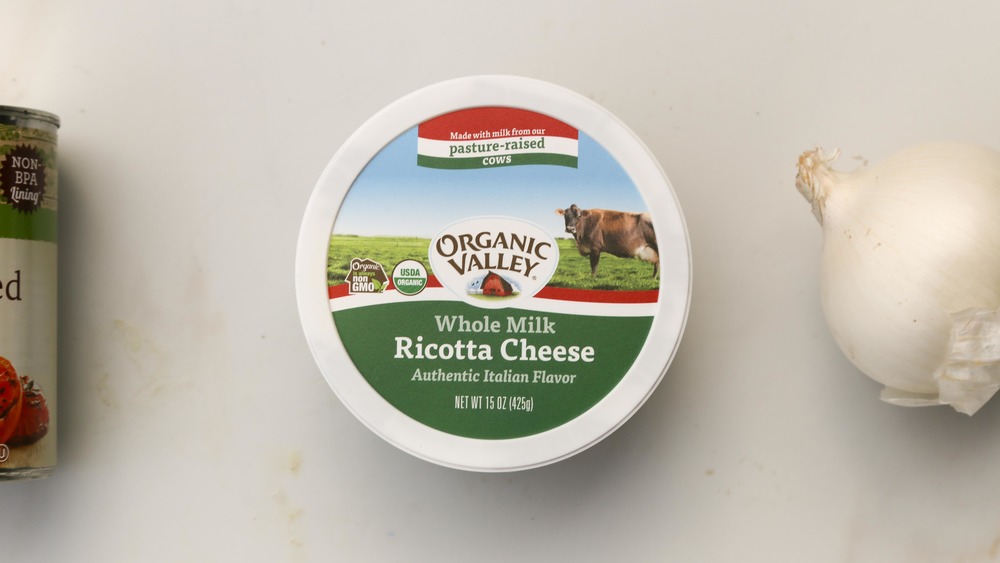 Maren Epstein/Mashed
One important ingredient left to get is the base of the recipe: the pasta itself. "I think any shape of pasta would work for this recipe," Epstein says, "but I like rigatoni because it's thick and strong so it stands up well to the long cooking time (in the oven) and still retains its bite even with the heavy sauce and cheese on it."
And then there's the cheese. You'll need eight ounces of both mozzarella and ricotta to complete your baked rigatoni. "I used mozzarella and ricotta because they are traditional," Epstein says. "The ricotta adds moisture to the dish while the mozzarella adds tang and that stretchy melty cheese that everyone loves."
Get started making the baked rigatoni sauce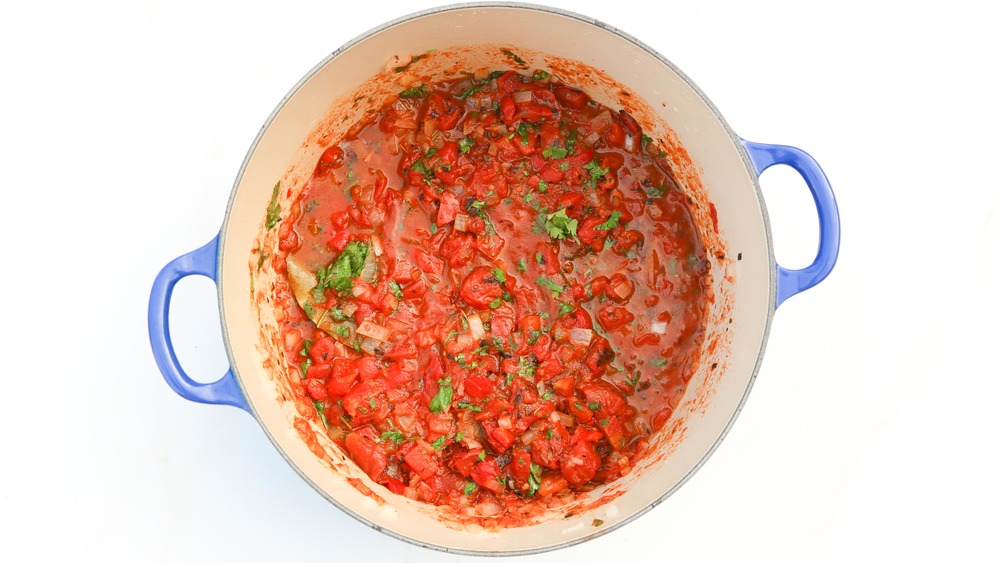 Maren Epstein/Mashed
Start with the onions and salt, and sauté the onions until they're clear without letting them brown (it should take around seven minutes). Then add the tomatoes and red peppers, followed by the garlic powder, bay leaf, and Italian seasoning. Once everything is together in one pot, cover half of the top and keep the heat at simmer for about 25 minutes.
Make your baked rigatoni pasta in properly salted water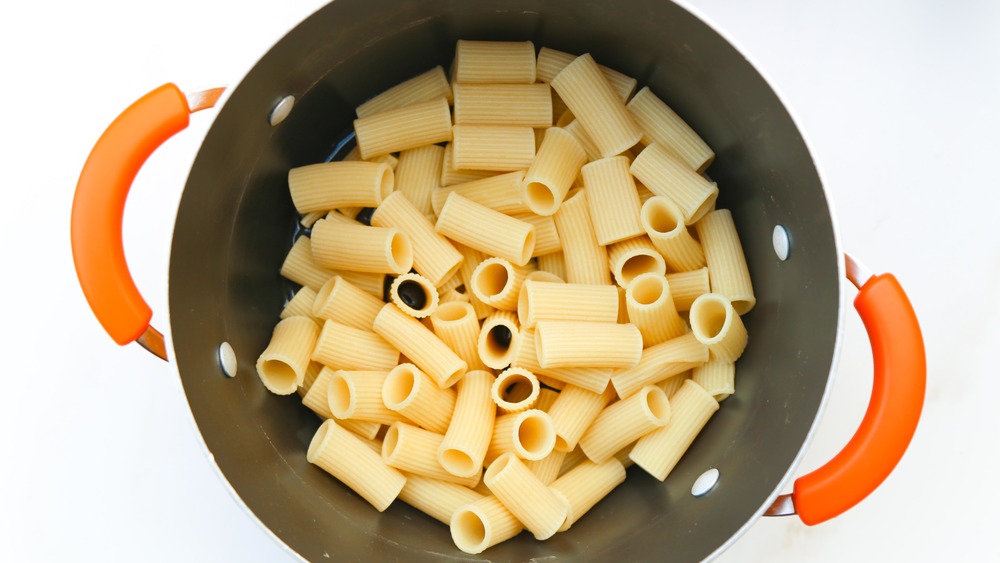 Maren Epstein/Mashed
Now, focus on the pasta. To start, boil a large pot of salted water. "I don't salt my pasta water very much," Epstein says. "I tend to be heavy handed with the salt shaker while cooking so less is more for me." Add the pasta as soon as the water starts boiling. Cook it for between eight and 10 minutes while stirring occasionally to keep the pasta from sticking to other pieces of pasta or the sides or bottom of the pot. Finally, strain it and set it aside.
You can do this step after you completely finish the sauce, but to save time you can also cook the pasta while waiting for the sauce to fully cook.
Blend the baked rigatoni sauce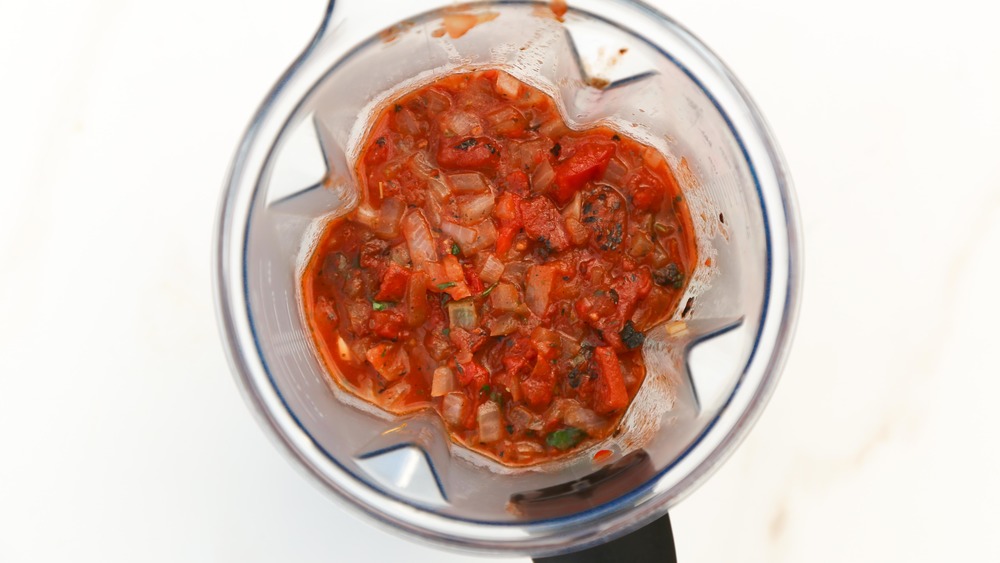 Maren Epstein/Mashed
Once your roasted red pepper sauce has cooked for about 25 minutes, it's time to get it to the right consistency by using a blender.  "I always taste my cooking as I go along," Epstein notes. "Everyone's cooking equipment, stoves and ovens are different, which means cooking times can vary. You should always use the times in a recipe as more of a guide than a rule. Twenty-five minutes is pretty standard, but again check as you go and make sure you don't burn the sauce!"
When you're all set, take out the bay leaf, add cilantro, and transfer the sauce to a high-speed blender. "I like making this sauce smooth so I put it in a high-speed blender," Epstein says. "But it tastes great chunky as well. If you want to make the sauce chunky put it in a food processor or use an immersion blender instead of a traditional blender."
Assemble the baked rigatoni casserole and cook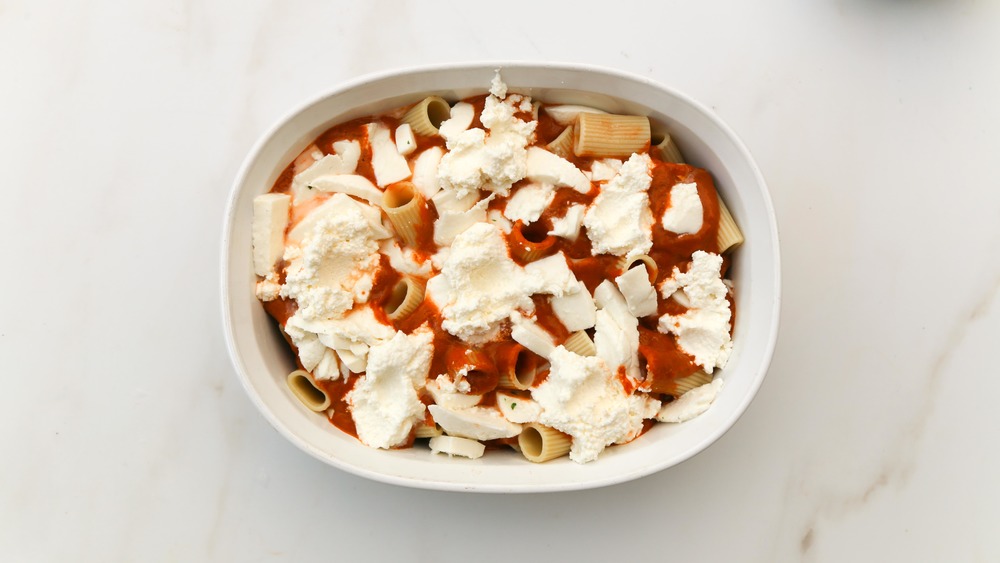 Maren Epstein/Mashed
First things first: preheat your oven to 350 degrees Fahrenheit before putting the dish together. Just like with the sauce, the order that you add the different components is important when putting the final dish together.
Grease the casserole dish with olive oil to make sure you or whoever is serving the final dish is able to get the perfect scoop without bits of pasta and sauce getting stuck to the bottom. Then pour the pasta straight into the dish, followed by the sauce. Finally, top the whole thing with the mozzarella and ricotta cheese while doing your best to evenly distribute the pieces of cheese.
Once your oven is at the right temperature, bake it all for about 20 minutes. You'll know it's ready when the cheese is melted and stretchy.
All that's left to do at this point is enjoy. If you have leftovers, they're easy enough to reheat in the oven or microwave without taking it out of the same dish it was cooked in. Reheat it in the oven at 200 degrees to warm the dish without cooking it. In the microwave, set the cook time to 30 seconds, mix it, and then repeat two or three times until it's the right temperature.
Baked Rigatoni Recipe
This baked pasta dish is a real one-pot crowd pleaser that comes together in just over an hour. And the best part? It's easy to make!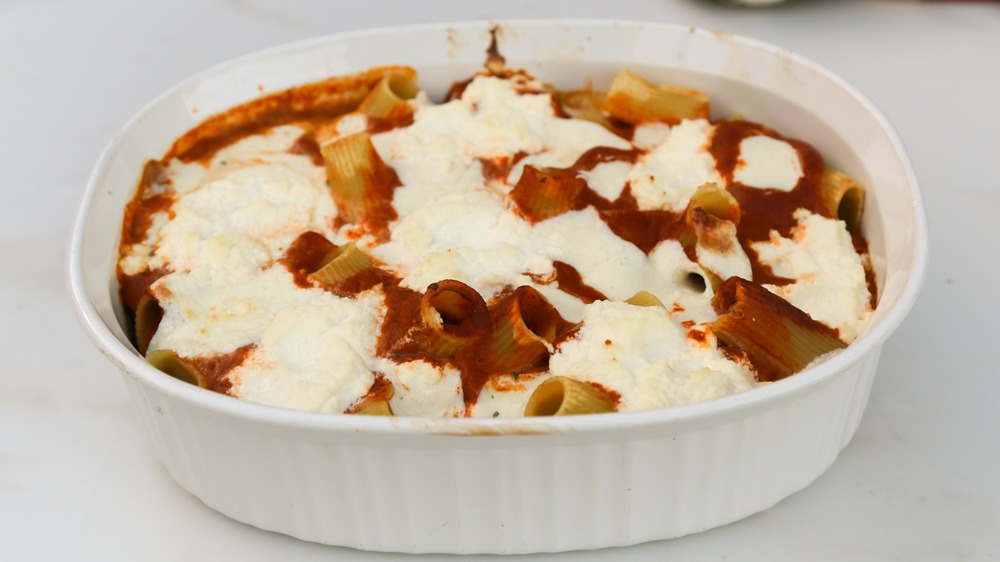 Ingredients
1 tablespoon olive oil
1 onions, small dice
2 roasted peppers
3 15-ounce cans fire roasted tomatoes
1 tablespoon Italian seasoning
1 bay leaf
1 teaspoon garlic powder
1 cup cilantro
1 pound Rigatoni, cooked and strained
8 ounces Mozzarella, sliced
8 ounces Ricotta
Directions
Make the sauce: Heat oil over medium heat. Add onions and salt, sauté until clear (7 minutes). Don't let them brown. Add tomatoes and red peppers. Add the garlic powder, bay leaf and Italian seasoning. Simmer for 25 minutes half covered. Add cilantro and blend in a high speed blender.
Prep the pasta: Boil a large pot of salted water. Add pasta to boiling water and stir occasionally. Cook for 8-10 minutes. Strain and set aside.
Assemble the casserole: Pour pasta into the dish followed by the sauce. Top with mozzarella and ricotta.
Bake at 350°F for 20 minutes or until the cheese is melted and stretchy.
Nutrition
| | |
| --- | --- |
| Calories per Serving | 793 |
| Total Fat | 26.1 g |
| Saturated Fat | 13.1 g |
| Trans Fat | 0.0 g |
| Cholesterol | 73.7 mg |
| | |
| --- | --- |
| Total Carbohydrates | 104.0 g |
| Dietary Fiber | 10.9 g |
| Total Sugars | 14.3 g |
| Sodium | 780.9 mg |
| Protein | 37.1 g |