Costco Shoppers Are Obsessed With These Chocolate Pecan Caramel Clusters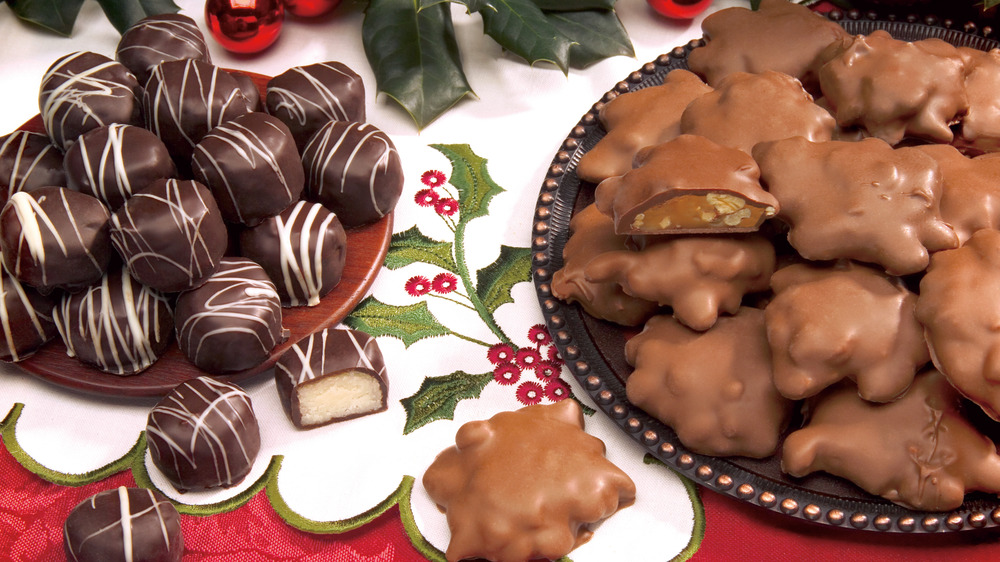 Shutterstock
When it comes to indulgent treats, it seems like tons of people are going crazy for chocolate-covered caramels. After all, Costco did release dark chocolate sea salt caramels that are incredibly popular. Whether you or someone you know loves caramel, it's the perfect thing to pick up as a holiday treat, to add to someone's stocking, or even to keep on hand as a last-second gift. But it wasn't until Thursday, December 10 that Sanders Milk Chocolate Pecan Caramel Clusters were spotted on social media by one Costco shopper.
The Instagram account Costco Does It Again snapped the photo of the milk chocolate pecan caramel clusters, along with the dark chocolate sea salt caramels, and posted it on the 10th. The caption read, "Give us all the chocolate!" So far, the post has gained more than 3,800 likes. It seems safe to say that Costco fans are definitely interested in getting their hands on some of these. Some even tagged others on the post as if to say, "get these for me!" If milk chocolate pecan caramel clusters sound like something you need in your near future, you might need to act fast.
Here's what we know about these Costco chocolates
It appears that Sanders Milk Chocolate Pecan Caramel Clusters are not on Costco's website, or have been and are no longer on the website (via Costco). It's unclear if they sold out from the website or if these chocolate caramels and clusters are only in select stores. That means you might want to call your local store to ask if they have them in stock. Otherwise, you can keep a keen eye out as you shop the next time you go.
Last year in February, Costco97 posted a deal on these same Sanders Milk Chocolate Pecan Caramel Clusters. The chocolates were estimated to be around $9.49 and were marked down to $7.97. Naturally, whenever a product ends in $0.97, it is Costco's code that this is the best discount price. Unfortunately, the post was accompanied by a photo of the price and had an asterisk at the top of the $7.97 price too. That also indicates that the product wouldn't be restocked for a long time, according to Uproxx. Since they have reappeared this year, don't let them slide through your fingers. Pick up a couple of packs to ensure you have plenty of chocolate pecan caramel clusters to go around.