One-Pot Chicken Noodle Soup Recipe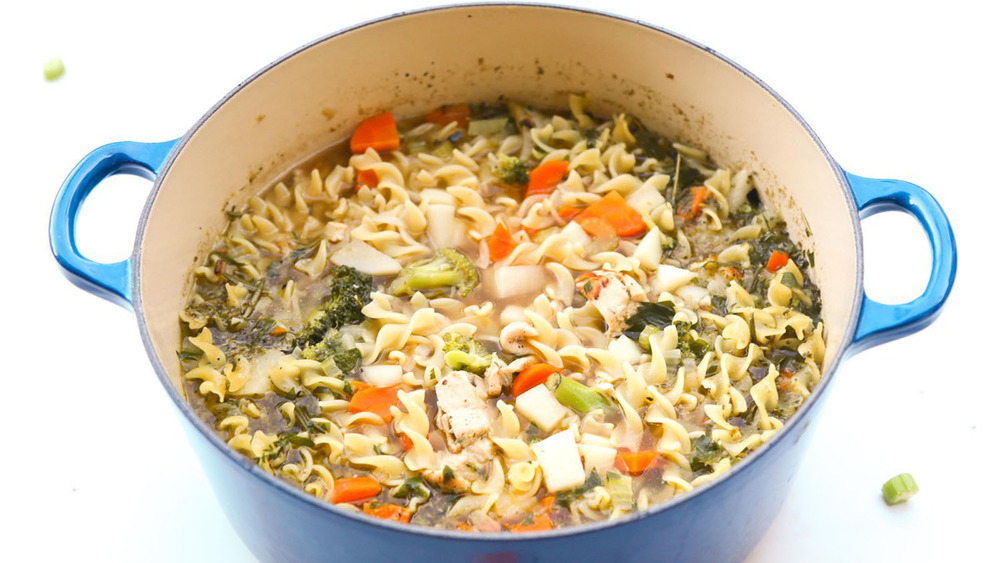 Maren Epstein/ Mashed
There's no need to toil over the stove making the perfect pot of chicken noodle soup now that you have this recipe on hand. Created by chef, mom and recipe developer Maren Epstein, this tasty twist on the traditional chicken noodle soup recipe will delightfully fill you up and leave you clamoring for more. Even better, it only takes 10 minutes to prepare the ingredients for the recipe. Dedicate 48 minutes of cooking time and it'll be ready in a jiffy for you to happily slurp up.
This particular recipe is packed with healthful ingredients that'll fill you up on a good day and perk you up when you're feeling under the weather. Don't forget, this comfort food can be a lifesaver when you aren't up to par.
"Its salt and electrolytes help with fluid retention, and its warmth and steam reduce inflammation that causes coughing and sore throats," said Julie Robarts, MS, MPH, RD, LDN at Beth Israel Deaconess Medical Center. "The salt helps sooth your symptoms by drawing excess fluids away from the irritated tissues in your throat and helping reduce pain. Vegetables like carrots are also high in beta carotene, and can help with symptom relief due to their anti-inflammatory properties."
Prep the chicken noodle soup ingredients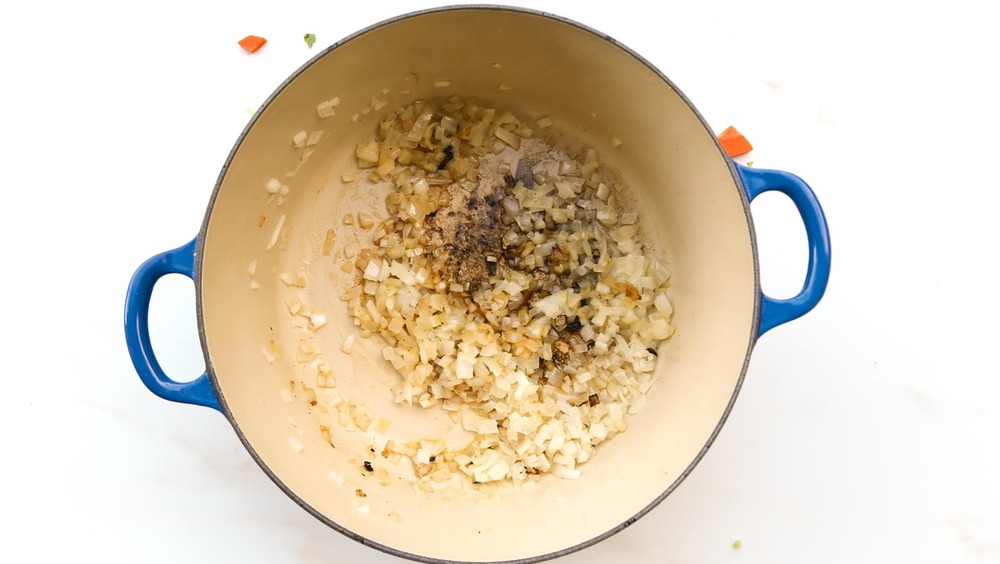 Maren Epstein/ Mashed
Start by melting two tablespoons of butter over medium heat in your pot. Brown one pound of chicken breasts on both sides for five minutes, then set them to the side. "I like browning the chicken because it adds more flavor. It also takes much less time than baking it," Epstein said. "You don't need to cook the chicken all the way through. Simply sear it on both sides. The chicken will cook through once its placed in the soup."
Dice one onion and add it to the pot along with half a teaspoon of sea salt and sauté for six minutes or until the onions are soft and brown from the chicken residue.
Chop up one large carrot and two celery stalks, then add them to the pot. Mix in one teaspoon of onion powder, half a teaspoon of garlic powder, one tablespoon of Italian seasoning and one bay leaf. Sauté these ingredients for 10 more minutes.
The benefit of sautéing the chicken noodle soup veggies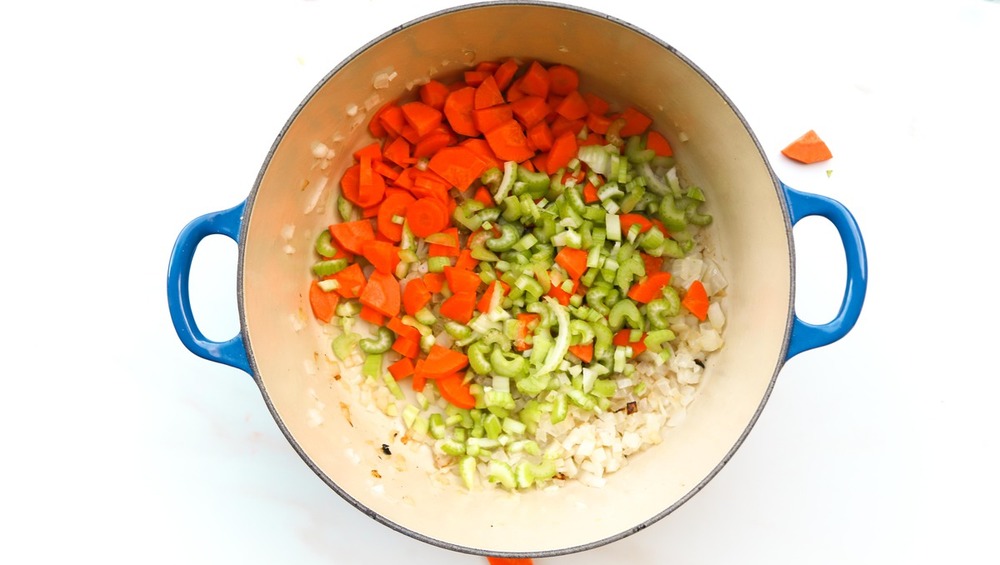 Maren Epstein/ Mashed
Most people just chop up the ingredients and toss them into the pot to cook and soften up. But not Epstein. "I always sauté my vegetables before making a soup. It helps infuse them with extra flavor while allowing the seasonings to bloom," she explained
To properly sauté, heat a stainless steel pan first before adding oil and keep the temperature on medium-high heat if using stainless steel, medium heat with a nonstick pan. Add oil if using a nonstick pan.
Add just enough oil to coat the bottom of the pan so the food is smothered in oil. Add the food and make sure it's distributed evenly in a single layer. Don't add too much food in the pan so it cooks evenly. After the food has sautéed enough, flip the food and don't over-stir. Sautéing should only take a few minutes.
Why add a bay leaf to your chicken noodle soup?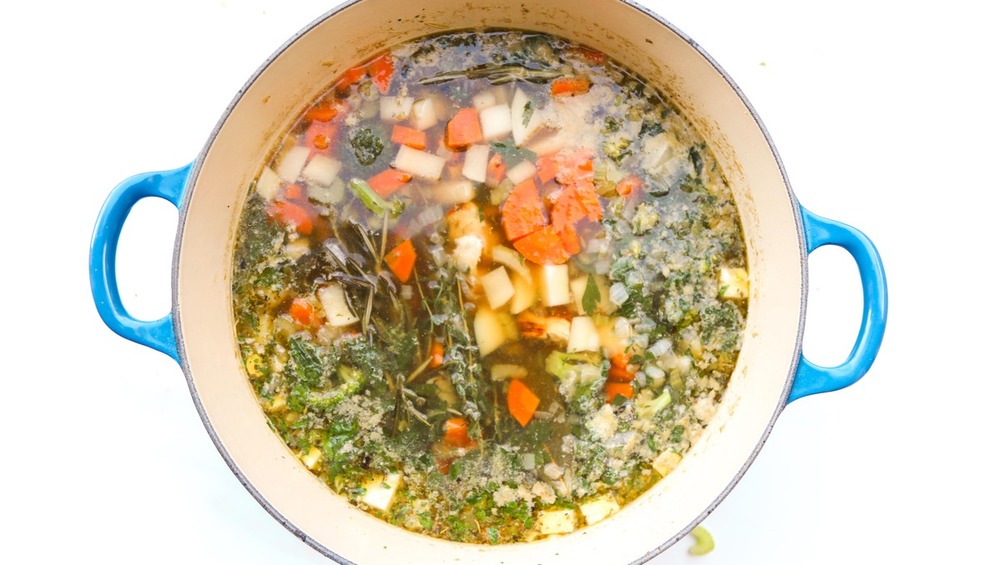 Maren Epstein/ Mashed
A number of recipes, particularly soups, stews, Indian and Mediterranean dishes, call for bay leaves. It often isn't eaten as part of the meal, but used to enhance the flavor of the food while cooking instead. Some describe it as having a slightly menthol aroma and others say it has a slightly sweet taste.
According to LearntoCook, using this herb in a simmering soup or stew allows it to shed the menthol-like flavor and add that extra flavor. It is often stirred into sautéed onions, carrots and celery combos, too.
Be sure to remove the dried bay leaf before stirring, because it doesn't break down. According to Tasting Table, these brittle and pointy shards of a broken dried bay leaf "can cause choking or even slice areas of the digestive tract." Fresh bay leaves are more digestible. 
Add some unexpected ingredients to the chicken noodle soup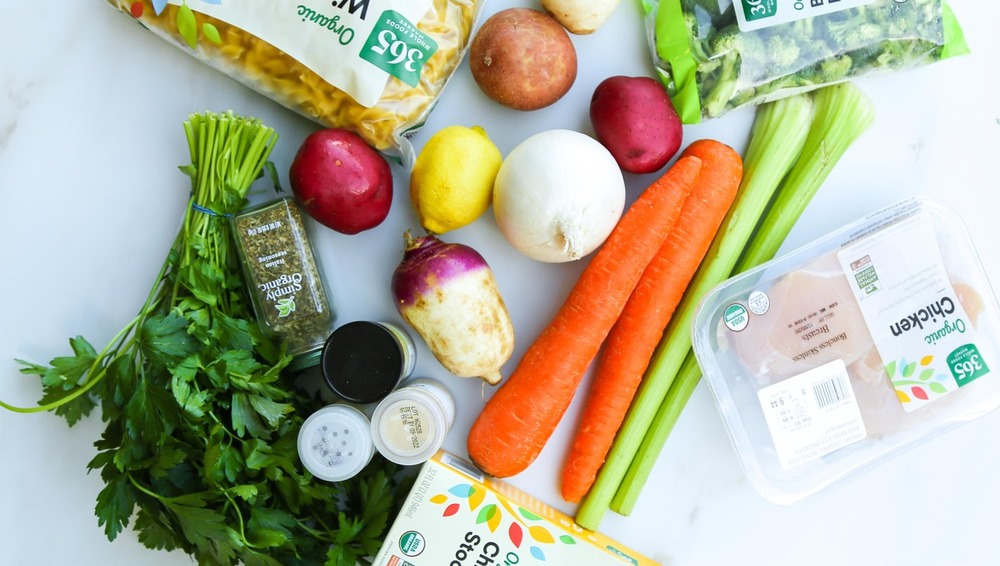 Maren Epstein/ Mashed
One might not expect potatoes, rutabagas and broccoli to be a part of chicken noodle soup, but for this recipe, these healthy ingredients add an extra punch. Once the carrots have begun to soften, add two chopped rutabagas, two chopped potatoes, two cups of broccoli and the chicken. Sauté these ingredients for ten more minutes.
"You can never have too many vegetables in chicken soup. So if you want more carrots or more root vegetables, simply add them. If the soup looks like it needs more broth, just add extra cups of water," Epstein said.
Add 8 cups low sodium chicken stock and bring to a boil. Once the soup reaches a boil, reduce it to a simmer and leave it there for 20 minutes, partially covered.
It's time to add the noodles to this pot of chicken noodle soup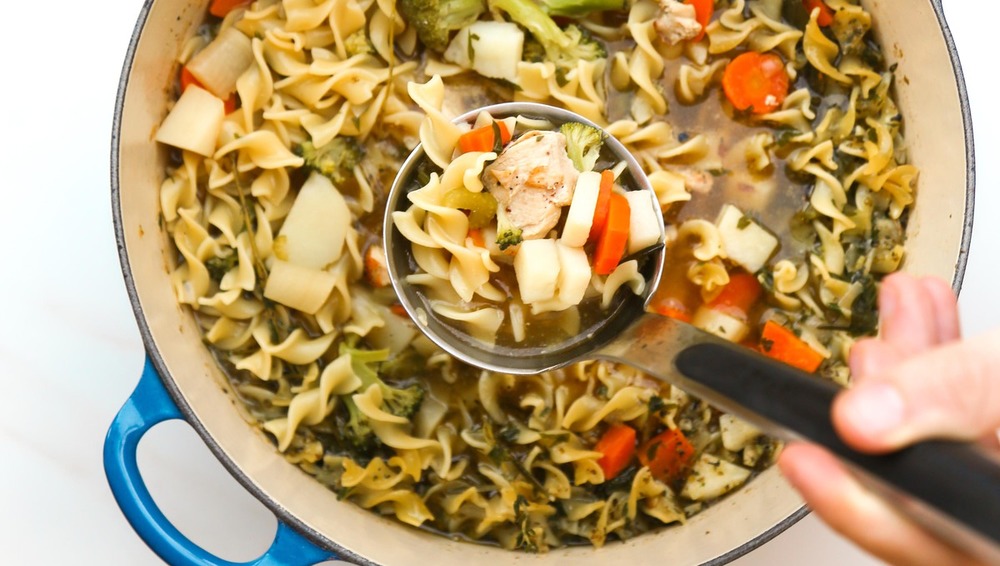 Maren Epstein/ Mashed
After boiling the soup, add two cups of egg noodles and cook for another eight minutes. Add lemon juice and serve. Epstein noted that if this dish is being made ahead of time, cook the egg noodles separately instead of adding them to the soup and allowing them to sit there. "They'll get soft and mushy. Add the cooked egg noodles into the soup as you reheat it to serve," she said.
This dish also is perfect to keep on hand in the freezer for sick days. It's perfectly fine to freeze the noodles in the soup so it's ready when needed at a moment's notice. "Freeze the soup in pint sized containers. Just make sure to leave an inch of space at the top of each container to allow room for the soup as it expands during the freezing process," Epstein said.
You can always add extra veggies to your chicken noodle soup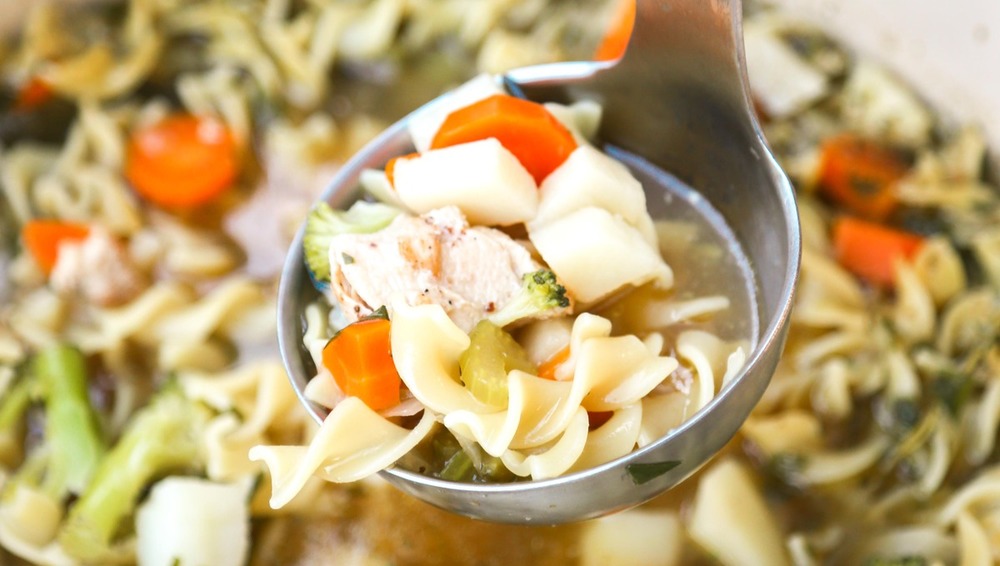 Maren Epstein/ Mashed
Veggie lovers may want to mix in their favorite addition to this recipe. It's perfectly fine for someone to personalize this soup and add in cruciferous, marrow or stem vegetables.
"Carrots and peas would be great in this soup. I wanted to highlight the winter season by including root vegetables, many of which are harvested in the late fall or winter. I think eating a healthy diet involves eating foods locally and in season when possible. Root vegetables have many health benefits. They are rich in fiber which is good for your gut health," Epstein said.
One-Pot Chicken Noodle Soup Recipe
Nothing hits the spot on a cold winter's day (or when you're feeling under the weather) quite like a bowl of chicken noodle soup.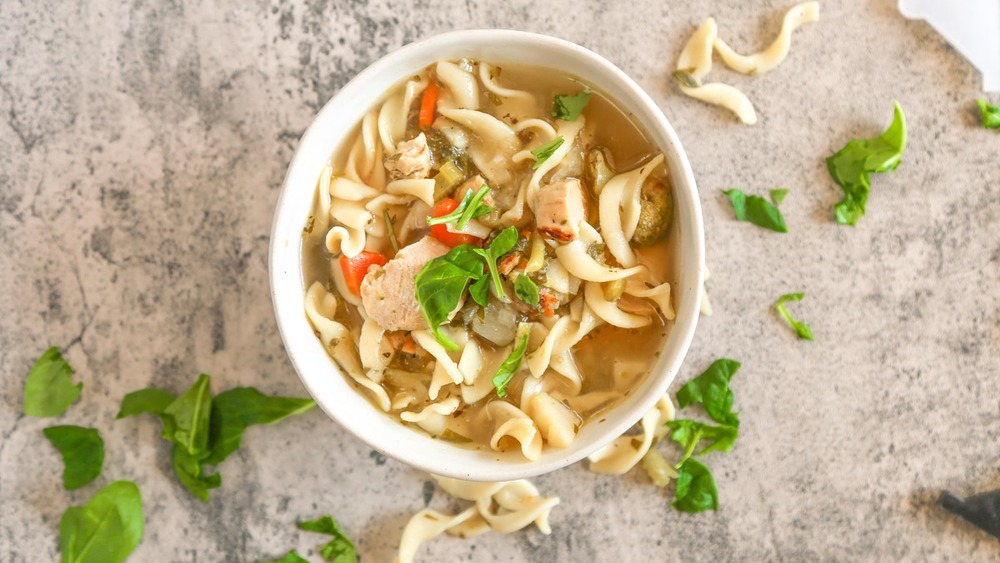 Ingredients
2 tablespoons butter
1 pound chicken breast, 2-3 breasts
1 onion, small dice
½ a teaspoon sea salt
1 large carrot
2 celery stalks
1 teaspoon onion powder
½ a teaspoon garlic powder
1 tablespoon Italian seasoning
1 bay leaf
2 potatoes
2 rutabagas
2 cups broccoli
8 cups low sodium chicken stock
2 cups egg noodles
1 lemon, juiced
Directions
Melt butter over medium heat. Brown chicken breast on both sides for 5 minutes, set aside. Add onions and salt. Sauté for 6 minutes or until onions are soft and brown from the chicken residue. Add carrots and celery onion powder, garlic powder, Italian seasoning and the bay leaf. Sauté for another 10 minutes.
Once the carrots have started to soften, add the rutabaga, chicken, broccoli and potato. Sauté for another 10 minutes.
Add chicken and stock. Bring to a boil. Once boiling, reduce to a simmer. Allow to simmer for 20 minutes partially covered.
Add egg noodles and cook for another 8 minutes. Add lemon juice and serve.
Nutrition
| | |
| --- | --- |
| Calories per Serving | 237 |
| Total Fat | 8.3 g |
| Saturated Fat | 3.2 g |
| Trans Fat | 0.1 g |
| Cholesterol | 41.5 mg |
| | |
| --- | --- |
| Total Carbohydrates | 25.7 g |
| Dietary Fiber | 4.2 g |
| Total Sugars | 5.4 g |
| Sodium | 212.2 mg |
| Protein | 16.9 g |