Andre 3000's Simple Apple Pie Hack Changes Everything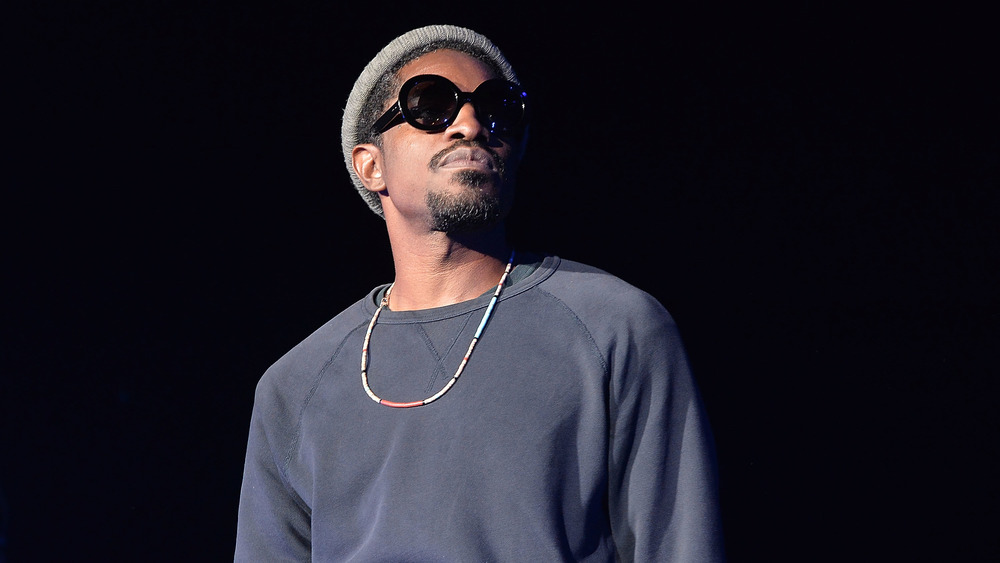 Paras Griffin/Getty Images
André 3000, aka André Benjamin, now leads a quiet life after he and his high school friend Antwan "Big Boi" Patton shook the music world as the hip-hop duo Outkast. You're more likely to bump into Benjamin playing his handmade Mayan flute at an airport or a shopping mall than you are to see him perform his old hits onstage (via Revolt). Fans have always known Benjamin as someone who shattered hip-hop stereotypes and who wasn't afraid to express his vulnerable side (via Daily Beast). The two most recent songs Benjamin released, in 2018, were odes to his mother and father, who had passed away (via Showbiz Cheat Sheet). So it just made sense for Benjamin to post a simple recipe for apple pie on Instagram as a way to support seniors through Meals on Wheels Atlanta.
"You can donate, adopt a senior, give of yourself, and offer love to a senior who may need you this season. Food is love," Benjamin wrote in his Instagram caption. While Meals on Wheels Atlanta is sure to see a generous response from Benjamin's appeal, the rest of us get to try an incredibly easy apple pie hack, which happens to be a Benjamin family recipe.
The main ingredients in André 3000's apple pie are biscuits and applesauce
André 3000 gave up his family's apple pie recipe on Instagram on December 15 as part of Meal on Wheels' "pass it down" campaign. It's his way of helping seniors who may be struggling with food insecurity and who may also be isolated from loved ones due to the COVID-19 pandemic.
Benjamin's recipe, which he titled "Quick Lil' Apple Pie," isn't going to win any master chef bake-offs. It's not that kind of recipe. The main ingredients are a can of biscuits and a jar of applesauce. Put a dollop of applesauce on each of the flattened biscuits, fold, and bake. You can get the full details from Benjamin's Instagram post, which includes helpful illustrations drawn by Benjamin himself.
In addition to the recipe, Benjamin made a commitment on Instagram to "give love and support to an elder in need." Maybe there's an older person in your life who would like to try the same ridiculously simple apple pie recipe enjoyed by André 3000.