These Smoked Salmon Flavors Have Aldi Shoppers Gagging
To be absolutely clear, some of Aldi's smoked salmon offerings are to die for. I Ate Oklahoma tried their cold-smoked and hot-smoked varieties and gushed, labeling the culinary offer "exceedingly perfect for those days when you don't have time for much of anything." Aldi's cold smoked salmon also has Reddit's stamp of "seriously, it was heavenly" and "it literally melted in my mouth." Business Insider Australia calls it one of the 15 "best cheap breakfasts" that you can get at the chain. And Wales Online likes it, too. Suffice to say that the traditional smoked salmon range is something that you might find on Gordon Ramsay's breakfast spread at Christmas time, topped with some perfectly made scrambled eggs (via Youtube).
Alas, not all smoked salmons are made equal. Instagram handle @theamazingaldi spotted a Cold Smoked Atlantic Salmon Trio at Aldi in mid-December 2020. The grocery chain's "Decadent Red Wine Flavored," "Old Fashioned Flavored," and "Mojito Flavored" smoked salmon varieties, which form part of the trio, now stand as testaments that not everything is better when infused with booze.
Aldi shoppers react to its latest smoked salmon flavors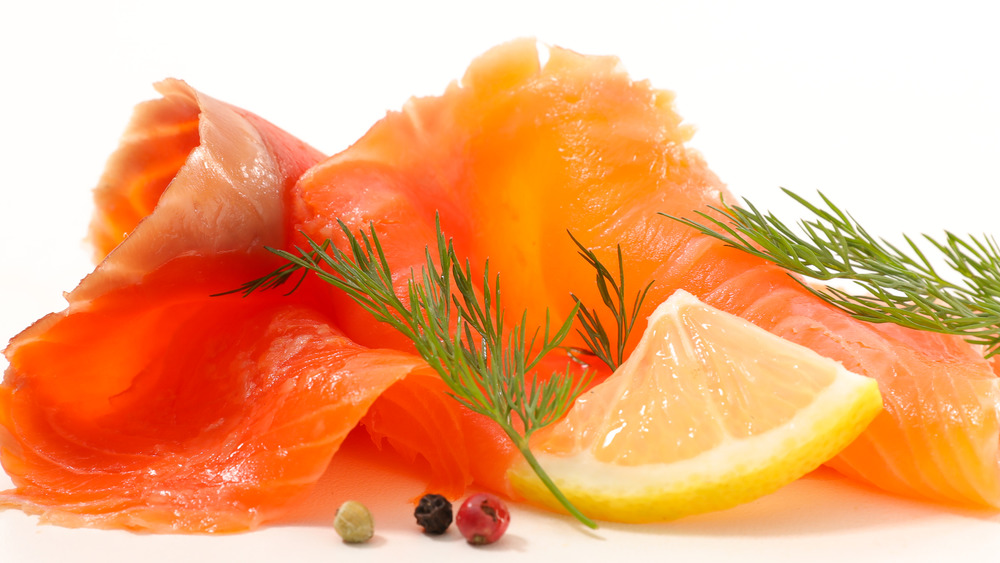 Shutterstock
First, the gory details. Aldi's "Decadent Red Wine Flavored" smoked salmon claims to be infused with "intense notes of black currant." Its "Old Fashioned Flavored" variety purportedly tastes like "whisky [and] dark cherry with a twist of orange." Finally, its "Mojito Flavored" variety is apparently "mint muddled with lime, sugar and rum." Grab the entire 9 oz trio for $11.99, if you dare. It doesn't look like any of @theamazingaldi's Instagram followers would. When they saw the trio, they dry-heaved. "No one needs these flavors of salmon," one disheartened Aldi shopper wrote. "So disappointed in the trio," seconded another. "I'll let someone else enjoy this one," confirmed a third.
As for us? We'll be using our next $11.99 on ugly sweater holiday cookie kits, cinnamon donut sticks, or rustic serving boards for a much safer smoked salmon variety. Like, for example, the kind that you serve up with a hint of lemon, black pepper, and maybe some avocado, preferably on a cream cheese bagel.