Martha Stewart Fans Don't Want To Miss This Amazing Sale At Macy's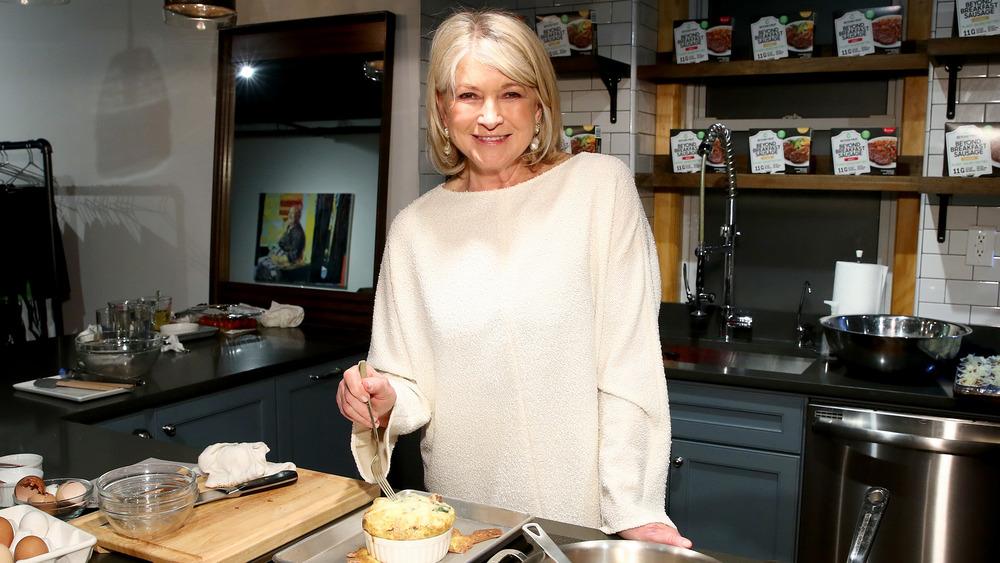 Cindy Ord/Getty Images
Fans and followers of Martha Stewart need to be shopping at Macy's right away. The queen of do-it-yourself created a collection of enameled cast iron cookware for Macy's, and the current sale has many of the items listed at an unbelievable price. Not to mention, there's free shipping on order over $25 and the collection has been given four and a half stars by nearly 2,200 reviewers.
With seven items on sale at Macy's, you can find the perfect kitchen tool to roast, sear, bake, and slow cook to your heart's content. Better yet, you can get it in a color that will perfectly complement your kitchen. Each of the items typically comes in shades of white, black, silver, red, blue, and yellow. Each piece is perfect for cooking on the stovetop and in the oven, and they're pretty enough to place on the table for serving. Other features include stainless steel knobs on the lids and non-reactive enamel, so you won't have to worry about seasoning your cast iron (via Macy's).
Here's what you'll find in the collection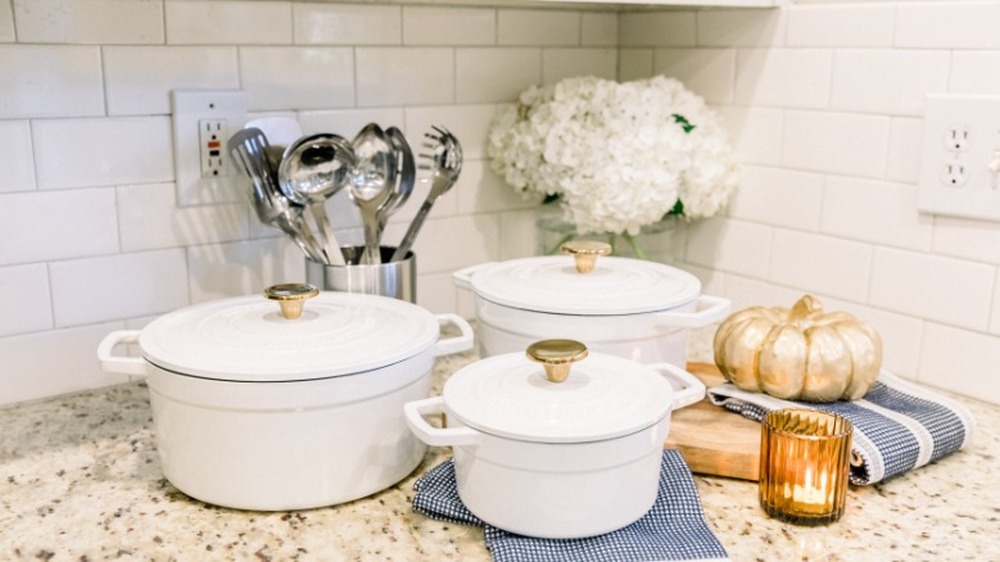 Martha Stewart
Though Martha Stewart's collection of cookware extends far beyond what you'll currently find on Macy's website, the pieces available are staples that would make a great last-minute holiday gift (or a treat to yourself for the new year). The collection includes a star-shaped and a heart-shaped knob, should you need a replacement or want to swap out the classic knob for something with more personality. Each is usually marked at $26, but is half off and priced at $13 during Macy's sale.
Other items include an enameled 12-inch fry pan marked down from $110 to $55, as well as an 11-inch enameled grill pan for the same price. The last major-ticket item is a classic dutch oven. It's something most home cooks invest in at some point, and will last for years to come. Stewart's collection includes six-quart, four-quart, and two-quart options. All are 50 percent off, so the largest is going for $100, the medium dutch oven for $80, or the smallest option for $50.
Hurry to shop. The sale ends on December 23.